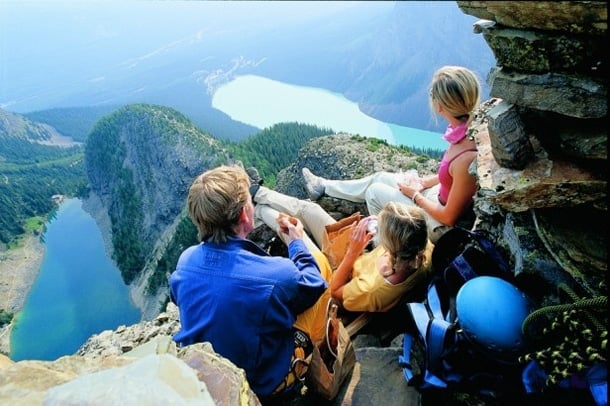 When you think of vacation destinations, Alberta, Canada may not leap immediately to mind. But this western Canadian province has so much to recommend it that if you've not considered it for a getaway, it may be time to reconsider.
Alberta is Canada's fourth largest province and is home to some of the country's most spectacular scenery. From the shimmering waters of Lake Louise up to the mountaintops of the Rockies, down to the flat grasslands of the prairies, and the stark desert-like Canadian Badlands, Alberta's landscape is diverse and picturesque.
And there's plenty for visitors to do. Alberta may be most well known for being an amazing skiing destination, but in the summertime, there are lots of great festivals and events taking place across the province. And of course, the Calgary Stampede, held annually every July, attracts visitors from around the globe to the 10-day festival known as 'The Greatest Outdoor Show on Earth.'
If you're planning to visit Alberta this year, make sure you pack everything you'll need. Here are some suggestions to get you started:
SUMMER
Temperatures in Alberta during the summer typically range from 60°F to 73°F (15°C to 23°C).  The temperature in the afternoon in July and August can climb as high as 30°C+ but be prepared for chilly mornings. And while Alberta has an average of 330 days of sunshine annually, expect thunderstorms, rain and even hail, which can appear and disappear rather quickly.
Here are some of the things to make sure you have in your suitcase:
Essentials
-Comfortable pants (jeans, cotton or linen trousers, athletic pants)
-Shorts or skirts
-T-shirts and sleeveless tank tops
-Sweatshirts or light sweaters
-Light jacket (waterproof, windproof and lightly lined is ideal)
-Running shoes, or comfortable walking shoes/sandals
-Golf attire (if you are planning to play)
-Swimsuit
-Sunglasses and a hat
-Sunscreen and mosquito repellent
-Umbrella or small waterproof poncho
-Dress/skirt (women); dinner jacket, pants (men)
WINTER
Like many cold-weather mountain destinations, the weather in Alberta (and in the Canadian Rockies specifically), can be fickle so it's best to be prepared for anything. While dressing warmly should be your main focus, it's wise to dress in layers so you can peel some off if conditions warm up. Here's what you should pack:
Essentials
-Warm pants
-Sweaters or long-sleeved shirts
-Warm winter jacket (waterproof and windproof highly recommended)
-Running shoes, or warm walking shoes/boots
-Winter insulated boots
-Warm socks
-Winter hat (fleece/wool)
-Gloves or mitts (two pairs, preferably thermal as it can get very cold)
-Scarf
-Fleece sweater or vest
-Other clothing ideal for layering
-Swimsuit
-Sunglasses
-Skis, ski boots, ski poles, helmet if you are planning to hit the slopes (and if you have not previously arranged rentals with Travel Alberta)
Skiing/Snowboarding
If you're planning to go skiing or snowboarding in Alberta, the following items are required:
-Warm hat
-Scarf/neck warmer
-Water resistant jacket
-Water resistant snow pants
-Thermal pants and top (not cotton)
-Waterproof thermal gloves
-Several warm layers
-Warm socks
-Goggles (due to the unique weather in the Canadian Rockies, sunglasses are not usually sufficient and goggles can't be rented)
Western culture
If you are planning to experience Alberta's western culture (ranch stays, horseback riding, The Calgary Stampede), you may want to consider packing the following items or purchasing them once you arrive:
-Long-sleeved western shirts (button down)
-Denim blue jeans
-Cowboy hat
-Cowboy boots or other sturdy closed-toed shoes
-Belt and belt buckle
Nightlife
Women needn't pack cocktail dresses and high heels for fancy dinners out in Alberta. Most establishments will welcome casual attire. A nice pair of jeans or dress pants with a dressy top will do the trick! For men, a dinner jacket isn't necessary but can be nice. A good pair of jeans or nice pants and shirt are all you need.
These packing lists should help to make sure that you've got everything you need as you prepare for your Alberta adventure! But don't worry – there's nothing you can't pick up at your destination if you forget something. For help to further plan your trip and decide what to do and where to go, visit TravelAlberta.com and follow @TravelAlberta on Twitter!
Photography: Banff Lake Louise Tourism/Paul Zizka