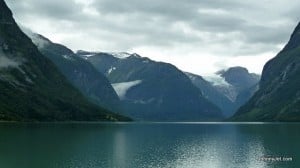 By Noah Markewich and Jennifer Overbeck:
Geiranger or Bust
We came to Norway seeking the adventure of a lifetime, but the way my wife is driving, this could be the last adventure of our lifetimes. Not that I want her to slow down. We're late for our ferry from Geiranger to Valldal, which is supposed to be a highlight of our trip. Meanwhile, we're careening down a ridiculously narrow mountain road, with dense fog—make that clouds—preventing us from seeing half a hairpin bend ahead. The bends seem endless, the clouds unrelenting, and our hopes of making the ferry, well, hopeless.
At about 5:15pm—the time our boat is scheduled to depart—we finally break through the clouds to a welcome view of the Geirangerfjord, stretching far below. We're momentarily relieved but then see a ship pulling away from the docks, and our hearts sink with the certainty that it's ours, the last Geiranger-Valldal link of the day.Norway has a vast network of trains, boats, and buses, and so far, all our connections have left right on time. Why would this ferry be any different?
Norway in a Nutshell
Four days earlier, our experience with Norway's transit began where most other tourists' ends, on the famed "Norway in a Nutshell" trip, which samples the magnificent mountains, waterfalls, and fjords between Oslo and Bergen. This made for a spectacular day, but it went by quickly and left us yearning for more. Claiming a full appreciation of Norway after seeing only the Nutshell would be like claiming a full appreciation of The Godfather after seeing only one scene. Impressive as each scene is on its own, the true glory of the movie lies in its scope, grandeur, and incredible ability to keep topping itself. As we would learn during our four-day drive around the fjord region, the same holds true for Norway. But first we had two days to spend in Bergen.
Bergen
Of the larger cities we visited in Norway—Oslo, Alesund, Trondheim, Bodo, and Tromso among them—Bergen was easily the most captivating. We'd put the fish market, the ramshackle timber buildings of Bryggen, and the funicular up Mt. Floyen on the short list of must-sees. Bergen is known for its wet weather, so we were thrilled to have a sunny day for our funicular ride. If you should be so lucky, make sure to take one of many available hikes up top, then return to town along wooded paths and cobbled lanes lined with charming wooden houses. You'll drop 1000 feet in elevation, enjoying panoramic views most of the way.
Car Trip, Day 1: Bergen to the Lustrafjord
We were sad to leave Bergen but excited about returning to the fjords and mountains, this time by rental car. The 90-odd minutes on E16 east to Voss were pleasant enough, but as we turned north towards Vik, the scenery became truly stunning. We had already seen many waterfalls, but their frequency, height, and volume now exploded. Of particular note are the branching cascades of Tvindefossen, just after Voss, and the two tumbling plumes seen from the twisting minor road (Stalheimskleiva) that descends from the Stalheim Hotel.
We backtracked from Stalheim to Vinje, turned north on Rv13, and began a heady climb over stark cliffs and cloud-shrouded mountains. Abundant waterfalls seemed to plunge straight from the sky, then down the cliffs and into rocky clefts that criss-crossed wild moors. Cows and sheep grazed the mist-filled grasslands and sometimes wandered into the road, slowing traffic more effectively than the speed limit signs. Soon enough, however, we descended a wide valley, at the foot of which lay the town of Vik, on the Sognefjord.
Vik boasts a classic fjord-side setting of towering cliffs, emerald meadows, and riotous wildflower displays. But the chief attraction here is Hopperstad Stave Church, originally built around 1140. Twenty-eight of these medieval wooden churches remain in Norway, and Hopperstad is among the most authentically preserved. Its vertical orientation draws your eyes towards the heavens, where you'll notice exposed ceiling beams said to resemble an overturned Viking ship. Ask the ticket seller to grab a flashlight and show you 13th-century graffiti of ships, fish, and dragons. You'll have no trouble spotting more dragons and other Viking-era adornments on the exterior.
From Vik we headed to Vangsnes, crossed the Sognefjord to Hella on our first car ferry, and drove an hour east on Rv55 to the two-mile spur road to Solvorn. Idyllically located beneath the mountains on the Lustrafjord, Solvorn was the most storybook town we saw in Norway, its main street wedged between brightly painted wooden houses with lush floral window-boxes and the occasional decorative troll. It had started to pour, so we decided to return the next day, but first we had dinner at the Linahagen Kafe, which serves good food at reasonable-for-Norway prices ($90 for two). We then drove 20 minutes up Rv55 to Viki Fjordcamping, where we slept in an adorable cabin perched just above the Lustrafjord, directly across from the roaring Feigumfossen waterfall.
Car Trip, Day 2: The Lustrafjord to Andalsnes
The next morning, we drove northeast on Rv55 to Luster, home of 13th-century Dale Church (and a delightful bakery next door!). This Gothic stone church contrasted nicely with wooden Hopperstad, though splendid settings are common to both. From wood to stone and back, Urnes Stave Church, an hour away on the other side of the Lustrafjord, was next on our itinerary.
Urnes dates from 1129, making it Norway's oldest surviving stave church. It's also one of the most remodeled. Once dark and empty like Hopperstad, Urnes now has windows and sex-segregated pews, with hearts carved into the women's benches, crowns into the men's. Urnes also has awkward wooden X-braces, installed to save the church from leaning after the bottoms of several staves—the floor-to-roof columns for which these churches are named—were sawed off in the 17th century to make a private pew for a wealthy family. The ceiling is another 17th-century addition—no Viking-ship rafters here.
These oddities make Urnes an interesting stop, but again, it is the dramatic location—perched high on a hill above the Lustrafjord, nestled beneath even higher mountains—that makes it truly special. Completing the scene, at least during our July visit, were profuse wildflowers and fragrant orchards of apple, cherry, raspberry, and strawberry. We could have lingered for hours but hurried to catch the ferry to Solvorn, back across the fjord.
Solvorn was even more inviting in the sunshine than it had been in the rain, but we started to worry about time, remembering our 5:15pm ferry from Geiranger. So we spent a mere half-hour roaming the storybook streets, making a brief stop at the Eplet Bed & Apple, an appealing hostel/fruit farm that sells delicious juices, bottled on the spot. We then left town and, 25 minutes later, drove past Viki Fjordcamping, closing our clockwise loop around the Lustrafjord.
Rv55, here called the Sognefjellsveg, soon left the fjord and began climbing towards Jotunheimen National Park. The scenery had been breathtaking ever since Voss, but Jotunheimen—the "Home of the Giants," Norway's loftiest summits—upped the ante. Jagged, glacier-crusted peaks reinvented themselves at every turn, and an absurd procession of cataracts plummeted from on high. As we drove across the barren heaths of this Tolkien fantasy world, we felt like we were in our very own Lord of the Rings movie. We wouldn't have been too surprised to run into Gollum or see hobbits emerge from the sod-roofed huts that became common as we descended a lush valley aside a roiling river.
We arrived in the town of Lom spellbound, but a time check brought us back to reality. Google Maps said we had another 83 minutes to Geiranger, but we had only 73 minutes until our ferry departure. We skipped the Lom Stave Church and began a heart-stopping dash northwest on Rv15, reaching our next junction with just enough time for what Google claimed was the final 20-minute stretch down Rv63.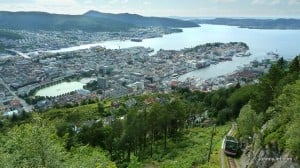 Reprise: Geiranger or Bust
Perhaps Google drove a different Rv63, but ours is a precipitous corkscrew through the clouds. This is no 20-minute drive, but at least the scenery rivals Jotunheimen's. However, we're more concerned with keeping ourselves and our hopes of making the ferry alive. When we finally drop below the mantle and see a ship leaving the docks, we're still far above the fjord, and we figure it's bust, not Geiranger.
We reach the town glum and resigned, not quite ready to invent Plan B. With nowhere else to go, we drive to the quay and are intrigued to find a long line of cars. Could it be that the ferry hasn't left? The attendant approaches our window and we sheepishly tell him that we think we missed our boat. With a wide grin, he informs us that the ferry is running later than we are, and we shriek with joy to the amusement of others nearby. Who'd have thought that the only transit delay of our trip would also be its crowning moment?
Our death-defying race to the ferry pays off in spades, as we spend the next 2.5 hours plying the wondrous Geirangerfjord, Sunnylvsfjord, and Norddalsfjord. All three astonish, but Geiranger, a UNESCO World Heritage Site, gets our vote as the top fjord in Norway. Its dark waters are shadowed by near-vertical mountains laced with countless waterfalls emptying directly into the fjord, and we pull close enough to the Seven Sisters to feel their spray. Multi-lingual commentary illuminates the experience, giving background on abandoned farms suspended on isolated ledges above. We also enjoy talking to the shipmen, though much of the conversation is about the bombing and shootings in Oslo the day before. The shipmen explain why the ferry left Geiranger late—inbound passengers had been reluctant to disembark. We understand this sentiment but arrive in Valldal knowing that more enchantment lies ahead.
Back on Rv63, we drive up a valley known for perhaps the world's best strawberries— "jordbaer" in Norwegian—and dine at Jordbaerstova, a country restaurant that serves superb strawberry cake and pitchers of strawberry lemonade that just might be the best drink deal in Norway. We add some berries for the road to our bill ($75), though a purchase at one of the unattended honor-stands that dot the valley would have been more meaningful. Norwegians have an inherent trust of each other, and we hope it will survive yesterday's horror. Over the remainder of our trip, we are as impressed by the people's spirit in the face of this tragedy as we are by the country's unrelenting natural beauty.
We find more of that beauty at Gudbrandsjuvet, where a matrix of artfully engineered catwalks hangs over a gorge some 80-feet deep but only a quarter as wide. The Valldola River roars below, where it's eroded intriguing formations into the canyon walls. We then head over more Tolkien mountains and descend the far side on the fiendishly twisty Trollstigen ("Trolls' Ladder"), which switchbacks across two waterfalls dramatic enough to challenge any in Norway. After yet another emerald valley, we reach Andalsnes on the Romsdalsfjord, and enjoy a well-earned rest at the local hostel.
Car Trip, Day 3: Andalsnes to Solavagen
Thankfully, for the rest of our roadtrip, we get our drama from the landscape, not Hail-Mary transportation connections. We start Day 3 with an easy hour-and-45-minute ride west on E136 to the coastal city of Alesund, lauded for its Art Nouveau architecture, the product of a rapid rebuilding effort after a 1904 fire destroyed the town. We spend a full day here, as planned, but find it underwhelming, worth seeing only if you are nearby, and then only for a quick visit. However, we do find our favorite version of Norway's ubiquitous fish soup, scrumptious desserts, and free drink refills—a rarity in Norway, home of the five-dollar soda—at Lyspunktet restaurant ($95). We then drive 20 minutes to the wonderful Sunde Fjord Hotel in Solavagen, where our balcony offers a panorama of intense rainbows arcing across the Storfjord to the Sunmore Alps.
Car Trip, Day 4: Solavagen to Bergen
The Sunde Fjord Hotel is right next to the Solavagen-Festoya ferry, and we board it bright and early for our last day of travel back to Bergen. We cross the Storfjord, then drive Fv65 south for 20 minutes to tiny Store Standal. Just as our next ferry arrives, the clouds lift to unveil the Sunmore Alps, which we saw across the water last night. For the next hour, the Hjorundfjord slices a narrow path between these jagged, skyscraping pyramids, down which spill prodigious glaciers and waterfalls. We hit land again in Leknes, chronically slack-jawed.
We take Rv655 southeast and stop at the Union Hotel in Oye, a Victorian gem that opened in 1891 and retains all of its old-world elegance. The scenery here is striking, and it gets even better as we drive the Norangsdal valley. We pause at Lyngstoylvatnet lake, created when a 1908 rockslide dammed the valley's stream, and spot drowned cabins beneath the crystal-clear water. Further along, we find tiny, sod-roofed huts, long-abandoned by the milkmaids who used to tend cattle here. Cows and sheep remain, grazing verdant meadows and drinking from snow-lined lakes, out of which rise immense crags. Near the valley's end, at least 15 separate waterfalls streak down a single cliff face under hanging glaciers.
Such sights are common in Norway—we frequently see more than a dozen falls at once—but they never cease to amaze. The details sound repetitive by now, so let's just say that Norway exceeds its billing as perhaps the world's most beautiful country. It is positively unreal. Nearly everything we've seen seems like the creation of a CGI wizard on steroids, if not LSD. We don't want the movie to end, but, alas, we have a flight to catch in Bergen, still five hours to our south, and need to pick up the pace.
We wind 50 minutes south on Rv60 to Loen, where one last detour takes us along turquoise Lovatnet, a fjord-like lake fed by the Kjenndalsbreen glacier. Far down the lake, the glacier clings to rugged peaks and epic waterfalls course down the cliffs. Kjenndalsbreen is a northern arm of the Jostedalsbreen glacier, mainland Europe's largest at 185 square miles. It extends south from here almost to the Lustrafjord, from which we had planned to approach the Nigardsbreen arm two days earlier. Time wouldn't permit then, and it's pressing us now.
We hightail it down E39, re-cross the Sognefjord on the Lavik-Oppedal ferry, and drive through emerald valleys, along swollen rivers, under magnificent mountains and waterfalls. By the time we reach Bergen, we're already planning our next visit. We need to see everything again to make sure this unimaginable beauty was real. Plus, we barely scratched the surface of sights like Jostedalsbreen. Next time, we'll give it all more time. Norway deserves it, and besides, we wouldn't want to be late for our Geiranger-Valldal ferry.
Norway Tips and Practicalities
Guidebooks
-We used Rick Steves', Rough Guide, and Lonely Planet, and found them all helpful. Rick Steves' (Jan. 2010) was most in-depth but covered nothing after Lom. Rough Guide (June 2009) was second on depth, covered our entire trip, and listed the most obscure sights. Lonely Planet (May 2011) covered a few exciting places that Rough Guide skipped and was most up-to-date.
Money
-All prices below are approximate, converted from Norwegian Kroners (about 5.5 NOK to 1 USD), and current as of July 2011 (as is the rest of the information provided).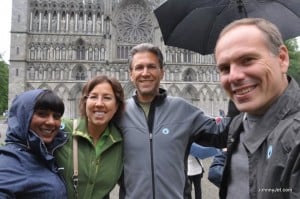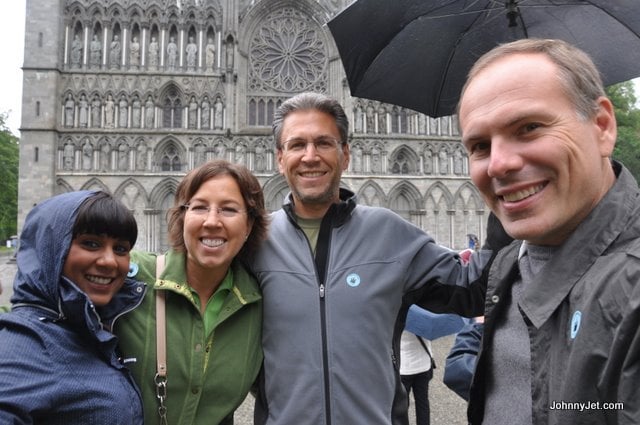 Norway in a Nutshell
-If you book the Oslo-to-Bergen Nutshell through a tour operator, you'll take (1) the Bergen Railway to Myrdal; (2) the Flam Railway to Flam; (3) a ferry up the Aurlandsfjord and down the Naeroyfjord to Gudvangen; (4) a bus to Voss; and (5) the Bergen Railway again to Bergen.
-You can also book each leg on your own—these are all just public transportation connections—to design a custom itinerary, lose the crowds, and save some money. Our self-booked itinerary included steps (1) and (2) above; then (3) a bus to Gudvangen; (4) the ferry back to Flam; (5) the Flam Railway again to Myrdal; and (6) the Bergen Railway again to Bergen.
-Our route cost about $191/person. Book the Bergen Railway segments well in advance (90 days maximum) to get heavily discounted 'minipris" tickets. You can buy your ferry tickets in advance but probably don't need to. Flam Railway and bus tickets must be bought on the spot.
-If you follow our routing, you can check your luggage at the red shed aside the railway station in Flam and pick it up before you head back to Myrdal. If you can't spot the shed or stop for the bus to Gudvangen, ask at the TI in the station.
Hotels
-Bergen: The Grand Terminus is right next to the train station, which you'll appreciate after the looooong day of the Nutshell. It's also very close to the main bus terminal and just a 10-minute walk from the major sights. We found our 'deluxe" room large, clean, and comfortable, and heard no noise from the station. We paid $247/night with a 'Fjord Pass" discount (you can buy the pass at your first participating hotel for about $28, though no one ever asked to see ours).
-Lustrafjord: Viki Fjordcamping (in Hoyheimsvik) has campsites that share a sparkling central bathhouse, but we stayed in one of several cozy cabins, with full baths, kitchenettes, and front porches perched just above the glacier-blue water. At $130/night (cheaper if you bring your own sheets and towels), this was one of the better bargains of our trip, particularly considering that you'd need a boat to sleep any closer to the fjord. (Viki offers boat rentals too!)
-Andalsnes: The youth hostel (Andalsnes Vandrerhjem) offers clean, comfortable rooms. Dorms are cheap, but we paid $152/night for a private double, hardly a bargain considering we had to share a bath. The breakfast was also meager compared to other hotels. Our research convinced us this was the best place to stay in Andalsnes, but you might want to explore other options.
-Solavagen: Sunde Fjord Hotel is conveniently located on E39, right next to the Solavagen-Festoya ferry. With the Fjord Pass, we paid $188/night for a fabulous room with a stunning view of the Sunmore Alps, just across the Storfjord. A hidden gem not listed in the guidebooks.
-All of the above had free wireless internet, except for Viki Fjordcamping, which had none at all.
Food, Drink, and Restaurant Locations -With the exception of Viki Fjordcamping, every hotel that we stayed at in Norway included a buffet breakfast in its rate. Food is extremely expensive, so we stuffed ourselves at breakfast, bought light snacks at the supermarket for lunch, and tried to avoid extravagance at dinner. Norwegians regularly drink tap water with their meals, so don't be embarrassed to ask for it. Fill a bottle in your hotel sink to carry around town, and avoid alcohol, which runs $15+ per drink!
–Linahagen Kafe: Solvorn, on the main street, near the Walaker hotel and ferry dock/parking lot.
-Jordbaerstova: About 3.75 miles from Valldal, on Rv63 toward Andalsnes. Open May-Sept.
–Lyspunket: Alesund, Kipervikgata 1, between Storgata and Kaiser Wilhelmsgata.
Transportation and Route -Rental Cars were far cheaper at the Bergen airport than downtown. Our compact from Avis was $370 for four days. Catch the airport bus at the main city terminal for the 45-minute, $17 ride.
-Gas cost over $10/gallon during our visit. Fortunately, our diesel car got great mileage, even on the twisty mountain roads. We drove over 700 miles and almost made it all the way on one tank. We filled up once from empty for $155, and had to put another $13 in at the Bergen airport. The airport gas station is conveniently located and competitively priced, so it's probably not worth looking for a better deal. A word of caution: we had some difficulty when the credit-card system at the first gas station required PIN entry (not just a signature). Know your PIN!
-Our route (just a sketch that should allow you to look up the details on the web or a good map):
Day 1: Bergen-Voss-Vinje-Stalheim on E16; Stalheim-Vinje (backtrack) on E16; Vinje-Vik-Vangsnes on Rv13; Vangsnes-Hella ferry ($18.50); Hella-Solvorn-Hoyheimsvik on Rv55.
Day 2: Hoyheimsvik-Luster-Skjolden on Rv55; Skjolden-Urnes (sometimes spelled Ornes) on Fv331; Urnes-Solvorn ferry ($21.25); Solvorn-Hoyheimsvik-Luster-Skjolden-Lom on Rv55; Lom-Geiranger on Rv15+Rv63; Geiranger-Valldal ferry ($112.50); Valldal-Andalsnes on Rv63.
Day 3: Andalsnes-Alesund on E136; Alesund-Solavagen on E136+E39.
Day 4: Solavagen-Festoya ferry ($18.50); Festoya-Store Standal on Fv65; Store Standal-Leknes ferry ($25); Leknes-Oye-Loen-(detour down Lovatnet to Kjenndalsbreen)-Byrkjelo on Rv655+Rv60; Byrkjelo-Lavik on E39; Lavik-Oppedal ferry ($20); Oppedal-Bergen on E39.
-All ferry prices above are for car and driver plus one passenger. Prices, schedules, and even operators may change from year to year, so check the web before you go.
–Vangsnes-Hella
–Urnes-Solvorn
–Geiranger-Valldal
–Solavagen-Festoya
–Store Standal-Leknes
–Lavik-Oppedal
Visiting the Churches
–Hopperstad Stave Church (Vik): Open mid-May to mid-September, daily from 10am-5pm (9am-6pm from mid-June to mid-August). $11/adult, $8.25/child or student, $23.75/family.
-Dale Church (Luster): Generally open daily from 10am-8pm, but erratic hours possible off-season and during services. Free admission, donation requested. Delightful bakery next door.
–Urnes Stave Church (the church is spelled Urnes, but the town is sometimes spelled Ornes): Open early May to late September, daily from 10:30am-5:30pm. $11/adult, $8.25/child or student, $23.75/family. Admission includes a 25-minute guided tour (required to see the interior; leaves at 40 minutes after most hours; designed to coordinate with ferry times).
–You can reach Urnes either by ferry from Solvorn ($15.50 for car and driver, $5.75 for passenger only) or road from Skjolden (located 40 minutes to the north up Fv331). If you arrive with your car, note that guidebooks and signage direct you to a parking lot that requires a stiff, 10-minute, uphill walk to the church. But we saw several cars parked at the top, and it's probably worth driving up to check it out. In case you have to return to the lower lot, make sure you leave enough time to walk back up and meet your guided tour. If you arrive without a car, you must walk up from the ferry landing, which adds five more uphill minutes, unless you bring a bike.
–Bicycles can be rented at Eplet Bed & Apple in Solvorn (free for guests) and taken on the ferry at no additional charge. Flat, lightly traveled Fv331 up the east bank of the Lustrafjord would make a wonderful ride. However, the climb to the church appears to be the more popular option.
Other Attractions to Consider
-We would have liked to see all of the following, but time didn't permit:
–The Naeroydal valley, between Stalheim and Gudvangen.
–Otternes Farms, near Flam, first settled in 1522.
–The Aurlandsvegen 'Snow Road" and Stegastein viewpoint, between Aurland and Laerdal.
–Borgund Stave Church, 16-miles east of Laerdal on E16, one of the best-preserved.
–The resort town of Balestrand, which is supposed to be one of the nicest on the Sognefjord.
–The Fjaerlandsfjord, which cuts north from Balestrand, and the village of Mundal at its end.
–The Nigardsbreen arm of the Jostedalsbreen glacier, less than an hour from Solvorn.
–Lake Gjende and the hike along Besseggen Ridge, on the east side of Jotunheimen.
–Lom Stave Church, one of the largest.
–The Flydalsjuvet and Dalsnibba overlooks of the Geirangerfjord, along Rv63 from the south.
–The Ornevegen ('Eagle's Road") section of Rv63, just north of Geiranger.
–The Rauma Railway between Andalsnes and Dombas, one of Norway's most scenic routes.
–The island of Runde, 45 miles southwest of Alesund, summer home to half a million seabirds.
–Several other approaches to the Jostedalsbreen glacier along Rv60, Rv5, and E39.
WEB RESOURCES