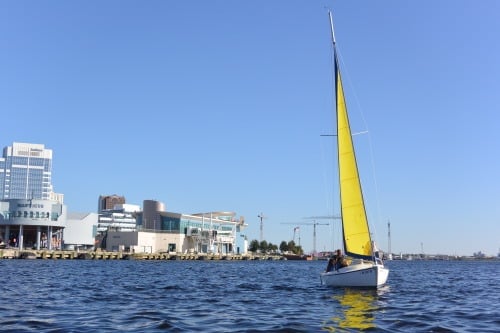 Not only is the beautiful waterfront city of Norfolk home to the largest naval base in the country (and more than 100 mermaids!), it's considered to be the historic, urban, financial and cultural mecca of Coastal Virginia.
Tip: You must pronounce this city properly as "Naw-fok." No other pronunciations are accepted!
Water-lovers, you are in luck. There's a harbor at Town Point Park for sailing, running trails and paths for strolling. The Elizabeth River borders the city to the west and the Chesapeake Bay to the north. The city is also home to an urban winery called Mermaid Winery, microbreweries and food and wine festivals galore. If you are looking for a beach, Virginia Beach is close as well.
Tip: Norfolk's O'Connor Brewing Co. is a great microbrewery to stop by. They've just started serving their Winter Pecan Porter!
Norfolk Mermaids
I was so excited to discover my first "Norfolk Mermaid" during a run along the Elizabeth River to Town Point Park. How cool are these mermaids? Apparently there more than 100 mermaids around the city, beautifully dressed up with gold scales, American flags and nautical symbols.
Why mermaids? Over a decade ago, Attorney Peter G. Decker Jr. and his wife suggested to city officials that they do something similar to Chicago's "Cows on Parade" art exhibition. Why not life-sized mermaids? The city then started hiring local artists and commissioning mermaid statues to be displayed around Norfolk. Today, mermaids can be found throughout downtown, in front of businesses, schools, hospitals and even in some homeowners' yards. In Norfolk, art is everywhere!
Artsy Norfolk
The Chrysler Museum of Art is a must. I could have spent all day at this amazing museum. It recently re-opened in May with new wings, glass galleries and an exhibit that runs until January called Worn to be Wild to showcase the many looks of the symbolic black leather jacket. Yes, they have glass art and leather jackets in one museum! This museum definitely appeals to a wide audience.
Tip: Chrysler Museum of Art general admission is free, by the way—many locals don't even know this.
The Chrysler Museum of Art even uses iPads to give more details about certain works of art. Hold the iPad up to the art and it tells you more information about it. It'll even play a song from the era of the painting or, in the photo below, tell a joke from the comedy club.
After being wooed by the treasures of glass sculptures and other art, you can visit the Chrysler Museum Glass Studio in the evening for a glass-blowing demonstration. We made cute blown-glass pumpkins just in time for Halloween.
This is how the glass pumpkin process begins: We put heated molten glass on the end of the blowpipe, roll it around in glass granulars (crushed glass) and roll it some more.
You then blow into the pipe to create the pumpkin and it's taken to more heat which is a cool 2,000 degrees!
Then it gets molded into the perfect shape, the stem is added and it is put here for a brief moment to sit before going into the kiln for 24 hours.
That was the abbreviated description of the process and here's a three-minute video on the entire process. It's such a fun process to learn about and I really had a great night out at the glass studio.
Eclectic Cuisine
Walking down newly revitalized Granby Street on a beautiful 75-degree Thursday, I could spot organic restaurants, open-air seating and communal tables. This area is pretty hip. We ate at this amazing place called Field Guide. You order at the counter and then pick your spot in the open-air restaurant.
Tip: You must try one of the homemade sodas at Field Guide!
I noticed diverse meal options everywhere around the city. There was a great Mexican restaurant called Luna Maya with great drinks and food. Try the Margatini Espolon with tequila, passion fruit lime juice and ancho pepper salt. There was even a Turkish restaurant in Ghent called Pasha Mezze. Pasha uses natural, organic, locally obtained ingredients. I loved the Signature Turkish Sampler, which included walnut dip, organic lentil pate, hummus and zucchini cheese puffs. The Maiden Cake was also just as good to look at as it was to eat. It is a grilled organic red lentil patty served with grilled tomatoes over kale.
Historic Norfolk
Visitors to Norfolk should also stop by the Naval Station Norfolk and the Battleship Wisconsin (berthed at Nauticus, it's one of the largest and last battleships ever built by the U.S. Navy and was in service from World War II through the Persian Gulf War). You can even take sailing lessons with Sail Nauticus on the not-that-windy Elizabeth River. For all those wondering, I did sail the boat and I did not turn us sideways. Okay, I had a little help from Captain Mike!
Where to stay
Sheraton Norfolk Waterside Hotel has a perfect location in downtown Norfolk just along the waterfront. From rooms with a view, you can see awesome views of the Elizabeth River. After a long day of travel, I enjoyed my charcuterie snack before bed. The Sheraton had a great breakfast buffet with a create-your-own omelet station and waffles with a water view. You are in the center of all the Norfolk action here with Town Point Park next door, shopping at MacArthur Center and Granby Street a short walk away.
Verdict
Norfolk offers many diverse options, making it the perfect spot for a long weekend getaway especially when it starts to get colder up North. It is an easy weekend trip for east coasters. It's a three-and-a-half hour drive from DC, two hours from Richmond and four hours from Roanoke.
If you aren't within driving distance, Norfolk has its own airport, which I must say had some nice TSA agents and reasonable security lines. When I say reasonable lines, I actually mean there was only one person ahead of me! Even the atmosphere of the airport calmed me instead of making me feel annoyed and stressed out before my flight.
More young professionals are starting to call Norfolk home, specifically trendy parts of the city like Ghent. But I also love that on Saturdays you can still find three generations sitting at bar stools in famous Doumar's, home of the first waffle cone machine, for a vanilla waffle cone and some reasonably priced BBQ.
Norfolk has the quaint charm of a town on the water where everyone knows your name mixed with an urban, trendy vibe that will increasingly entice a diverse group of travelers.
For more information to plan your Norfolk trip, visit visitnorfolktoday.com.