By Lisa Tucker McElroy:
There's nothing like a summer vacation at the very end of the summer: You get the anticipation all summer long, plus the kids are totally sick of the community pool and raring to go on an adventure. Luckily, we had the "best adventure ever" on our family vacation this summer, thanks to Nickelodeon and Royal Caribbean cruise lines.
We started out on a Friday, at the end of a long week that involved packing every swimming device and type of sunscreen known to mankind. The trip to super-sunny Florida was quick and easy on Southwest; we just hopped on an early-morning flight in Philadelphia, snoozed for a couple of hours on the plane, and woke up to deplane as the day was just getting underway in central Florida. Getting to the Nickelodeon Hotel was a little bit more expensive than we'd thought—a whopping $40 in a cab—so we wished we'd rented a car. But the cab driver got us there "speedy quick," as my eight-year-old would say, and we were in the massive Nickelodeon pool–water park–kid magnet by noon.
Luckily we'd packed our swimsuits in our carry-ons, because our room wasn't ready yet. We'd arrived well ahead of check-in time so we were glad to learn that the hotel's policy is that you can start "playing" well before you get an actual room. While the kids watched Nick TV in the colorful TV lobby, my husband and I got the bags checked with the bellmen and then we all hit the pool. Right around lunchtime a lot of people were leaving to get a bite or take a nap, so we scored some beach chairs and settled right in.
It's important to know that the Orlando sun is hot and very direct at this time of year. We had to grease the kids up with sunscreen constantly and buy them lots of bottles of water, even though they practically never got out of the water. Our golden opportunity? We grabbed them when they were hopping out for "sliming time," a fun poolside game show–type activity where the kids competed for the chance to be covered in green slime.
By late afternoon our two-bedroom family SpongeBob suite was ready for us, and we for it. The kids immediately closed the curtain over the door to their bunk-bed room, and Steve and I hit the deck in our king-bedded one. We were glad to have a fridge for water and soda (add to your packing list: snacks and drinks), and the living area was spacious enough so that I could check email while Steve watched a little baseball.
For dinner, we hit the surprisingly tasty café buffet (around $80 for the four of us), then hit the hay so we could get up the next day and do it all over again, starting with a character breakfast with a dancing Dora, Blue, and Little Bill. With the Nick Hotel as a start to our vacation, we weren't sure that the Nickelodeon cruise could be much better.
After two days in this paradise-for-kids (hair wraps! Slime slushies! Rugrats!), we rented a compact car and drove to Port Canaveral, where we quickly found the cruise ship harbor. My kids were wowed: The Freedom of the Seas, our ship, was by far the largest of the ships docked there. In fact, we'd find out later that it was the largest passenger ship sailing out of the United States, and that this sailing had a record number of children aboard.
Once aboard, we headed to our oceanfront balcony cabins on Deck 6 and settled in. Nickelodeon has done well to charter its twice-yearly cruises with Royal Caribbean. The cabins are large and comfortable, and the ship is outfitted with many modern amenities. For example, by booking two adjoining cabins (complete with two balconies and two full baths), we had more than enough space to spread out and relax, and we could lock the door between the cabins for privacy while allowing our girls to access our room through the connected balconies. The cabins had plenty of drawer and closet space for all of the stuff we'd lugged aboard.
As soon as we'd unpacked, we headed out to explore. The Promenade Deck, with its Ben & Jerry's ice cream parlor (available for a small additional charge), pizza parlor (included), wine bar, and many shops, looked like Main Street in any attractive tourist town. After a couple of hours aboard, my kids had sampled all of the goodies, plus started angling for souvenirs in the Pets at Sea (stuffed animals) and jewelry stores.
Once at sea, the kids were dying to swim, so we headed to the pool deck to check it out. They jumped right into the kids' pool, decorated with all kinds of colorful sculptures, and my husband and I hit the pool bar for cold, fruity drinks. After an hour or so, we all met up in the hot tub. In fact, this would become a routine for the rest of the cruise: We'd stake out deck chairs, then spend a good chunk of the morning or afternoon relaxing, taking a dip, and chatting with the friends we made aboard. As for the fruity drinks? Well, we'd have quite a few of those, too, especially the super-sweet and extra-icy strawberry daiquiris.
After dinner at the ship's buffet, we headed to the lounge on the top deck, where some of the Nick stars were hanging out and having cocktails. My kids were excited beyond belief to meet Tom Kenny, the voice of SpongeBob (as well as many other animated characters). And though many might say that SpongeBob is, well, quite an eccentric character (living as he does in a pineapple under the sea and wearing a tie with shorts), Tom was about as nice and normal a guy as you could wish for, mingling and posing for photos with the kids while munching on mini hot dogs and quiches.
Day 2 of the cruise took us to Coco Cay, Royal Caribbean's private island. While we enjoyed checking out the beach there, my kids got stung by jellyfish within the first 15 minutes in the ocean and refused to go back in. That was OK, though; the tender sailed every half hour or so and we were able to return to the ship and have the pool deck onboard pretty much to ourselves while the rest of the cruise passengers relaxed under palm trees on the beach. We bought a bunch of Nick-themed souvenirs, and my younger daughter conned her dad into buying her not one, but three "pets at sea."
The next morning we were up and at 'em for a day at sea. The day passed quickly with swimming, napping, eating soft-serve ice cream from the machines on the pool deck, and checking out the climbing wall and Flowrider surfing adventures onboard. The best part of the day? The Nick Show that night in the Arcadia Theater, where Tom Kenny and pal Andy Paley entertained oceans of kids with SpongeBob songs and skits. For the rest of the cruise, we'd hear every kid onboard singing "Where's Gary?" (referring to SpongeBob's lost pet snail) and "Best Day Ever" while they roamed the Nick-decorated ship in their SpongeBob T-shirts. OK, we'll admit it. We bought a few T-shirts and hummed a few tunes, too. It was infectious!
Day 4, on the beautiful island of St. Thomas, was much more of a hit. From the minute we pulled into port and the kids saw the lush, green landscape from our balcony, they were clamoring to get ashore. It didn't hurt that we were headed to Coral World to swim with sea turtles. First, though, we had to get a taxi, and compared to the relaxing, laid-back nature of the rest of this vacation, the taxi thing was a pain. As it turns out, the St. Thomas government regulates taxi fares, so a 20-minute ride for our family of four came to $32 each way. And that wasn't even in our own taxi! No, on St. Thomas the "taxis" are actually open-air buses—so open, in fact, that children are not allowed to sit in the seats closest to the outside lest they fall out as the taxi-cum-bus winds its way through the narrow, hilly St. Thomas roads.
Once at Coral World, though, we had a blast exploring the huge underwater coral reef and checking out the sea life, plus watching the flocks of iguanas snatch snacks off the ground. The kids fed nectar to the lorikeets and hung with the sting rays. After a couple of hours exploring, it was time for the best part: We changed into swimsuits and headed inside to meet our guide, who would teach us all about sea turtles and take us in to swim with them. Turtles Shelly and Duncan (the folks at Coral World think they're a boy and a girl, although they don't know for sure) had been rescued and nurtured in their own pool at Coral World for several years. The guide led us in slowly, then helped the giant turtles swim around us in laps while we stroked their shells and fins. Even my young daughters, who were nervous at first (the turtles were as big as the girls were) got into the act after only a few minutes, and it was hard to drag them out of the pool when our half hour was up. We all agreed that this solo adventure—just our family, the guide, and Shelly and Duncan—was well worth the price ($53/adult, $44/child).
The kids were tired enough for a nap when we got back on the ship, and that meant they were rested for our special dinner at Portofino, one of the fine-dining restaurants on Freedom of the Seas (extra charge per person: $20). Before we headed into dinner we dressed up in our nicest outfits to pose with SpongeBob (well, actually, a giant Lego SpongeBob in the dining room lobby). Then we headed in for risotto with prawns, tagliatelle with arrabiata sauce, and some very nice wine. Like all of the restaurants onboard, Portofino had lots of great dining options for kids, too, and the waitstaff treated them like royalty. After dinner, my husband and older daughter wandered the ship while my younger daughter and I took in the kitschy but entertaining show of Broadway songs and dances in the theater.
On Day 5 the ship docked in San Juan, Puerto Rico, for a half day of fun on the beach. We hopped in a cab and headed a short distance to the San Juan Marriott Resort and Stellaris Casino, a beautiful beachfront hotel where we'd bought day passes for about $18 each and reserved a room for some R & R. To our very pleasant surprise, the hotel upgraded us to the Presidential Suite, a room that was practically bigger than our house and complete with a bar, a wraparound balcony, and a kitchen, not to mention the huge living room, king bedroom, and two bathrooms. Our only disappointment? We had just a few hours to enjoy the incredible beach and pool area, plus scarf down some of the tasty burgers that Marriotts are deservedly known for. Still, we enjoyed the property enough that it's now on our list of places that warrant a much longer visit at some point down the road.
That night, the kids begged to meet some more Nickelodeon stars, so we headed to a meet-and-greet with Keke Palmer, Ashley Argota, and Matt Shively, all of True Jackson, VP fame. I have to say that I was especially impressed with Keke Palmer's maturity and outlook on life: She told the girls that her favorite part of doing a TV show was making friends and becoming a family with her cast and crew. She also had high praise for the Nickelodeon network, saying that they were really committed to her schooling and to making her and the other kids on Nick shows into great, responsible adults. All of the kids were friendly and approachable, and my girls were pretty stoked to get their autographs and photos.
After the thrill of meeting Nick stars, all the girls wanted to do was go back to their cabin and watch reruns of True Jackson, VP on TV. My husband and I seized the opportunity for some grown-up time and snuck out to Chops, the fine-dining steakhouse onboard (extra charge per person: $25). This meal would be one of the nicest—and most romantic—we'd have on our trip, what with huge juicy steaks, asparagus, chocolate cake, and an amazing view out the window. Because Chops has its own wine cellar, we were able to choose a bottle or two to turn a delicious dinner into a very cozy one.
After one more day at sea (yes, we gave the climbing wall, the Flowrider, and the soft-serve ice cream machines one more visit), Day 7 took us to the Bahamas and Atlantis, one of the biggest hotels and water parks we'd ever seen. The cabs weren't expensive in Nassau, but the food at Atlantis's outdoor cafés was a little on the pricey side at about $12 for a hamburger and $4 for a can of Diet Coke. My kids enjoyed the many pools, but the water slides were a bit too high and scary for them, and the lazy river was jam-packed. We left Atlantis thinking that it was a beautiful property, but that we'd rather return during low season when it wasn't quite so crowded (perhaps due to the Miss Universe pageant, which was going on while we were there).
Finally, on Day 8, we docked in Port Canaveral. We had to be off the ship by 8 a.m. and it was hard to drag the kids onto dry land, even with the promise of a day at the Kennedy Space Center. The early hour wasn't the whole problem; it was more that they'd had the time of their lives and didn't want to leave, even with giant stuffed SpongeBobs in tow.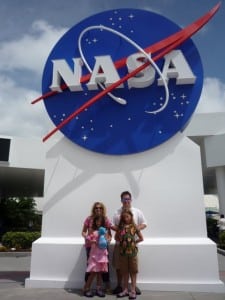 But the day at Kennedy Space Center made for a perfect ending to an amazing family vacation. Inspired by my older daughter, who is pretty darn serious about becoming an astronaut when she grows up (I'm certain she'll write stories someday about her travels to Mars and Jupiter), we had lunch with astronaut Wendy Lawrence and about 50 other lucky tourists, then checked out the new Shuttle Experience, a shuttle simulator that feels like the real thing. We took a look at the Memorial Wall, erected to honor fallen astronauts, and walked through several exhibits about the history of space exploration, then finished up with Magnificent Desolation, Tom Hanks' IMAX movie about the Apollo missions to the moon.
It was hard to head to the airport, especially with two kids who couldn't stop singing "Where's Gary?," but our Nickelodeon trip made us feel good about the shows our kids watch and the company behind them. If Nickelodeon's planning a trip to Mars any time soon, we'll definitely be along for the ride.
WEB RESOURCES:
Note: This trip was courtesy of Nickelodeon, Coral World, Atlantis, the Kennedy Space Center, and the San Juan Marriott Resort and Stellaris Casino.