By Juliet Pennington:
With the success of "Jersey Shore," folks at MTV have decided to take the same formula across the pond with a new reality TV show called "Geordie Shore." Scheduled to debut later this month, it is about a group of young people from Newcastle-upon-Tyne, in northern England, where locals are referred to as "Geordies" with a unique culture and distinct accent of their own.
Given the vulgar-mouthed, binge-drinking, sex-crazed cast of "Jersey Shore," chances are those who have never been to this charming city will get a rather skewed view of its people and what it has to offer.
Lucky for me, I was able to take a visit to Newcastle recently and see for myself what it and neighboring Gateshead had to offer. The two cities are linked by a series of seven iconic bridges and are often referred to as the "twin cities."
One of my daughters, a student at Loyola University in Baltimore, is an exchange student at the University of Newcastle for the year and her twin sister and I made the trek across the Atlantic Ocean for a visit. Amanda had been singing Newcastle's praises since she arrived last fall, so while I was most excited about seeing her, I was also eager to explore her home-away-from-home, about which I had heard so much.
Boston to Heathrow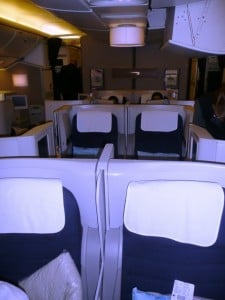 Nicole and I flew from Boston to London's Heathrow Airport, then took an hour-long flight north to Newcastle. We flew in the "Club World" (akin to business class) section on British Airways and enjoyed it immensely. While the food was quite good and plentiful (I had a delicious onion and thyme tart with carrot and fennel seed salad as an appetizer and a rich and tasty spinach and ricotta cannelloni with Stilton and light piri piri sauce for my meal), the personal viewing screen cool, and the friendly flight attendants a real plus, the best part of flying on this airline and in this class were the oversized, comfortable seats that reclined to a flat position, facilitating a restful sleep. The individual cubbies with retractable privacy screens were also pretty neat and made us feel like we were in our own personal cabanas. We didn't visit the British Airways "Terrace Lounge," open to First Class and Club World travelers, on the way to Newcastle, but with a nearly four-hour layover on our return trip, we did – and it made all the difference. Not only were there numerous computers with wireless Internet service available for use, but large-screen TVs, newspapers from around the world, an ample buffet of hot and cold food, and snacks galore. There were fully appointed business areas, and relaxing lounge areas with comfy couches covered with throw pillows. It made the layover not only bearable but actually enjoyable, as Nicole and I used the time to kick back and reflect on our visit to Newcastle.
Home away from home
Our first observation was that we could see why Amanda fell in love with this city and while she is anxious to come home next month, she is already sad about the prospect of leaving. "I just love it here so much, and everyone is so nice," she said. "It feels like a second home to me."
For a large city, Newcastle is fairly compact, with the popular neighborhoods within easy walking distance of each other. Home to two universities, with a combined 40,000 students, Newcastle (population 265,000) has a young, hip feel to it, with tattoo parlors, trendy shopping options, and ample nightlife. We went to a '70s bar called "Flares" – which refers to itself as the "grooviest bar and disco in town" – with Amanda and some of her college friends and had a blast dancing the night away to the sounds of the Bee Gees, the Jackson Five, and other popular groups of that era.
We found a surprising array of restaurants including cozy bistros, brasseries, and coffee shops with a variety of ethnic offerings. My daughters and our friend, Robert, a Londoner who came up north for a visit, agreed that our favorite meal we had was at the Sky Apple Cafe, a vegetarian restaurant that was simply out of this world – and with down-to-earth prices. We ended up sharing each other's meals and rating, among the top picks, the matter masala (red peppers, courgettes, red onion and other vegetables bound in a spicy gram flour batter and pan fried stacked high with cooling cucumber on a matter-mixed pea – masala, basmati rice and soy yogurt sauce) and the asparagus and four-cheese roulade (a cheese soufflé rolled around ricotta cheese flavored with white wine, pesto, garlic and veggie parmesan-style cheese filled with a slice of brie and blanched, fresh asparagus and lightly baked … served with a mascarpone and white wine sauce and a ratatouille nicoise).
Eats and Treats
For a quick bite, stop by the historic Grainger Market (open Mondays through Thursdays) in the heart of the city center where you can get fresh, inexpensive produce and a host of other items. When constructed in the 1830s, it was the largest covered market in Europe. Newcastle also has its own small Chinatown (on Stowell Street) where you can stop by in the late afternoon for affordable ($7-$10) all-you-can-eat buffet specials.
On the cultural front, there is more to see in this region than most people realize. The tourism folks refer to the area as NewcastleGateshead, with Newcastle being a city on the north bank of the River Tyne, and Gateshead being a town on the south bank of the same river. Not only are the two linked by bridges, but by their complementary offerings including museums, galleries, sporting events, live performances, restaurants, hotels and much more – all easily accessed from one to the other in a matter of minutes via the pedestrian Gateshead Millennium Bridge.
Given our limited time, we packed in a fair amount during our stay. Some highlights included Baltic Centre for Contemporary Art, which is unique in that it has no permanent collection, but rather a dynamic and ambitious program of revolving exhibitions and events. It has become a symbol of the revitalized region, as its transformation from an old flour mill into a cultural center reflects the rejuvenation of the old industrial city.
The Sage Gateshead is an impressive and massive performance center that opened in 2004 and is home to all things music, from concerts to workshops. We were fortunate to be visiting during the annual Newcastle Science Fest, a six-day program of special events, installations and film screenings to celebrate creativity within science. We attended a performance called "Music of the Mind," where award-winning musician and composer Finn Peters, neuromusic expert Dr. Mick Grierson and noted computer-scientist/electronic musician Matthew Yee-King explored the possibilities of using brainwaves to make new musical compositions. They also wowed the crowd with proof of the potential of brain computer interface technology to "think" a note into existence. Pretty amazing stuff…
Sight-Seeing
We took advantage of a "Blue Badge Guide" to take us on a half-day tour of the area. Not only did we learn about the history of the region, we also visited the symbolic Angel of the North. Our enthusiastic and accommodating guide, Jan Williams, explained that the Angel, an award-winning, 200-ton steel sculpture created by Antony Gormley, has become a contemporary icon for Newcastle-Gateshead. Standing 66 feet tall with a wingspan of 177 feet, it is visible from great distances. The wings are not planar, but angled slightly forward, which the artist did intentionally to give the feel of an embrace.
Other interesting historic sites include Castle Keep and its gate house (known as Black Gate) and the Cathedral Church of St. Nicholas. The Castle Keep stands on the original site of the new castle, which was built by William the Conqueror's son and from which Newcastle gets its name.
We were disappointed that we didn't get to go to Seven Stories, the Centre for Children's Books, the first museum in the United Kingdom dedicated to the art of children's books. Nearby is the Biscuit Factory, a beautiful two-story building that actually once was a biscuit factory, but is now full of exhibition spaces and artists' studios.
The Royal Theatre
While there are many places for music, film and theater, the city's Theatre Royal is a must-see. We were fortunate enough to catch a production of "Blood Brothers," which was the last show to be performed there before the majestic theater – constructed in 1837, but rebuilt in an Edwardian design in 1901 following a fire – was to go dark for six months for renovations. The ornate structure, home of the Royal Shakespeare Company, accommodates 1,249 people in its four-level seating structure.
The Theatre Royal is located in the beautiful Georgian quarter of the city, Grainger Town, the city's center for shopping. Stroll along the elegant Grey Street, or meet a friend at Earl Grey's Monument at the top of the street – a popular meeting destination. The Newcastle Quayside is a trendy area around the riverbanks about a 10-minute walk from Grainger Town. There, you will find boutiques, galleries, outdoor cafes, bistros and pubs – all of which sell the local brew, Newcastle Brown Ale – as well as outdoor weekend markets and music. Die-hard shopping enthusiasts won't want to miss a stop at Eldon Square or the Metrocentre, Europe's largest indoor shopping and leisure complex.
Just for Kicks
For sports enthusiasts, be sure to catch a game at Saint James' Park, home to the popular football (what we know as soccer) team Newcastle United, or at Kingston Park Stadium, home to the Newcastle Falcons rugby team.
Visitors wanting to escape the city can take riverboat cruises or visit the many beautiful beaches in the area. My daughters and I took a trip by train (about 45 minutes) to Tynemouth, a charming seaside community where we had tapas at an inviting restaurant, strolled along the quaint streets and popped into some unique shops. We also spent a fair amount of time at the vast flea market, set up right at the train station on Saturdays.
Jesmond Dean House
Being unfamiliar with the lodgings in Newcastle, we took the advice of the tourism folks and stayed at the Jesmond Dene House, a warm, inviting mix of a boutique and country house hotel located in a quiet, wooded setting just outside the city center. There was nothing we didn't like about this 40-room, richly decorated, contemporary hotel. It is elegant, with stately wooden-paneled corridors, top-notch service and attention to detail. When I was preparing to leave the hotel one afternoon, the desk clerk – who I later found out was a student at Newcastle University studying hotel management – suggested that I bring an umbrella, as rain was expected in the early evening. When I turned to head back to my room to get one, he stopped me and said I could use one of the umbrellas he had behind the desk. Our room was spacious with warm, muted colors providing a sense of understated elegance, and the bed, with crisp, cotton Egyptian sheets, was very comfortable. One of the nights it was warm enough to leave a window open, and we were lulled to sleep by the sound of the nearby River Ouseburn. Our room overlooked a walled garden, featuring numerous exotic and native trees, shrubs and flowers. Our bathroom was also roomy and had a shower and a bathtub, as well as under floor heating and a heated towel rack. All rooms have flat-screen televisions, digital radio, broadband access, a DVD player and a mini bar. The award-winning restaurant, open to hotel guests and non-guests alike, has two dining areas – one with earthy tones and original plasterwork on the ceiling, the other a light and airy Garden Room with its summer terrace. The bar and lounge area, with plump sofas and a cozy fireplace, is a great spot to have a relaxing afternoon tea (one of the best of its kind in the area, I'm told) or a glass of wine. My favorite place to relax with a cup of tea was the library, where locals gather for social or business get-togethers. It's traditional yet modern, with plenty of nooks and crannies to curl up with a good book or newspaper.
The Jesmond Dene House was the perfect place to stay while sightseeing and exploring all that Newcastle-Gateshead (and beyond) has to offer. I definitely plan on going back – regardless of how the area and its people – who could not have been nicer or more friendly (especially the cab drivers) – are portrayed on "Geordie Shore."
For more information about Newcastle and Gateshead, visit Newcastlegateshead.com. Also, check out Discoverpass.co.uk for information about getting a "Discover Pass" – a discount card that also provides visitors with information on the latest deals and places to visit.