This is part 3 of Georgie Jet's three-part series on New York's Finger Lakes. For the rest of the adventure, check out part 1 and part 2.
Elmira, New York, rumored to have been named after a tavern owner's daughter, has a fascinating history. Among many facts, this includes its pre-Revolutionary War inhabitants (the indigenous Cayuga Nation), its growth as a "transportation hub" (connecting such cities as Rochester and Buffalo by way of canal and railroad to Albany and New York City), and of course its "mark" in history as the place where the classics "Tom Sawyer" and "The Adventures of Huckleberry Finn " were penned.
"The reports of my death have been greatly exaggerated" wrote Mark Twain.  Only he could make the idea of dying comical. Who was this man? To find out we took the Trolley into Twain Country Tour with The Chemung Museum. The three of us (my husband Cam and our chocolate Baci, too, as the tour is pet-friendly) hopped on the refurbished, gas-powered trolley and enjoyed an informative yet relaxing tour of Elmira (all for $4 each!).
Until recently, I had no idea that perhaps our greatest American wordsmith was so immersed in this region (having married an Elmira girl) both physically and soulfully. Our guide, another Mark, shared anecdotes of Twain's summer life here and entertained us with his famous quips. We stopped twice, first at his summer writing studio, now the campus of Elmira College, where he put to paper the classic characters Tom Sawyer and Huck Finn, and then at his final resting place in the Woodlawn Cemetery, where he's buried with his wife and children.
Twain was a prolific American genius and spending time in places so familiar to him seemed to connect us with the writer. We highly recommend this one-hour tour to learn about Twain's life (hardships and triumphs) and the history of Elmira.
Soaring by glider at Harris Hill Soaring Center was a thrill that I'll never forget. The glacier-cut hills of the Chemung Valley seem to be made for glider rides. I was positioned in the front, ahead of young and laid-back pilot Rob, who allowed me to take the controls if I wished to. Cam had a different experience. He went up in a rain cloud and his older but experienced pilot Jurgen sat in front and discouraged him from touching the controls (Cam didn't mind!). For some reason I felt it was completely natural to be thousands of feet above the ground in a silent plane! I loved every minute of it. The views were incredible and I found the ride exciting and relaxing at the same time.
Located on the gliding fields is the National Soaring Museum. The museum is the only one of its kind in the US and has interesting glider planes that go back to the days when soaring started. The grounds are an ideal place to have a picnic—and they're dog-friendly.
Take a walk at Tanglewood Nature Center, which is nearby the Soaring Center. It has numerous dog-friendly trails and a nature center with live, rehabilitated animals.
Horseheads Brewing is one of 60 breweries on the Finger Lakes Beer Trail. They've won many awards, including this year's silver medal from Tap New York for best craft beer in the state of New York. They have seasonal specials and make nearly 20 different types of beer. We loved their Hot-Jala-Heim, a very interesting spicy beer flavored with jalapeños and Anaheim peppers that goes great with Mexican food. Their tastings are free and we tried many types including a pumpkin ale, chocolate porter, blueberry beer, and a potent IPA. They are also pet-friendly.
The Arnot Art Museum has an extensive collection of European paintings from the last four centuries while also focusing on more recent representational artwork and contemporary exhibits. The museum was founded by banker and collector Matthias Arnot in the early 20th century. He left the city of Elmira his paintings, and the Greek Revival mansion that housed them, upon his death in 1910. The museum is in the downtown civic-historic distict and should not be missed.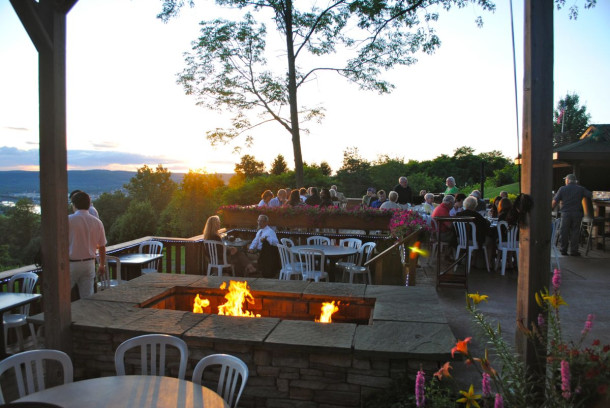 The aptly named Hill Top Inn (and restaurant) provides expansive views of the Chemung River Valley—including the distant city of Elmira. We sat outside on their large terrace and listened to live Irish folk music as the firepit roared and the sun set below the rolling horizon. The comfort food and friendly staff make the Hill Top perfect for an intimate meal for two or a large family gathering.
We stayed at pet-friendly Candlewood Suites, a basic long-term hotel, but they offer short stays and the rates were very reasonable. We also had a pet-friendly breakfast outside on the patio at Panera's Bakery in close-by Big Flats.
Visiting Elmira, the city and encompassing area, is a must for the Finger Lakes traveler. It has a wealth of history to absorb and ponder and a lot to do. Elmira is a place where great things have happened, still happen, and will send you "soaring."