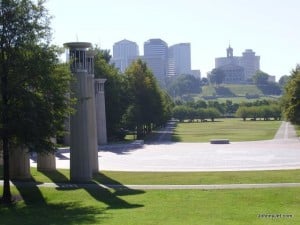 By Bruce Northam:
Nashville, Tennessee is a stringed instrument heaven. There is way more to Nashville than country music hat acts.  Hillbilly fever has evolved into overheating country rock and newgrass. Legendary acid rocker Jimmy Hendrix got his start here via road-trips while serving as a paratrooper at nearby Fort Campbell in 1961. After leaving the military in 1962, he moved to Nashville to live on a block lined with black nightclubs and played with the King Casuals until 1963.
I was in town for the International Bluegrass Music Association's 21st annual award ceremony at the historic Ryman Auditorium, the site of the Grand Ole Opreybroadcast until 1974. The IBMA inducted steamboat pilot and banjo virtuoso John Hartford and Earl Scrugg's wife, Louise, into its Hall of Fame. Louise's management skills and strong-willed flair helped park bluegrass ensembles on the American map. Earl, born in 1924, and his sons played a few tunes at the ceremony, which was made even more special since the Ryman Auditorium was the birthplace of commercial bluegrass in 1945 when this new American music form blended Scruggs banjo with a mandolin, fiddle, acoustic guitar, and upright bass.
Another defining characteristic of bluegrass music is having unbridled, improvised fun musical filibusters. Many agree that bluegrass gave birth to country music. Downtown's Lower Broadway no cover-charge strip of music joints screams with talent, and gives New Orleans a run for its money. This is a no-music sampling zone: the City of Guitars doesn't get Jay Z either.
Dobro master Jerry Douglas, a 12-time Grammy winner, emceed the event with Allison Kraus as his sidekick. They both performed on the landmark O Brother, Where Art Thou? soundtrack, which showcased bluegrass to mainstream audiences. I snuck into the third row center and hobnobbed with the Scruggs family, never revealing my Yankee status.
Like many Americana gems, we tip our cap to our British roots. British settlers migrating west across America towed a huge catalog of fiddle tunes and folk songs into the rural heartland. These plaintive stories spread heartfelt pioneer messages, in key. Bluegrass is America's fundamental soul call(ing).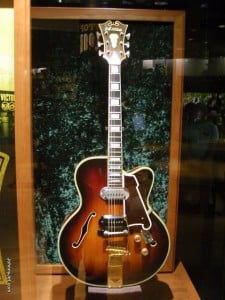 Bluegrass is America's last small town and you don't have to lock your doors.  John Hartford
Similar to country music, bluegrass is a sector of the music industry where the musicians are proud to show off their age.
Nashville, where the TV icon Hee Haw was taped, overflows with song with live bands at the airport, MP3-driven music playing at intersections, and every bar having a stage. Many of the people you meet here are musicians, songwriters, or music addicts.
This lyrical and musical hook' capital of the world is home to the Grand Ole Opry, the world's longest running radio show (1925) that has showcased country music and bluegrass legends and rising stars. The Opry relocated to a suburb of Nashville in 1974. I attended the first weekend performance since a flood submerged the Opry stage under four feet of water. My visit there included a performance by Kevin Costner. Who knew? The backstage tour of this shrine is like a casual Smithsonian tour.
But musical inspiration may not have been the inspiration for Nashvillian musical improvisation, or musical filibustering. Before Washington, DC politics associated the filibuster with a legislative drivel-stall tactic, Nashville resident William Walker, the grey-eyed man of destiny, inexplicably and privately conquered vast expanses of Latin America by inventing states ruled by white English speakers. Back in the mid 1800s, such crusades were known as freebooting or filibustering.
The former doctor, lawyer, and journalist invaded Mexico in 1853 with 46 men and proclaimed himself President of the Lower Republic of California. After leading forces into Nicaragua, he was elected its President in 1856. While later waging war on Honduras, he was captured and executed in 1860. Walker's adventurous Central American land-pirate filibuster should be morphed into an infamous hero blues song by a Nashville songwriter. An historical marker salutes Walker on 4th Avenue N and Commerce Street, adjacent to the legendary Ryman Auditorium.
Not all of Nashville's historical figures are wooly. Seventh President Andrew Jackson's home, the Hermitage, is nearby. The first log-cabin born President to come from humble beginnings moved here at 21 years of age in 1788. Jackson, of Scots-Irish descent, was the last president to know the first six Presidents. His entire family was dead by the time he was 14, but his legendary military and political career lives on at this National Historic Site.
While watching a Tennessee Titans football match in a local bar for all seasons, during a musical commercial break, a few folks jumped up to dance a little jig. The old barn dance has come quite a ways. The musician sitting next to me, classically self-taught the American way, flashed me a big Hee Haw smile. The epic song filibuster endures.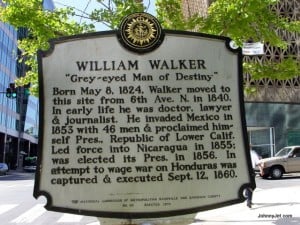 Don't be bashful you're in Nashville.

WEB RESOURCES
* * *
Schyster-Free Zone
–sign in Family Wash restaurant
* The Country Music Hall of Fame's beguiling collection of instruments, vital jewels of our national treasure, are reason enough to visit.
* The only place I didn't hear music was in Nashville's fine art-overflowing Parthenon replica.
* The world-class Frist Museum is a converted, mammoth Art Deco Post office.
* One of the most unpretentious art gallery scenes this side of Dixie is a monthly event on the upper level of downtown's canopy mall.
* Lower Broadway's Robert's Western World, though touristy, is the real deal for live music, with New York drink prices (divided by 3).
* The International Bluegrass Music Association keeps the good times a-rollin.
* I live a mile from Manhattan's Ground Zero. We all know what happened there in 2001, but what people not from the New York City area don't know is that it took about 18 months for most conversations in the region to stop being about 9-11 and about the more trivial things people tend to talk about with strangers—sports, television, and movies. In those first 18 months, conversations were real, heart-to-heart, and of the essence…just like they are when you travel far away from your home to places without electricity. This same phenomenon occurred in Nashville during the months following its May 2010 flood.
* Bruce Northam has reported (mostly good news) from 125 Countries. Check out AmericanDetour.com.
Bruce Northam has chronicled tales in 104 countries. His wandering show, American Detour, is on AmericanDetour.com.