By: Janice Fuhrman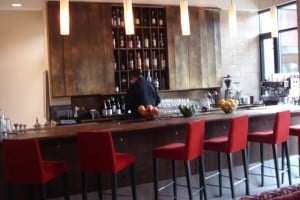 How green is the Napa Valley? It's not only the grapevines carpeting the valley that make this wine paradise green. More and more wineries are farming their grapes organically, installing solar panels and using recycled materials in their buildings. But a new super-luxury hotel in the heart of the valley moves a step beyond in defining "green" for Napa. Bardessono, a 62-room hotel with a restaurant and bar, ponds and pool set on a six-acre parcel in the walking village of Yountville, is out to prove that "green" can also mean luxury and indulgence for those in need of some serious R&R.
CHECK-IN
My husband and I started our weekend of rest, relaxation and indulgence on a Saturday in late March when we pulled up to the entrance at Bardessono, named for the Napa family that owns the hotel and established its homestead there almost a century ago. Although the hotel is sleek, low-lying and contemporary-looking, it's a case of everything old being new again. When we gave up our car to the young, friendly valet, we were looking at an entry clad in salvaged and re-cut Tuffa stone quarried in Napa County 80 years ago for the original Bardessono family home. On entering the building, we were greeted by staff who float freely around the grounds untethered to a reception desk, whispering into their modern headsets to arrange for check-in, bicycles and massage appointments. The digital wireless PC "tablets" they held reminded us a little of checking in a rental car at the airport. But it sure was convenient. Since we had lunch reservations at a French bistro a stone's throw from the hotel, we left immediately with our room keys and the assurance that our bags would be taken up to the room.
OUR ROOM
When we returned, we walked directly up to our second story "spa suite" ($450/night). It was a large, 540-square foot, contemporary room divided by an entrance foyer into two rooms; the bedroom/sitting area and the unusually large bathroom/dressing room. We couldn't figure out why they had used so much open space in the bathroom, but later we discovered this was our personal spa. The room boasted organic cotton bed linens, towels and robes, gray concrete floor tiles, a modern gas fireplace and flat screen TV with surround sound. (If you're looking for chintz and flowered wallpaper, this is not the place for you). There was a small refrigerator stocked with complimentary water, but no mini-bar. Our room opened up on a large terrace furnished with wicker lounging chairs, a café table and chairs and a view of the village.
SPA SERVICES
At Bardessono each room is considered a spa suite. What does that mean, exactly? We learned that the oversized bathroom contained a hidden massage table that was brought out when I ordered a hand-and-foot reflexology massage ($125) later that afternoon from the menu of spa services. The massage therapist knocked on my door about 15 minutes before the massage was scheduled and while I lounged in the main room, watching the flat-screened TV and a totally modern fire burning in my fireplace, she set up the massage table, turned down the lighting, lit some candles and set the mood. The idea behind each guestroom doubling as a private spa is to continue the feeling of bliss for as long as possible after the massage has ended. At a conventional spa, just as you're reaching that point of total nirvana, it's usually time to jump off the table and put your clothes on, right? Not so at Bardessono, where, as my therapist slipped quietly out the door, I was free to lie on the table in the candlelit twilight for as long as I wanted. And I did. Then I climbed into the oversized jetted soaking tub.
THE DINING ROOM
I was feeling pretty mellow by dinner time. Since the restaurant has a cocktail lounge and a spacious restaurant that serves breakfast, lunch and dinner, it was an easy two-minute hop from our room to dinner. We could have stopped by the lounge and enjoyed our cocktails in front of a beautiful gas fireplace, but since we were late for our 7:30 reservation, we went directly into the dining room and started with cocktails there. My husband had a Manhattan made with rye whiskey and I had a wonderful cocktail which I enjoyed so much I was moved to ask for the recipe, which is not something I usually do. It was called a Moscow Mule and consisted of vodka, lime juice, fresh ginger syrup, sugar, mint leaves and sparkling wine. Refreshing and delicious, it was one of the best cocktails I've had in a long time.
In the dining room, as everywhere at Bardessono, we were charmed by the personable service. Most of the staff was young and friendly. Everyone seemed like they really wanted to be working there. Our waitress at dinner even told us so.
You have to have a lot of pluck to open a fine dining restaurant down the street from The French Laundry, widely considered one of the best restaurants, if not the best, in the United States. Of course, dining at The French Laundry is an experience, with nine small courses on its tasting menus costing for two people what many families spend on groceries for a month. But while dinner in the soothing dining room at Bardessono won't set you back quite that much, it's still a very high-end experience. We started with a Dungeness Crab Salad ($17) with Meyer lemon, avocado and a spicy crab vinaigrette and a bowl of Sunchoke Soup ($13) finished with black trumpet mushrooms and croutons. Both dishes needed salt and there was none on the table so we just ate, wishing for a little more heightened flavor from our dishes. Our main courses were a very delicate Petrale Sole ($29) with a blanquette of winter vegetable, white mushrooms and Delta crawfish tails for me and a locally raised New York sirloin ($35) for my husband with shallot-pepper marmalade and steak fries. The wine list was international and extensive and there were about 20 wines by the glass on offer. The next morning's breakfast was both reasonably priced and delicious. My husband went for the Croque Madame ($12), a sandwich made with house-cured ham, gruyère cheese and a fried farm egg topped with Mornay sauce. I loved the dining rooms' refined version of a bagel and lox: house-smoked steelhead trout ($13) on dark rye bread with a very light cream cheese and sliced pickled onions. Again, we craved a little salt on our dishes and this time we asked for it and got it.
BIKING IN THE VINEYARDS
After breakfast, we took advantage of a nice feature Bardessono offers: complimentary bicycles. They even give you suggested routes around town and into the nearby vineyards and wineries if you want to do some wine tasting. Nearby is Domaine Chandon, the first French-owned sparkling wine producer in Napa Valley, which has a lovely winery and restaurant worth visiting.
After the brand-new, gleaming bikes were chosen for us and we were given full water bottles for our journey, we were sent off. It was a beautiful, brisk day and in 10 minutes we were in the midst of heavenly scenery: vineyards on one side of us and cattle silently grazing on brilliant green grass on the other. There were occasional homes and other outbuildings, but mostly it was just us and the vineyards.
When we headed back into town, we stopped at a pretty stone building and some small shops to check them out. Yountville is a small town (population: 3,000) named after early pioneer George Calvert Yount who is said to have planted the first vineyard in the Napa Valley. It has some very expensive, yet not ostentatious, real estate and high-end restaurants and shops.
HOTEL'S GREEN FEATURES
We couldn't leave without requesting a tour of the hotel so we could have its eco-friendly concepts explained. We learned that the many types of wood used in the understated, flat-roofed structures were salvaged from lumber mills and all from within 100 miles of Yountville, accented by naturally rusted steel. Each building's roof is fitted with a concealed photovoltaic solar collector and reflective material which makes it possible for the hotel to provide a significant portion of its electrical energy requirement. Another aspect of the hotel's energy saving was something we had already experienced in our room: motion sensors determine room occupancy and turn off lights and electrical devices, drop shades and adjust temperatures while it is empty. When you return to the rooms, all settings automatically return to what they were when you left.
There were many other green aspects to the hotel, including low water flow fixtures, drought-resistant landscaping and a kitchen garden that grows fruit, vegetables and herbs for the dining room, but I think what impressed us most was that all this conservation didn't leave us wanting for anything. Bardessono was luxuriously indulgent and responsibly virtuous at the same time. Bardessono, 6526 Yount Street, Yountville, CA, 94599, Tel: 707-363-7295
ABOUT THE AUTHOR
Janice Fuhrman is a freelance travel and wine writer who lives outside San Francisco.
WEB RESOURCES