Greetings! I just returned from a whirlwind trip up to San Francisco. I did some fun things, so I thought I would do a quick roundup of my three days there.
Petaluma with Leo Laporte
My plan of spending three consecutive weeks home in southern California quickly got nixed when Leo Laporte, the host of The Tech Guy Show, invited me up to his studio for an anniversary party. I'm a weekly guest every Saturday at 12:30 pm PT/3:30 pm ET talking about travel technology.
I bought a last minute LAX-SFO ticket for $217. Ouch, I know, but using miles wasn't an option for my desired times. I did get to save some money by taking the bus instead of renting a car and having to pay for gas and parking. Unfortunately, the Airport Express bus that departs SFO for Petaluma ($34) every hour on the half-hour broke down so I ended up taking the Marin Airporter to Larkspur ($20) and transferring to the Airport Express bus ($14).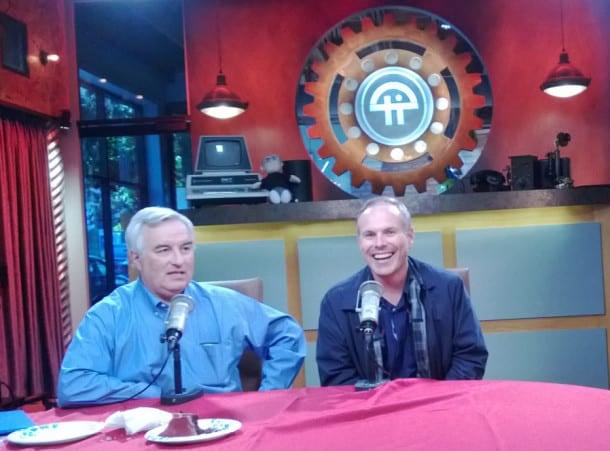 It was great being up in the studio for the first time (I usually Skype in) and afterwards Leo took the whole studio for a tasty Italian meal a couple blocks away at Cucina Paradiso. Hopefully, next time I'm there I'll have more time as Petaluma seems like a great town. Possibly an old-school Sonoma.
San Francisco
I spent the first night at an old friend from Connecticut's beautiful apartment in San Francisco. My buddy Rick Teed is a very successful real estate agent and is doing some innovative things, including developing an app that was originally for real estate agents. It's now available to the general public since it makes creating videos on your smartphone so easy. Check out Ignite Video.
The highlight was hanging out with his friend Enhamed Enhamed, a Spanish Paralympic swimmer that won four gold medals in the Beijing, two in Athens and medaled in the London Paralympic Games. He's a remarkable person who describes the moment that he became blind (at the age of eight) as "the day I won my blindness." Enhamed or "Double E" as I like to call him can tweet, Facebook and read his emails—as well as the news in lighting fast speed thanks to an app on his iPhone.
Lunch at Google
On Thursday, my buddy Chris McGinnis and I got invited to have lunch at Google's Headquarters in Mountain View (about a 45-minute drive from San Francisco). I'm not at liberty to disclose what we discussed but I can say their campus is quite impressive. The building we were in had an outdoor pool, basketball court, gym, tech support office and a cafeteria with free gourmet food. I'm glad I don't work there because I definitely would be 50-lbs heavier. Some pics are in the photo gallery below.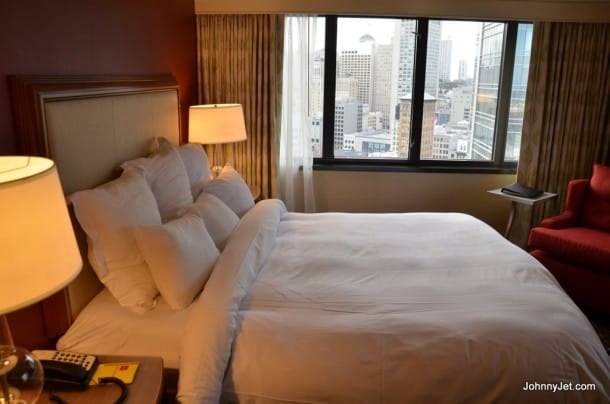 San Francisco Marriott Marquis
My second night was spent at the San Francisco Marriott Marquis (780 Mission Street) as they were having a party to celebrate Marriott's new "Travel Brilliantly" campaign. You can read about it here, but you'll probably be more interested to know that my room (#2624) in the new wing was very comfortable with excellent views of the city. They paid for my stay but I do know that it cost $295 a night since the maid accidently slipped a bill under my door. That's expensive, but not for San Francisco this time of year (it's just teeming with tourists). The lobby of the 1,500-room hotel was packed with families from around the world. Most were wearing San Francisco sweatshirts and I'm sure it's because they weren't expecting the city to be so cold. Most out-of-towners think they are going to California in the summer so it must be warm. Wrong! Mark Twain wasn't joking when he said "The coldest winter I ever spent was a summer in San Francisco."
Spud and The San Francisco Chronicle
The Marriott is right next to Market Street so I met my buddy Spud Hilton, the travel editor at The San Francisco Chronicle, halfway at Martin Yan's restaurant M.Y. China (845 Market St.) for lunch. The restaurant is on the 4th floor of Westfield's San Francisco Centre, and we had a quick and delicious lunch. Afterwards he invited me for a quick tour of his office which was a trip. Seriously, walking into the newsroom felt like going back to the 1960's. It was awesome. Check out Spud's new blog at SpudHilton.com.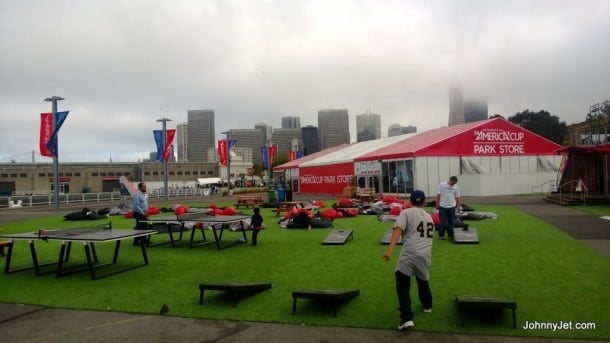 America's Cup Pavilion
If you haven't heard, the 34th America's Cup Race is going to be held in San Francisco this September. It's going to be America vs. TBD but I was told that New Zealand is looking like the front runner. Supposedly, Larry Ellison, the founder of Oracle, spent tens of millions of dollars bringing the race to San Francisco and building a remarkable park by the waterfront. There are all kinds of pop-up restaurants, bars and activities including concerts but so far it's been a bust. When I toured there, it was just a handful of people and I was told by multiple locals that it's been a huge disappointment. They think part of the reason is they have huge fences so it makes it appear as though there's a cover charge when in reality it's free. More information is available at sfgov.org/americascup, 511.org/americascup and sf311.org.
Connecticut and My Dad
With my time in San Francisco winding down, I had an idea. Since I was already packed and traveling, I figured I might as well fly to the east coast to go visit my dad who was in Connecticut visiting my brother. Having a $400 Delta credit that was about to expire (I received it last summer when I took a voluntary bump) made it an easy decision. I also wanted to be part of my dad's celebrations as he was forced to retire from practicing law eight years ago because of his hearing. He's been dreaming about getting back into the courtroom and defending clients and that dream became a reality last week as an old client walked into my brother's office looking for him. Thanks to a cochlear implant he can now hear relatively well and suited up and walked through the courtroom doors.
Which Flight to Choose
I used my Delta certificate for a flight on Saturday morning for $398. Before choosing the flight I followed my own advice (see my interview on The List) and looked at the seat map and chose the flight with the most open seats—not only in coach but first class too as I have Gold status on Delta and they upgrade their elite fliers for free on a standby basis. Of course, the flight with the most seats was the most undesirable—departing at 6:30am. But I like the early morning flights when I'm heading east because they automatically acclimatize me to the time change. 6:30 am is really 9:30 am, so it's a great way to quickly get adjusted.
San Francisco to SFO on BART
Because all of the city hotels were either sold out for the weekend or crazy expensive, I stayed near the airport. My buddy and #TravelSkills Twitter chat co-host Chris McGinnis (we chat every Friday at 12 noon ET) just wrote about the Aloft San Francisco Airport Hotel (401 East Millbrae Avenue, Millbrae, California) and the PR person there offered me a free night. I couldn't turn that down so I took BART from the city right to Millbrae (the stop right after the airport). The ride takes about 40 minutes and costs $8.25. In hindsight, I should've gotten off at SFO and taken their free shuttle since I thought the hotel was a lot closer to the Millbrae BART station. It's a 10-minute walk and at night a little sketchy but what's nice is that on the way I met a Chinese family from Toronto who were also staying at the hotel so we buddied up.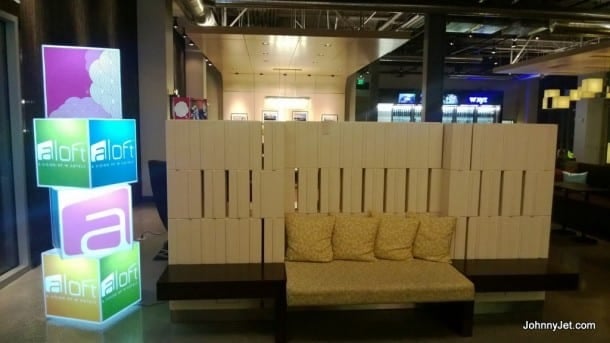 Aloft SFO Airport Hotel
It was my first time staying at an Aloft which is one of Starwood's lower price boutique brands. The lobby was attractive and welcoming, and the staff were genuinely friendly. I wish I had more than seven hours so I could do a better report but I was tired and went straight to bed. I do know the rooms have plenty of power outlets and free Wi-Fi. For a better understanding of the hotel check out Chris' story on 10 Things About New Aloft Hotels. Tip: If you are into plane-spotting ask for a room overlooking the runway.
SFO-JFK
The Aloft shuttle departs every 15 minutes and it took just seven minutes to get to the terminal. Since I have TSA PreCheck I breezed through security (here's how you can get it). Although first class was wide open with only one seat taken and I was number four on the upgrade list, they didn't clear me until I got to the gate. But I'm not complaining as I was just happy to get first class, which had plenty of legroom and came with a Heavenly blanket and pillow from Westin Hotels. On top of that they had TUMI amenity kits. Even better, the flight attendant, Patty, working first class was one of the best I've ever had in all my years of flying. She genuinely loved her job and when I told her she should be working corporate events for Delta Air Lines she said she already does. I gotta good eye for talent, eh? Patty and the Gogo Wireless made the four-hour-and-thirty-two-minute flight fly by.
If you want to see pics from my Connecticut trip you can see them on my Twitter, Facebook and Instagram accounts.