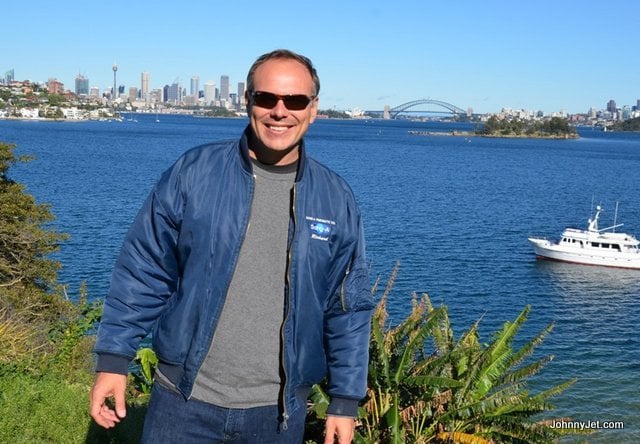 G'day! If you've been following me on Facebook or Twitter then you know I was Down Under last month filming some (short) fun videos in the Northern Territory and South Australia. So I didn't look like a zombie on camera I went down a day early and spent a night in one of my favorite cities in the world … Sydney! I've been fortunate to have visited around a dozen times and I would love to live there one day. Although this trip was way too quick I had the most amazing tour and hotel!
I arrived 30 minutes early on my Virgin Australia flight from Los Angeles. Just like the Australia Tourism Board arranged, my guide was waiting outside of arrivals. Richard Graham, the owner of My Sydney Detour (T: 61 (0)404 256 256; Email: Richard@mysydneydetour.com) is a very interesting and cool character. He's young (early 30s), has traveled all over the world (like most Aussies) and has a tour that is everything but touristy.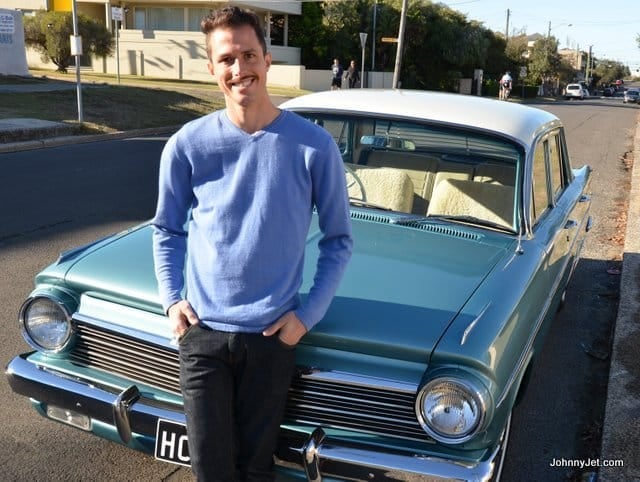 Richard doesn't normally pick up guests from the airport — though it can be arranged. Usually it's from their hotel and it's always in an authentic 1964 EH Holden Premier. There's only five left in the world of this color (Portsea blue over ivory cream) and model; a true Aussie car. He uses this car so customers don't look like a tourist. There are no advertisements so it just looks like you are cruising with your bud(s). And at our first stoplight a local rolled down his window to say "that's freakin' awesome mate" and the reactions didn't stop there. However, Richard says in a disappointing tone, "women don't admire the car like the blokes do."
Richard started this tour three years ago and the goal is to transform tourists into a local in a day. Tours are customized and range from two hours long to a full day (10 hours). Prices begin at $138pp and include food, drink and photos (he's a professional photographer as well). The first stop of most of Richard's tours are at his house. That's right his house — where he has an extensive local art collection. He lives in an 1876 historic home in Redfern. The suburb was a ghetto in the 1970s but thanks to the government pumping 80 million dollars into it it's become fully gentrified.
Unfortunately, I chose a two-hour tour because I thought I would be shot from the long flight but I wasn't so we didn't have time to stop at his house. Instead our first stop was to a scenic lookout along the Eastern Beaches Coastal Walk. Before walking around he broke out some old maps and gave me a quick history lesson of the city. I learned the first fleet from Europe arrived in 1788, that the city is built with seven MILLION year old sandstone and all kinds of other good stuff.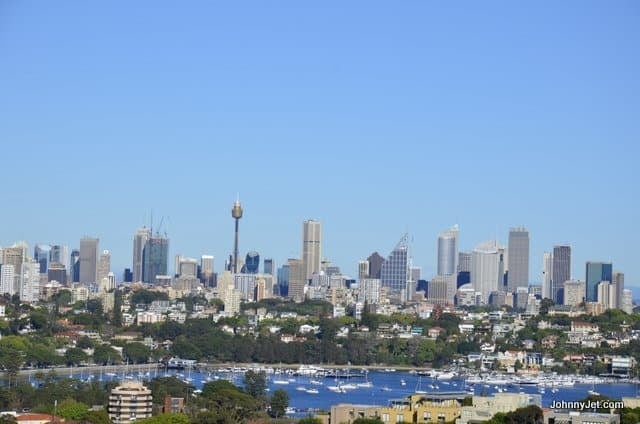 Richard says three elements define Sydney: city, beach and bush and no matter how long the tour is you will experience all three. My photos from our tour are below and the highlights were:
Meeting Richard. Like I said, he's a character and an incredible man. He's such a good guide that he's now JohnnyJet.com's official Sydney Insider. Here's his completed Sydney City Insider Q&A so you'll know all about Sydney even before taking his tour.
Driving around in his 1964 shiny Holden and learning about Sydney's history
Strolling the Eastern Beaches Coastal Walk and seeing the view of the nearby Waverly cemetery.
The city views from the Dudley Page Reserve in Dover Heights.
Driving around Vaucluse, Sydney's most expensive suburb
Walking along the Hermitage Foreshore Walk.
Richard giving me (and all his clients) custom made fine designer chocolates of his 1964 Holden as a parting gift.
Other Sydney Highlights

I was only planning on tweeting my lodging (Park Hyatt Sydney) since I was there for just a night but because it was one of my nicest rooms I have ever had I felt motivated to create a post and share my photos.
Having lunch at Spice I am in Surry Hills with my PR friend Philip Engelberts from PEPR Publicity. Afterwards we had dessert just up the street at Messina which serves ridiculously tasty gelato and offers some unusual flavors like pear and rhubarb or poached figs in marsala.
Getting a tour of the new QT Sydney Hotel by Stella their interactive duty manager
My old Aussie friends Kristine and Damon came by my hotel with their kids to say hi and we were all treated to an unexpected firework show with the Sydney Opera House as a backdrop! They and the hotel concierge had no clue who was shooting them off or why.
In the early morning I walked over the Sydney Botanical Gardens to take some photos of the bats but the keeper said he would give me $10 if I could find one. Good to know: The park doesn't open 'til 7am so don't get up super early and try to catch the sunrise like me.
Walking back to my hotel it began to drizzle and out popped a colorful rainbow.
TIP: If you don't have three hours to do Sydney's famous Bridge Climb go to the Pylon Lookout — it takes just a few minutes, has practically the same view and is much cheaper ($11).