Thursday was a special day for MSC Cruises and the city of Miami as the MSC Seaside was christened in a star-studded ceremony that included international screen legend Sophia Loren, Dan Marino and performances by Andrea Bocelli, Ricky Martin and more.
MSC Seaside is the second MSC ship to be launched in the past six months by the Switzerland-founded and based world's largest privately owned cruise line. She will be one of three MSC Cruise ships to be based in Miami and is sailing year-round to the Caribbean offering 7-night eastern and western Caribbean itineraries.
Below are some of MSC Seaside's highlights and how the inaugural event played out.
Since MSC Seaside is based out of the Port of Miami, it makes sense to fly in and out of MIA Airport. It's just 8.9 miles away, which is about a 25-minute drive. FYI: The next closest airport is Fort Lauderdale-Hollywood International at 29 miles and is close to an hour's drive.
The 160,000-ton, 4,134-passenger ship will depart and arrive every Saturday and if you don't time it right, it might take a while to check-in and board.
I was assigned cabin 14037, which is on the 14th deck; there are 19 total. The room was comfortable and its surface area was around 17 square meters including the balcony. The double bed can be converted into two single beds so be sure to specify what you need. What I don't like about the bedding is that they use two twin size duvets which overlap. Obviously, it's not an issue for those separating the beds but I found it a little bit annoying since I was alone. However, couples might love it since they can regulate their own body temps.
Some of the cabins have connecting doors and they are so thin you can literally hear everything your neighbors are saying and doing, including sneezing, their alarm going off and … So if you're sensitive to noise, be sure to request a cabin without a connecting door.
The bathroom was nice but the shower is was really tight. Either that or I'm just getting bigger, which  is quite possible. Fortunately, the showers have soap and shampoo dispensers because if I dropped the soap, I wouldn't have been able to pick it up without opening the door.
All rooms have an interactive TV with live channels and free movies. Rooms also include a telephone, safe, solid WiFi connection (for a fee), mini bar and obviously, air conditioning.
What I love about mega cruise ships like this is that you can get a ton of steps in. And if you follow my advice of not using the ship's elevator except when you have luggage, you will lose weight instead of gain.
There's also a large gym that's free to use and has state-of the-art machines. They do charge for workout classes like yoga; I think it's $10 a class.
I did get lost my first go around because there's no signage in the hallways and they have some tricky nooks but after one time around, I figured it out.
Before the big event, I took a quick self-guided tour of the massive ship. I didn't see everything or come even close to it, but what I did discover is that her public spaces are gorgeous, like the four-story open atrium. What's really eye catching are the transparent stairs surrounding it, which are embedded with white lights and Swarovski crystals.
Kids will love this ship because there's so much for them to do, including playing at the aqua park! Parents are going to love it because of the ship's technology. Kids will have special chips in their wristbands so they can be tracked at all times. They will also love the fact that kids under 13 sail for free on most of MSC's cruises! Thanks to my buddy Rainer Jensen, Founder, Family Travel Association for that tip.
MSC Seaside has one of the largest and most interactive aqua parks at sea. It features two decks of fun and activities for children and families. There are four different slides and there's a Slideboarding technology that combines a slide and an interactive game, that is the cutting edge of water park technology.
At 394 feet, it's the longest zip line at sea (Royal Caribbean's Oasis class ships are just 82 feet long). Other fun for kids and families include their Virtual World, 4D Cinemato and the top game consoles (PS3, Xbox and Wii).
There's a small two-lane bowling alley.
I'm not sure who will love the F1 simulator more, kids or adults.
I only ate a few meals there but the food seemed pretty good, including the pizza. I will have to spend more than 20 hours to give it a real review and go when it's not a special VIP, invite-only gala. They did partner with one of my favorite celebrity chefs, Roy Yamaguchi. He's created a new Asian-Fusion dining concept called Asian Market Kitchen. They also have a new partnership with Joe Bastianich, the award-winning restaurateur, author, and TV personality with thirty successful restaurants worldwide – including Babbo and Del Posto in New York, and Carnevino in Las Vegas.
The ship's gelato is excellent!
So is the thick Italian-like hot chocolate.
It was then time to get ready for the big night, which featured many stars. The Master of Ceremonies was actor and TV host Mario Lopez. He's pretty smooth but for the amount of money they most likely paid him, he should have rehearsed his lines instead of relying on the teleprompter.
Special guests included Miami Dolphin's Hall of Fame quarterback Dan Marino, who was a great sport taking photos with guests on the blue carpet. The reason he was there is because earlier this year, MSC Cruises signed a partnership with the Miami Dolphins and became the official cruise line for the team. So expect some Miami Dolphins at sea cruises in 2018.
The headline entertainment for the evening was Ricky Martin who performed multiple songs for about 25 minutes.
But the highlight of the night, at least for me, was listening to the three songs by Andrea Bocelli.
He performed them with 30 children from the Voices of Haiti, a talented choir of Haitian school students aged between 6 and 14. The Andrea Bocelli Foundation (ABF) has a new partnership with MSC Cruises and guests can make donations that will support ABF's valuable work in Haiti, one of the poorest countries in the world.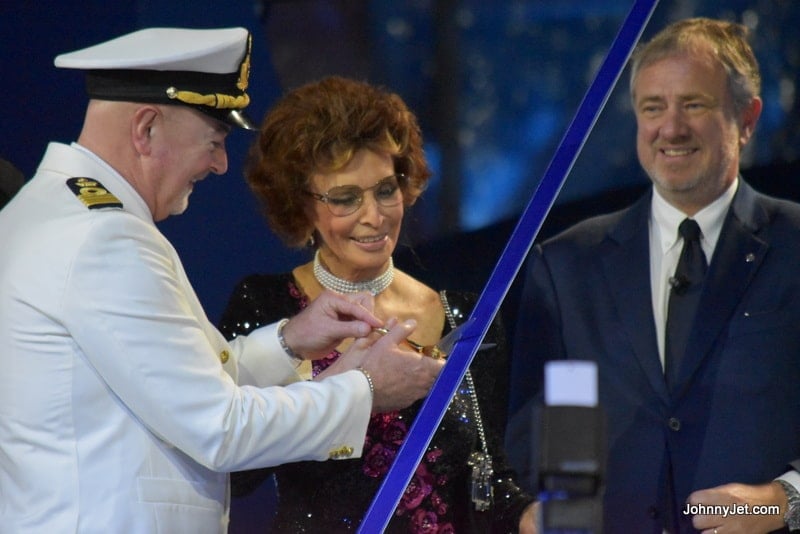 At the end of the evening, Sophia Loren, who is the Godmother for all MSC Cruise ships, cut the ribbon to release the magnum bottle of champagne. Once it smashed against the side of the ship, a terrific fireworks show began.
There's a lot to the MSC Seaside and I could easily do detailed posts on a number of topics like the food, technology, kids clubs, activities, design … you name it. Hopefully, I will experience the ship in 2018 for more time and can tell you even more about it!