With the best days of summer and fall still ahead, it's time to start planning your next exhilarating adventure. Park City, Utah, is just the place to visit.
Being giving the chance to discover Park City during the warmer months was an opportunity I couldn't pass on and I can honestly say there is even more to do there during the "off-season." Over the past few years, Park City has become one of the most popular destinations among outdoor enthusiasts, and for mountain biking, it has become a mecca for downhill fun.
Whether you're planning a family vacation or looking to get away with a group of friends for the weekend, Park City has something for all comers looking to soak up some outdoor fun. Granted my trip was specifically designed to experience the amazing mountain biking offered in the area, but what I learned while there was that regardless of your age, outdoor experience or group size Park City accommodates just as much in the summer as it does in the winter.
As for mountain biking, here's the deal as I saw it:
The terrain
With over 450+ miles of groomed trails and mapped downhill adventure in Park City, you and your group can go at it alone or with guides while coasting through the lush green landscapes. If your skill level on a bike just isn't that of the more advanced downhiller, fear not: There are plenty of easier trail options for you, as well. As your confidence builds—and for the more experienced downhiller—there's plenty more, including the fantastic Tidal Wave at Deer Valley Resort. Check out the video below:
Getting the right guide
For several reasons, I have to spend the next few sections covering this group. While there are several outfits you can hire for the day to escort your band of two-wheelers through the endless mountain trails of Park City, I have to highly suggest you hire the gang at White Pine Touring to lead you along the way. White Pine is one of the coolest and most professional teams I've had the good fortune of spending time with. Their in-depth knowledge of the trails in Park City made the trip an absolute success, and their emphasis on safety was apparent the entire time. Don't waist time trying to figure the best places to go or risk getting lost; hire a guide. There are options regarding tour guide fees, but just pay up. If you're in Park City, it's worth every penny.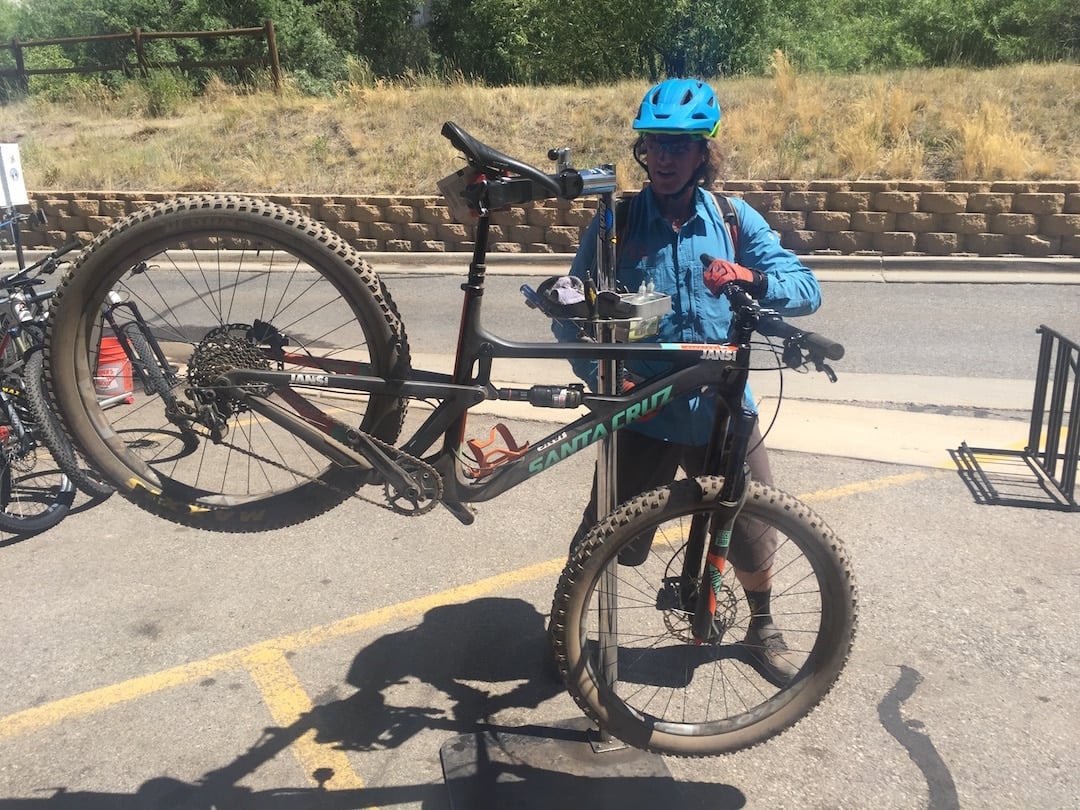 Renting a bike
Another great element to the White Pine Touring equation is that the group will outfit you with the best mountain bikes and protective gear for your visit. To ensure a comfortable and safe ride down the mountain, a top-of-the-line mountain bike will be adjusted to your height, weight and riding ability. After my fantastic experience covering a lot of ground in Park City, I'm willing to bet you're likely to have more fun on a mountain bike bombing down the mountain than you ever did on skis or a board.
Transportation to and from your hotel
On the first day you'll meet at the White Pine facility to get your gear squared away, and from then on getting to various mountains is made easy. You can arrange that you get picked up at your hotel or meet at the mountain you've decided to conquer. At the end of the day, they'll load the bikes up on the trailer, store them overnight at the shop, and return with them the next day. On one particular morning, we stopped at a local eatery named Squatter's for breakfast before heading out for the day. Put it on your radar.
Getting to the top of the mountain
Since returning home from my time in Park City, many have asked if I had to ride to the top of each mountain before heading down. The fact is that each mountain operates the same way in the summer as it does in the winter. You simply purchase a lift ticket at base camp the same way you would if skiing. Gear up, get everyone together and off you go! It's three easy steps:
Step 1: Get your lift ticket. After attaching your lift ticket to your seat, you'll be directed to the chairlift where someone will great you with boarding instructions
Step 2: Load your bike. Don't worry: You have plenty of time, and if necessary they'll stop the chairlift to make sure your bike is safely and securely loaded.
Step 3: Load yourself. After your bike has departed you'll follow it in the next chair. Upon arriving at the top, you'll find mountain staff there to greet you with your bike, which has be removed from the chairlift and is awaiting your arrival.
Then it's off to the races (or not).
The uphill battle
For those looking to build their endurance in Park City, the White Pine guides encourage some uphill riding as well. We did and although there were times my legs were on fire, it was well worth it. You also have the option of taking the chairlift up to the halfway mark and hitting the peddles from there.
What to eat
There is no shortage of great places to eat in Park City. Among them:
And finally…
No Name Saloon is a must regardless of the time of year you visit Park City. It's a local saloon and grill that made Park City famous and it's always been a favorite. Be sure to go—and while you're there, try the world famous Buffalo Burger.
Where to stay
There are many hotel accommodations to choose from while in Park City and most offer fantastic mountain activity packages for those visiting the area. The proximity of all the hotels in PC is such that if you're with a larger group and not everyone is able stay in the same hotel, you'll only be a short distance apart. I had the good fortune of staying at both the world-renowned Stein Eriksen Lodge and The Chateaux Deer Valley. I would recommend since both are highly rated hotels and are bike-in/bike-out from the Deer Valley Resort. Both also have fan static restaurants and large pool areas.
In and around Park City in summer
Free shuttle service
Most hotels in Park City offer a complimentary shuttle service to and from Main Street. This makes things very easy if you have some downtime, or if dinner plans have you heading into town for a few hours. There are also plenty of taxis available in town as well as a free trolley that runs up and down Main Street from 10am until 11pm. The free Park City Transit System also covers transportation to Deer Valley Resort, Park City Mountain, and the Utah Olympic Park.
Main Street
If you decide you'd rather not head up the mountain for the day, there are other ways to enjoy a day in Park City on Main Street. Shop, eat, drink, or peruse among the many art galleries lining this historic street located minutes from most of the major hotels.
The Outdoor Concert Series at Deer Valley
After a great day of outdoor adventure, the annual Outdoor Concert Series at Deer Valley (done for the 2017 season but returning for 2018) is a must. An outdoor amphitheater at the base of the Deer Valley Resort provides both reserved seating and the option to attend for no charge. The reserved seats are in a designated roped-off area in the front of the stage, and a comfortable beach chair is provided with each ticket purchased. As the sun begins to set and the music begins, you may find yourself questioning why you don't live in Park City. I did.
While we were in town the B52's performed with the Utah Symphony for a packed amphitheater and it was fantastic. Be sure to check the Deer Valley Resort website to save up to 20% on lodging and concert tickets. Packages include deluxe accommodations and tickets to select concerts at the Snow Park Outdoor Amphitheater. To compliment your evening, Deer Valley Gourmet Picnic Baskets or Bags may also be ordered on the site.
The Park City Food and Wine Classic
From July 6-9 of this past summer (and again next summer, on dates TBD), the annual Park City Food and Wine Classic brings foodies from all over to experience more than 100 food artisans, wineries, breweries, distilleries, epicurean purveyors, and locally-made products. If you're planning a wedding or large event such as a business-related retreat look into the High West Distillery as an event space. Founded in 2006 the distillery has several area spaces to wow your friends and family.
And in Park City, expect the unexpected…
In Park City, you should always expect the unexpected. At any given moment, a fantastic opportunity may arise. For me, that moment was getting to drive a $200,000 Lamborghini Huracan provided by the hospitality at the Waldorf-Astoria.
They provided four Lamborghinis for us—me and my media group—to drive. Two hard-tops and two soft-tops. I drive an old truck, so to have the chance to drive through the hills of Park City in such style was special. So put your bucket list together and visit Park City!
---
For more on Park City in all seasons, visit visitparkcity.com.