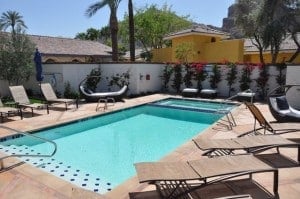 Greetings from Arizona! I made it back home to L.A. from my insane around-the-world trip, which took me from: Los Angeles to Phoenix, Phoenix to Fort Lauderdale, West Palm Beach to New York, New York to Brussels, Brussels to Delhi, Delhi to Nagpur, Nagpur to Bombay, Bombay to Shanghai, Shanghai to San Francisco, San Francisco to Los Angeles for a total of 21,613 air miles. If you are new (welcome!) and want to read the past stories from that trip (or any other, for that matter), you can find them all in our newsletter archive.
HEADING TO PHOENIX
If you're following me on Twitter or Facebook or are reading my blog, then you already know that I was in Phoenix last week for US Airways' Media Day. No matter how you feel about them, you have to give US Airways a lot of credit for opening their doors and allowing a bunch of travel journalists to peek into their daily lives. Of course, I didn't fly into Phoenix the morning of and leave the same day like a few of the other journalists. I played it smart and went in a day early so I could check out the brand new Montelucia Resort & Spa in Scottsdale, which is so plush that President Obama spent his first overnight outside the White House here.
AIRPORT PARKING
I left my house at 8:30am for a 9:45am flight. Since I was only going for one night, I drove and parked at the airport (you can make advance reservations with AirportParkingReservations.com). I parked at ParkOne, which is the closest private lot to the airport and since it's adjacent to Terminal 1, which is where US Airways (and Southwest) departs and arrives, I bypassed the shuttle bus and walked. It's just a couple hundred yards.
TERMINAL 1 SECURITY
To my dismay, I couldn't believe how long the line for security was. It was a Tuesday morning and we're supposedly in a bad economy. Who would have thunk it? The line stretched just as long as it did when everyone had jobs! I asked the agent if I was going to miss my flight since I was so late. She looked at my ticket and said, "You have 30 minutes; that's plenty of time." I thought for sure she was on crack but I strolled back to the back of the line where my late a** belonged and sucked it up. I had a worried feeling in my gut, just like all those other late suckers behind me. But the agent was right. The line did move fast. In fact, it took just five minutes to get inside the building to the next obstacle: the zigzagging TSA security line at the top of the stairs. Those lines were so bulging they diverted a bunch of us up another flight of stairs to a checkpoint I never knew existed. It had two lanes and just a few people. I thought I was getting hosed but instead it was like the red carpet. I made it through there in five minutes and was at the gate as they were boarding Zone 2.
BOARDING EARLY
I lost my elite status with Star Alliance and was holding boarding card 7! That hurt since it meant I would be in the last group to board. When you aren't checking bags it's imperative you get on as early as you can so you can find overhead bin space. Otherwise you may be forced to gate check your carry-on. There's no fee but it adds a frustrating 45 minutes to your trip, waiting around at baggage claim. It took a long time to board each zone since everyone had two bags apiece. These days, everyone is trying to avoid the US Airways-initiated $15 charge for the first checked bag and $25 for the second (most of the other carriers followed). The plane was a757 and fortunately there was overhead space left since it wasn't a completely full flight. UPDATE: Woo hoo! With this trip, I just gained elite status on US Airways so now I'm back baby, with status on all three alliances: Star, Skyteam and Oneworld. That's my goal each year so now I'm a happy camper! If you're interested in how you can fast track to elite status, check out this article.
FLYING BAGS
An overhead bin a couple rows in front of me opened up twice before takeoff and different flight attendants passed by to shut it each time. Obviously there was a bag in there that was too big so when we started rolling down the runway, it opened up again and I could see the flight attendant's worried face. Everyone else was either sleeping or oblivious but both of us knew a heavy bag flying through the air would decapitate someone and it was inching out as we began to pick up speed. Drama was unfolding and the one aware passenger just below it (a burly Maori) couldn't reach to shut it and the flight attendant told him not to stand up. As soon as we took off (within three seconds) the flight attendant jumped up and walked downhill the five rows to pull the guilty oversized bag out and put it under a seat. He probably saved someone from serious injury and did a great job, which I told him later when he came down the aisle.
LOS ANGELES TO PHOENIX
Flight time to Phoenix was a quick 50 minutes and the seatbelt sign didn't go off once. I've noticed that most international carriers turn the seatbelt sign off within three minutes of takeoff but American carriers don't. I wonder if it's a legal issue.
DID YOU KNOW? There's no time change this time of year in Arizona as they have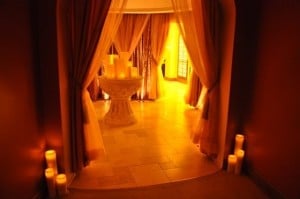 Daylight Savings; it's one of the few states that doesn't. So, that made adjusting a breeze. I will mention this later but US Airways has brought back free non-alcoholic beverages on their flights. I wrote a few weeks back when I took their last flight out (February 28th) about them selling beverages (including water), that it wasn't about making money – it was a storage issue. Turns out I was wrong. They were making money. They only stopped because no other airline joined in the game and they were getting a negative image.
AIRPORT TO HOTEL
I made a beeline to the taxi stand. I've taken my fair share of taxis in my life and one of my ways of avoiding being taken for a ride when going to a place I'm not familiar with is to get specific directions beforehand. The Montelucia Resort informed me that a cab ride is about 15 minutes without traffic and will cost roughly $20. They advised me to make sure the driver takes me straight up 44th Street to the corner of Lincoln and Tatum. I did just that. I had a friendly Somali driver and the trip took 15 minutes and cost $21 without tip.
MONTELUCIA RESORT & SPA
The $325 million Montelucia Resort features 293 guest rooms and suites. It's set in the foothills of Camelback Mountain in Paradise Valley and their good service began the moment my taxi rolled up when a bellman opened my door and welcomed me to the resort. I walked through the archway and into the main square, which felt like a town in the Mediterranean. I was escorted to the front desk, which had three friendly agents and still a short line. I waited four minutes until I handed over my credit card and ID for verification. I asked how business was. They said they were sold out the night before, which is why my room wasn't ready. I asked if they had seen any trends and they said bookings these days are coming in at the very last minute, which seems to be the industry norm right now.
CRAVE CAFÉ
I wasn't upset that my room wasn't ready since it was only 11:30am and besides, it's a good sign that the economy is improving! As a nice gesture, the agent walked me a few steps over to Crave Café to buy me a gourmet coffee while I waited. I noticed another agent did this for the arrivals behind me as well. I really wanted to get their delicious-looking gelato but I was good boy a got a Fiji water instead. BTW: I tried one of their homemade ham and cheese breakfast empanadas the following morning. It would have been delicious if I didn't rush the guy to take it out of the toaster (I was running late) so it was cold.
RESORT FEES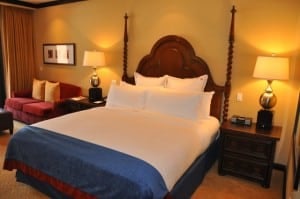 Instead of logging on to the wireless Internet (it's included in the resort's $24 mandatory fee) I asked to go on a quick tour with their PR guru, Kirsten Schaefer. Is it just me or do you think resort fees suck (most Arizona and Hawaii resort properties have them) and that they are a scam? In my opinion, they should be either built into the rate or optional and have a la carte pricing as a choice (i.e. pay for use of the fitness center, Internet, etc.)
PROPERTY TOUR
Kirsten gave me a quick tour. First stop was their resort map so I could get my bearings. The lush desert property is huge with over 34 acres and multiple buildings — including a section of 34 multi-million dollar, privately owned villas (there are only a few left and currently only one owner has opted to rent his). We then saw some of their 27,000 square feet of flexible meeting and event space. This included a wedding chapel modeled after the Hotel Cipriani in Venice. The imported 400-year-old door was amazing.
KIDS CLUB & PRESIDENTIAL SUITES
Then it was on to Planet Trekkers Kid's Club (ages 5-12) which had eight or nine kids in there loving life. There were video games, billiards, computers, arts and crafts,bicycles, a basketball court and more. My last stop was one of the two presidential suites (they go for $3,000 to $4,000 per night), which was being cleaned since some fortunate family had spent the night before there. But the one I got to peek into has already given the property instant history as President Obama spent his first overnight here outside the White House. Most presidents stay at the Biltmore but he and his crew took 100 rooms (but occupied about 80 of them) back in February.
JOYA SPA
One the highlights of the hotel has to be the Moroccan-inspired 31,000 square foot Joya Spa. This place is even popular with locals who can come here for a day at the spa and can drop their kids off at the kids club free of charge. There are 19 treatment rooms including five suites (mostly for wedding parties) with king size daybeds, terraces, fireplaces, flat-screen televisions, indoor and outdoor showers and dual massage tables.
MY MASSAGE
I signed up for their 90-minute Joyambrosia Signature Massage ($235) which is described as warming "your heart and your body with organic oils including Morocco's 'liquid gold' argan oil, enhanced by the light of the full moon. Circular movements and gentle stretching with aromatic waves of Spanish citrus, Moroccan mint, and spices awaken joy and peace of mind." WHATEVER! I would just describe it as complete bliss. Veteran masseuse Sandra Lee, who originally hails from New York, made my back and body feel like jelly (not that difficult, given the way I've been eating lately). At the end of the treatment, Sandra was waiting for me with a glass of water and a dark chocolate treat.
MEN'S LOCKER ROOM
Walking into the spa will make your jaw drop. The ceiling is high with dangling Moroccan lanterns and climbing up the long spiral staircase is memorable. At thetop, guests get to choose one of five stones after catching their breath, to put on the wishing table. Choices were: Tiger Eye for focus, Blue Lace Agate for courage, Rhodonite for achieving your potential, Rose Quartz for love or Hematite for stress relieving. I'll let you guess which one I chose. The men's locker room waiting area didn't do it for me except for the bowl of dried mango slices and unsalted walnuts. It was a bit too dark. But the rest of the area was stylish with it's Hammam, steam room and hot tub.
PRADO RESTAURANT
The resort has a total of six restaurants and we made a pit stop in Prado, their signature restaurant. It features a rustic and authentic Andalusian cooking method and an open kitchen with an open wood fire grill. For lunch, I dined out on the patio and started with Caprese with Burrata($15), then had a chicken breast sandwich with a pepper spread in a pita served with salad or French fries ($10). The sandwich is all I needed but I got carried away. For dinner we tried their Fluke Carpaccio special ($8),Cochinillo — suckling pig, which is their Monday night special ($25) and chicken paella.
THE POOLS
It's kind of a maze finding your way around the resort at first as there are a number of different guestroom buildings. But once you make your way, all the rooms are killer and offer a view of either one of the five sparkling pools or the Camelback mountains. I was in the Oasis building, which had a much more laidback pool scene in its courtyard but my room was overlooking the main pool that housed all the sunning exhibitionists (just kidding). Contemporary music was pumping in the background and there was a mix of young couples from southern California and families with teenagers that seemed to be mostly from the wealthy Midwest neighborhoods. I spoke to a few from the North Shore of Chicago.
MY ROOM
The Andalusian-themed rooms are large and all have private patios and a dining table that allows guests to dine in. The modern amenities include a flat-screen TV, an iPod docking station and espresso machine. Thebathroom was luxurious with a sunken bathtub and a gigantic walk-in stone shower with dual showerheads. They offer the usual bathroom amenities but in addition, they sell designer products in large quantities, which I'm sure many guests mistake for the free stuff, then later get hit with a $33 apiece tab. However, I loved the fact that they offered lip balm ($3) since I'm always forgetting mine.
MY BED
The bed was very comfortable but I didn't sleep that well, either because I'd eaten too much the night before or because the mini-bar fridge, that charges you instantly when pulling a drink out, was making an ever-so-slight but annoying humming sound. I'm a particular sleeper and I like it really quiet and dark. It also bummed me out that one of the lawn guys or construction workers was outside my door with his electric cart and clanking a ladder at 6:30am. But I'm a freak and most people wouldn't have heard it. Besides, it was just as well, as I needed to be up for the day anyway. A note to management: If you are going to include a resort fee it should include a couple of bottles of water; that's the only thing my room was lacking. But to end on a high note, the night maid left a little note on my bed that said: "We do not remember days, we remember moments." Don't worry, Montelucia. I'll remember you and hope to come back for a longer stay. Rates begin at $125 (in the summer).InterContinental Montelucia Resort & Spa, 4949 E. Lincoln Drive, Scottsdale, AZ, Tel: 480-627-3141.
CAR TO AIRPORT
If you don't want to slum around in a taxi, the hotel uses ExecuCar (Tel: 602-232-4600) car service, which costs $20 more than a taxi.
US AIRWAYS MEDIA DAY
No matter how you feel about US Airways, you have to give them a lot of credit for opening their doors and allowing a bunch of travel journalists to peek into their daily lives. They've been hosting Media Day for six or seven years now and to my knowledge, they're the only airline man enough (or smart enough!) to do so. They let us know what their plans are for the coming year and why they did certain things in 2008. When I attended for the first time last year, I gained so much respect for them and the industry after learning their rationale. This year was even more newsworthy because of flight 1549, "The Miracle on The Hudson", which we heard some inside stories about.
US AIRWAYS' HEADQUARTERS

Walking into US Airways' headquarters in Tempe, about a 10 to 15 minute ride from the Phoenix airport terminals, the first thing I noticed was that there were no pilots striking like they were last year. One journalist quipped, "I guess they feel lucky to have a job," and I think they might have been right. The main building has a line of model airplanes the size of motor scooters, each painted with the airline's previous designs and/or company logos they have acquired along the way (Alleghany, America West, Piedmont, PSA). In the building next door is US Airways' only ticket office left standing and a gift shop, both open to the public.
BACK TO SCHOOL
In their main conference room, they had eight to 10 round tables set up for six to eight journalists and/or staff members. Each year they do a different theme and this year the theme was Back to School, so they handed out notebooks, pencils, scantrons and hall passes. I was seated at the "Shop table" next to Lisa Davis and my next closest friend was frequent flier Randy Petersen (Webflyer.com). The US Airways executives are young, most in their early 40s and they have a good time poking fun at each other. Every time one of them went up to speak, they put a fake high school year book picture and bio on the three overhead screens after playing a clip from a popular movie depicting their personality: Legally Blonde, Animal House, Karate Kid, Old School.
CEO DOUG PARKER
The seven top US Airways executives were in the house, including Chief Executive Doug Parker who spoke for about 30 minutes on the airline and the industry. Each one had a PowerPoint presentation and we saw a total of 109 slides. Surprisingly, Doug said the industry is in a very good position because of the 2008 oil crisis (prices went from $147 to $38 a barrel). Since crude oil prices were so high, it forced all the airlines to make aggressive changes (capacity cuts, layoffs and ancillary revenues …) before the real economic crisis hit. Because of this the airlines may be profitable as an industry in 2009 even if passenger revenue should fall 15 percent. He also added that the airline industry must convert the airline business into a real business. A key factor is consolidation. He said it is very hard to generate returns since there is not one single airline with more than 25% of market share. He suggests the industry revise its business model and that U.S. airlines also work together. Another key factor involved is improving labor relations, which he says is the management's responsibility.
SCOTT KIRBY
President Scott Kirby said ancillary revenues brought in $165 million last year ($116.5 million coming from the first bag fee, $37.6 million from the second bag fee, $5.3 million from the Choice Seats program and $5.7 million from increased beverage fees). This year, they're predicting it could bring in as much as $500 million and there has been very little consumer pushback to the fees. The only one was the beverage fee, which no other airline matched so it forced US Airways to scrap it in fear of a negative image. They were very disappointed since they think it's the way to go.
DID YOU KNOW?
With each $1 raise/drop per barrel of oil, it will cost/save the airline $33 million dollars annually. The current 2009 forecast is $2 billion dollars lower than 2008.
NEXT GEN
The baggage fees not only brought in more money but it made US Airways a better airline because there were 20% fewer bags checked, which helped with loading and on-time departures. In fact, US Airways went from the worst on-time arrivals in 2007 to the best in 2008. Part of that was offering $50 bonuses to each employee if they made their monthly goal (to be in the top three of the 10 competitive carriers) for on-time departures/arrivals. They paid out over $18 million ($500 to each employee) over the course of the year. They said the weather will prevent them or any airline from ever being on-time 100% (which is why Hawaiian airlines usually have the best overall record). They said the new Next Generation Air Transportation System would make a huge difference in terms of on-time and safety and the media needs to start putting pressure on Washington. They also need to get Washington to start treating airlines like regular companies and not tax them like they do vices such as tobacco and liquor.
LUNCH BREAK
We took a lunch break and the fairly tasty BBQ was catered by Cooperstown. I later learned it's owned by legendary shock rocker Alice Cooper, which explains why the servers had Kiss-like make-up on, which I thought were freaky facial tattoos.
FLIGHT 1549
None of us who watched the "Miracle on the Hudson" unfold will probably ever forget where we were when it took place. I was in Florida at my sister's house — I think (just kidding). I couldn't believe my eyes or hold in my tears of joy, when I learned that everyone had survived. It had such a huge impact on US Airways that they dedicated the whole afternoon to talking about flight 1549. They started out by showing an emotional video, which left pretty much everyone inside with tears in their eyes. One flight attendant even left the room.
LEARNING ABOUT THE FLIGHT
One of the most interesting things to come out was that CEO Doug Parker learned about it like most of us – from CNN. He was in a meeting with financial people when one of the other execs whispered in his ear. Like me, he had no idea at first if there were survivors because by the time we both turned the television on, all the passengers had been evacuated. Hero Captain Chesley Sullenberger ("Sully") called the operations center to verify that all 155 people aboard had gotten off safely as he was trained to do. The airline practices these drills so everyone knows how to act and what to do when these sorts of disasters take place. When Sully called the operations center, the manager answered the phone and said, "I'm sorry captain, I can't talk to you right now. We're real busy. We have an airplane down." Sully said, "I know. I was the captain" and he didn't get hung up on.
PLANS FOR THE FUTURE
US Airways is introducing five new flights this year: Charlotte to Paris on April 21 (seasonal daily service on a 767); Philadelphia to Birmingham on May 12 (seasonal daily service on a 757); Philadelphia to Oslo on May 21 (seasonal daily service on a 757); Philadelphia to Tel Aviv on July 2 (year round daily service on a A330-200); Charlotte to Rio de Janeiro (set tentative for fall 2009). One way they would like to improve customer service, says COO Robert Isom, is to alert people of delays and teach them that because there is clear weather in the place they are and where they are going still could mean a weather delay because the plane is coming from a hub that has bad weather. Does this make sense? It did when I heard it live.
NEXT WEEK
A visit to our nation's capital and the story behind Obama.
Web Resources
Note: This trip was sponsored in part by US Airways andMontelucia Resort & Spa.