Montage Beverly Hills, located in the heart of Beverly Hills on Canon Drive, brings old and new Hollywood together effortlessly.
With its Spanish Colonial architecture and elegant guestroom furnishings, you'll have no problem relaxing in this chic Beverly Hills hotel. And not to mention the fact that Spa Montage and the hotel's restaurant, Scarpetta, are each destinations in themselves.
Inside the hotel, you'll find European-influenced paintings and original costume designs from film classics that give the hotel the look of 1930s Hollywood-style glamour in a modern setting. The hotel's collection also features sketches and vintage photographs that showcase iconic works of influential architects and interior designers.
Here's a closer look at the very best of Montage Beverly Hills:
Scarpetta restaurant
The modern Italian restaurant Scarpetta is nothing short of impressive when it comes to a sophisticated Italian cuisine. The seasonally inspired menu has many delicious items including the chestnut tagliatelle with oxtail-short rib ragú, braised chestnuts and bone marrow.
I also had Scarpetta's most amazing handmade pasta dish, which is simply the spaghetti with tomato and basil. The raw yellowtail (olio di zenzero & pickled red onion) and yellowfin tuna (Sicilian caponata, basil & Osetra caviar) were excellent appetizers. This Scott Conant restaurant, under the direction of Executive Chef Freddy Vargas, sure holds true to its reputation.
Tip: Have lunch at the hotel—at Paninoteca by Scarpetta, the restaurant's casual, on-the-go lunch spot which is Executive Chef Freddy Vargas creation based off of the al fresco cafes found throughout Italy.
The rooftop pool & cabanas
Guests can reserve luxurious cabanas at the rooftop pool overlooking the beautiful backdrop of Beverly Hills and Hollywood Hills. Different packages range from "The Basic" and "The Executive" to "The Bachelor" and "The Bachelorette." All packages include LCD flat-screen TVs, reading material, Wi-Fi, Evian misters, Montage bathrobes (upon request), fresh fruit, and choice of bottled waters and more.
The rooftop grill
What more could you want in a breakfast than a healthy meal to start the day with a beautiful view of the pool and the Hollywood Hills? After a quick swim at the rooftop pool, I ordered the organic breakfast salad with mixed greens, kale, poached eggs, potatoes, tomato, avocado, bacon, and maple dressing.
I couldn't stop eating this salad. The maple dressing and the egg really made it. I had a yummy green drink to top off my breakfast with kale, spinach, celery, ginger, cucumber, lemon, and apple. A swim and this meal combo was the perfect way to start the day.
Tip: I hear they do an amazing brunch with bottomless Bloody Marys, Mimosas, and Bellinis until 3 pm on Saturdays and Sundays. When I go back for it, I'll order the same thing I had for breakfast—plus bottomless Bloody Marys, of course.
Spa Montage
The 20,000-square-foot Spa Montage is a serene oasis with 17 treatment rooms (including 12 massage and facial rooms). It also has five wet treatment rooms including eucalyptus steam rooms, dry redwood saunas and indoor whirlpools. The hotel also holds the flagship Kim Vo Salon and Gornik & Drucker's Barber Shop for gentleman's grooming services.
I first relaxed in the whirlpool and then the fireplace lounge before heading in for the spa's signature treatment: Elements of Wellness. I received a little of everything with this 90-minute experience.
It includes elements of the Swedish massage and focuses on connective tissue massaging. It also incorporates reflexology and aromatherapy and even homeopathy. Dermatome therapy was also a unique part of the experience that you won't find in a typical massage. It focuses on sensory nerves near the skin that are connected to the spine. I haven't had a massage use aromatherapy as well as this one did. Each scent was introduced at the right moment, which kept me relaxed the entire time.
Guestrooms
Rooms have elegant furnishings, artwork, LCD TVs, private patio or balcony, and signature Montage bedding with Egyptian Fili D'Oro sheets.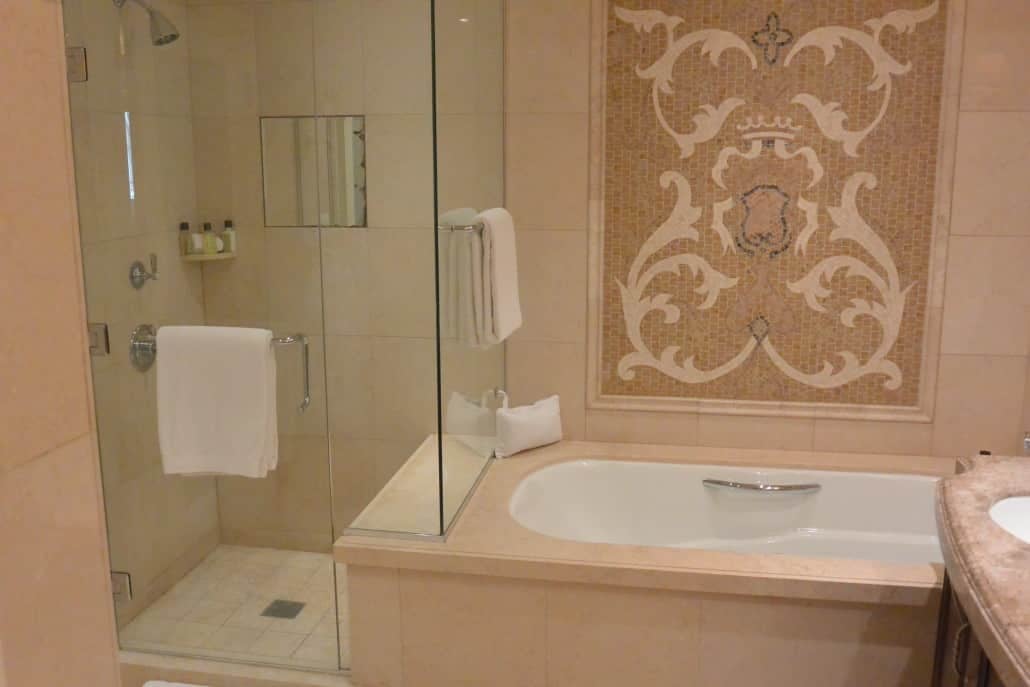 My favorite part was the beautiful marble bathroom with oversized tub, separate shower with Antica Farmacista bath products and Turkish cotton robes.
In addition to all of the above, the hotel has 20,000 square feet of meeting and event space, including the 5,000-square-foot Marquesa ballroom, which has space for up to 320 guests. We happened to see them setting up for an event in the courtyard and the table settings were just gorgeous!
From delicious food and rooftop cabanas to luxurious guest rooms and bathrooms, Montage Beverly Hills is a divine treat just steps away from the Beverly Hills action.
More information on the Montage Beverly Hills is available at montagebeverlyhills.com. All photos credited to Caitlin Martin.