The thought of an all-inclusive resort automatically conjures up images of drunken college groups or families with a half-dozen kids splashing loudly in the pool. But the Grand Velas Riviera Nayarit is a unique alternative that caters to a largely high-end and upscale crowd; in fact, it's a member of The Leading Hotels of the World and the first all-inclusive resort in the world to receive AAA's Five Diamond award. All-inclusives are not common in the upscale market segment, but if there ever were one to set the example, Grand Velas would be it. It's located in the Mexican state of Nayarit, just a short distance from the Puerto Vallarta international airport.
The realization that this property will be different begins from the moment guests arrive, when they are greeted with chilled towels, welcome beverages, and a ten-minute massage while they complete reception paperwork.
Personal butlers walk you to your room and give a brief tour of the property along the way. For me, it was hard to pay attention as my eyes were darting about at the ocean views, beach, and trio of pools spilling one into the other. The wooden bridge that criss-crosses one of the pools is positioned so that it is slightly hidden, giving onlookers the impression that people are walking on water as they cross it.
Rooms
Rooms are all suites here and come in one- or two-bedroom sizes, each with their own private terrace facing the bay. Each has at least one massive king or queen bed with soft duvets facing large, flat-screen cable TVs housed in Indonesian teak wood armoires. My butler explained to me how to use the air conditioning (which was certainly needed in the humid weather), and pointed out that the staff would be by daily to restock my complimentary minibar and snack tray. It was packed with unique and regional favorites of mine like lemon-flavored peanuts and salted plaintain chips. I was sure to enjoy them so they could be replenished!
All suites have spacious living areas, Nespresso coffee machines and more bottled water than you could possibly drink in a day. Living rooms have sofas by the windows, where I often found myself napping or working with views of the Pacific Ocean.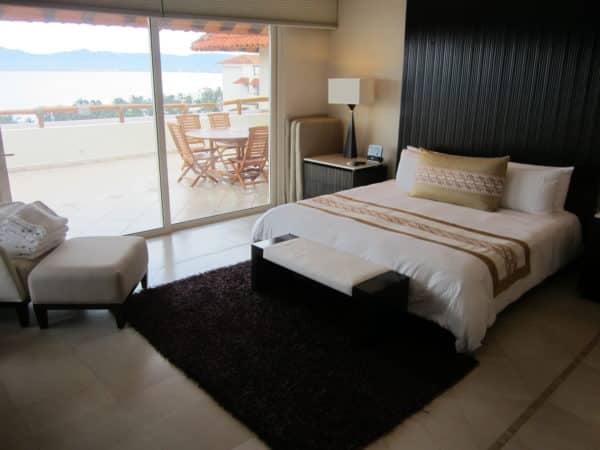 Bathrooms are separated by panels that open to the bedroom, allowing you to see straight through to the ocean as you lounge in the soaking tub or use the rainfall shower. L'Occitane toiletries were another unexpected triumph for an all-inclusive. One day, I returned to my room to find housekeeping had organized all of my toiletries into a row and gotten rid of the torn plastic bag I was carrying them in (thanks TSA!); the attention to detail at the hotel is out of this world.
Robes and slippers are waiting in the closets, which as I discovered when I opened one also contain a full-length mirror. By the beds are alarm clocks that had iPhone charging capabilities.
Cool marble floors felt good after a day on the sand. A glass dining table sat in one corner, and here I was able to spread out my belongings. The most expensive suites offer separate living and dining areas plus Bulgari toiletries in baths. There are six spa suites (one of them was nextdoor to my room) that boast their own private treatment rooms, Swiss showers and whirlpool tubs.
Each suite comes with free wireless high-speed internet access (also available throughout the property). Until recently, there was a charge, but thankfully management made that part of the all-inclusive package. Not all rooms have desks, but those that do come with basic cushioned chairs and wide-open space for a laptop, cell phone and paper work.
For business travelers
Business groups and meetings are extremely common here and represent a large portion of the hotel's activity. Many groups come directly from the United States and use the sunny destination as an incentive to boost attendance at functions.
There is a small business center on the lobby level with a private meeting room, internet-equipped computers and printers, and translation service.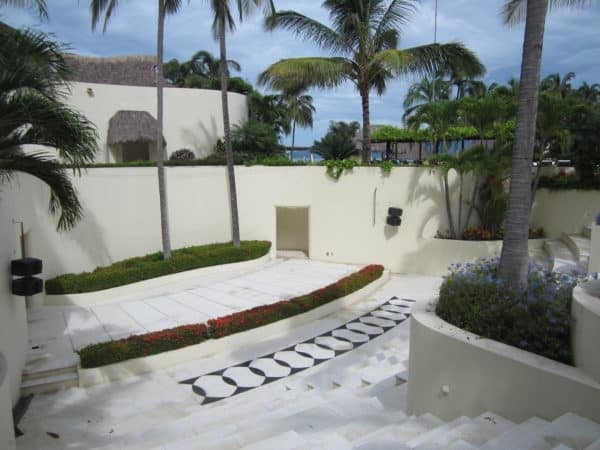 A wide variety of meeting space is available from board rooms to large ballrooms. The outdoor amphitheatre positioned near the pool is a clever and unusual space for presentations or special functions. The staff will go to any length to please groups (or individuals for that matter); the General Manager told me of a company that wanted to have a Mission Impossible-themed event, and the hotel arranged to have the CEO scale the side of the building in front of the group's outdoor banquet to make a grand impression.
Food and drink
All meals are included, as are alcoholic drinks. Premium brands are available for an upgraded price, but the menu of complimentary libations is lengthy and plentiful.
There is no more interesting pastime at an all-inclusive than eating, and the bar has truly been raised here. All of the a la carte restaurants have been awarded with AAA's Four Diamond honor, which is quite rare for an all-inclusive hotel. Breakfast begins at Azul, the buffet restaurant at the water's edge, which also serves a casual lunch and dinner as well.
The selection is extensive and covers solid Mexican ground. Interestingly enough, I learned that Mexican cuisine has received the "world culinary heritage" designation by UNESCO; the only other awardee with this designation is French cuisine. Quite impressive, and the full range of choice—from chilaquiles with pepper salsa to fish tacos served on the buffet—served to reinforce that. Made-to-order dishes include omelets and pancakes at breakfast and burritos and fajitas throughout the day.
Tropical fresh fruit was abundant throughout the day, and sushi made an appearance at lunch. Other specialties include five different local ceviches, continental fare like pasta and pizza, and a salad bar that had everything from asparagus to zucchini.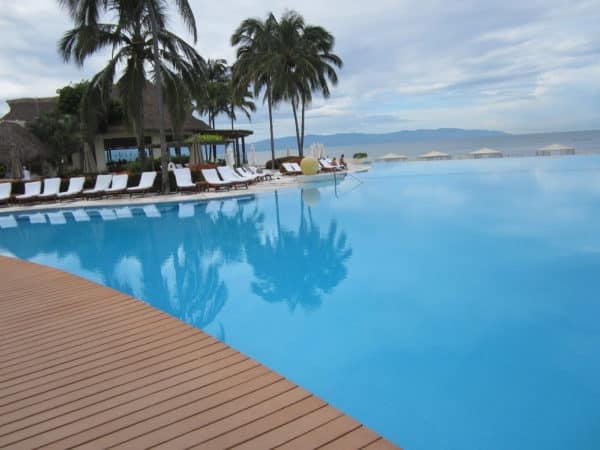 A pool and beach grill serve burgers, tacos, and other quick bites, and servers will gladly deliver to your lounge chair on the beach if you wish. A swim-up pool bar sees its fair share of customers although I unfortunately did not pay it a visit.
At dinner, there is a trio of fine dining restaurants on offer. Frida is the signature Mexican venue featuring live guitar music, and I did not have enough time to try it. However, I did have dinner at Lucca, the Italian venue, which rivaled anything you'd find in Rome or Milan. Attention to detail was impressive, and every course was bespoke for each person. It began with a choice of still or sparkling water followed by a tray of freshly sliced lime or orange wedges to add. When the bread appeared, a trolley of various olive oils was rolled around to each diner.
Even following the meal, the digestif trolley was stacked high with liqueurs and cognacs. The dishes in between were decadently presented and prepared with precision. I enjoyed a delicious veal cutlet served with truffle fettucine as my main and preceded it with a jumbo shrimp on a bed of mushroom risotto. Chilled towels began the meal, and top-ups of wine were never hard to come by thanks to the attentive service.
Piaf, the in-house French restaurant, is similarly staffed with a menu that runs the gamut from rack of lamb to duck confit. Live music is performed in all of the restaurants here, which is a nice touch. The lobby bar also features its own band of entertainers that keep it lively through the wee hours of the morning.
Of course, there is always room service that can be delivered at any time of day or night…all included!
If any of the resort's cuisine really interests you, there are packages that include cooking and mixology classes that pair guests with a restaurant chef or bartender to give them tips on how to prepare the same recipes at home.
The spa and more
The hotel has a full health club with modern workout equipment, but the real showstopper is the spa and its 20 individual treatment rooms and menu of 60 individual spa treatments—all of which boast the hotel's Leading Spa of the World seal of approval. It follows a holistic healing approach so there are plenty of candles, flowers, and scented towels, but these do not take the place of excellent treatments. I had a sports massage that was probably one of the best I've ever had, and the hydrotherapy circuit of saunas, steam rooms, showers, and whirlpools before the treatment were a great way to decompress.
Families have a way to spread the relaxation around as well thanks to a children's spa menu that boasts treatments like chocolate facials, fantasy (dress-up makeup) rituals, and flower shower massages. There is no better way to attract a business traveler to a resort than to provide exciting amenities for his or her family, too.
The beach has its own cushioned lounge chairs, including some beneath shaded canopies, and the pool butlers rush to cover your seat in a terrycloth cover and provide large pool towels, chilled refreshing towels, drinks from the bar, and a selection of fruit popsicles the second you appear.
A children's club is also a popular amenity that has increasingly drawn families since its recent inception. In addition, a unique teen lounge boasts extra features like Xbox, a disco dance floor, and its own bar for non-alcoholic cocktails.
This perfectly positioned, oceanfront resort outshines any other all-inclusive I've experienced thanks to its top-notch service and careful attention to guest preferences. Also, the level of quality found everywhere, from the food to spa treatments to guest suites, is extremely high. Typically, all-inclusives are known for offering unlimited quantity of a limited quality, but the family-owned Grand Velas is designed around impressing high-end guests and groups from the moment they arrive.