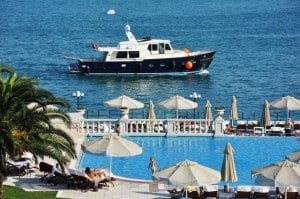 Merhaba from Istanbul, Turkey! I'm here for a couple days of sightseeing before I board a weeklong Aegean cruise on Seabourn's newest ship, Odyssey. This is my first time visiting the city that straddles two continents and I had a lot of preconceived misconceptions and fears, all of which have now been relieved. If you want to see this fascinating place Johnny Jet-style (part luxury, part practical), then pack your bags and don't forget to bring your open mind. Also this week, our newest writer Natasha Conklin James tours us around Governors Island in New York City and my brother Francis J. DiScala Jr. lends a helping hand by participating in a Tourism Cares event in Gettysburg.
ISTANBUL AIRPORT
Last week we left off after just touching down in Istanbul from Frankfurt. I didn't have time to tell you that all of the gates were full so the pilot parked the 737 on the tarmac next to all the other homeless aircrafts. We then deplaned using the stairs like a colony of ants, on to a hot crowded bus that took us on a short ride to the terminal. The bus was a bit of a bummer because when you're sitting up front, it defeats one of its main perks – getting a head start to immigration. At this airport, the tip is to be the last one on the bus so you'll be the first one off.
PASSPORT CONTROL
The lines at passport control were almost as unwelcoming as the lines at most major U.S. airports and it took 25 minutes before I finally made it to the front. The agent flipped furiously through my passport until he reached the end. "Where is your visa," he demanded. "Visa?" I quipped. My heart sank as I wondered if I could get a last-minute one or not.
ROOKIE MISTAKE
Fortunately, I realized I wasn't alone when he pointed to the visa line about 20 feet away. At first, I was so relieved but that quickly turned to disappointment. First of all, I should have known better, to always double check entry requirements so I was kicking myself for making such a rookie mistake. Secondly, I noticed this desk walking by the first time and there was no one in line; now (of course!) it was at least 40 people deep.
LAST-MINUTE VISA
The good news is that the visa line moved faster than I would have guessed. The sole agent was highly efficient as he spent about five seconds per person, which entailed taking the cash (payment can be made in dollars, euros or Turkish lira) and slapping a postage-like stamp on one of your passport's blank pages. Prices vary depending on which country you are from and when I saw that Canadians had to pay $60, I was certain I was about to get raked – but shockingly, the fee for US citizens was just $20. Here's a great webpage with instructions and fees.
RETURNING TO PASSPORT CONTROL
Instead of waiting twice at passport control, I just went to the front and hopped the waist-high metal barrier and walked to the agent who I'd been dealing with earlier. A Russian man a few people behind me said really loudly, "Who is this guy? Where did he come from?" I could feel the evil eyeballs on my back. Before an out and out brawl began, I turned around and said with a frustrated/calm/stern/psycho smile, "Look – I was here earlier, but I forgot something." That worked and they all let me pass, including the agent. After receiving my fresh Turkish entry stamp, I turned around once again and thanked my new friends.
GETTING A TAXI
When I emailed my hotel to enquire about airport pickup they wanted €120 + VAT for the one-way trip. After doing some research online, I learned that was an insane amount of money since a taxi should only cost around €25. Taking a taxi from the Istanbul Airport is just like getting one from one of New York's airports. Just walk outside and go to the official taxi line. There were plenty and unlike NYC, I didn't have to wait. If you want to go an even cheaper route, there's a scheduled Havas bus for around $10.
AIRPORT TO HOTEL
My driver was very friendly and I think appreciative when I decided to pretend I was in Sydney and sit in the front seat. I like it up there much better since you can really get to know the driver and besides, it's better for sightseeing and snapping pictures. FYI: Natalie arrived in Istanbul a few hours after me and she was apprehensive about taking a taxi alone. But after my experience and the advice I'd gotten from locals, I assured her that it was perfectly fine … and it was.
THE DRIVE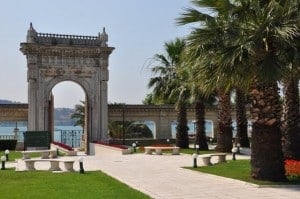 Boasting 15 million residents, Istanbul is notorious for traffic jams but I arrived midday so I avoided the madness of rush hour. The almost congestion-free ride took about 35 minutes and my driver offered to go the scenic route but I kindly declined to keep the time short and the rate low (make sure they use the meter). Exiting the airport, I was impressed with all the flowers planted on the road's middle divider. It got even prettier when we drove along The Sea of Marmara, past the entrances of the Blue Mosque, Hagia Sophia, then the .
TAXI FEE
When we arrived at the hotel, the meter read 37 Turkish lira (TL) but since I forgot to hit the airport ATM, I asked how much in U.S. dollars (pretty much everyone here accepts dollars and euros as well). He said $25 so I gave him a twenty-dollar bill and a five-euro bank note and he was happy for the small tip. I was even happier that I hadn't let my fear convince me to pay the hotel's €120 ride.
MONEY
At press time, 1 Turkish lira (TL) = 0.66 USD. Therefore, 1 USD = 1.49 TL. Just think of everything being 33% off so Turkey is still a bargain for U.S. travelers. FYI: ATMs are plentiful and if you use an international bank's machine, it will give you a choice of Turkish lira, euros, pounds or U.S. dollars.
BASIC TURKISH
When traveling to a foreign country it's always a good idea to learn a few basic words in the local language. One website I found that has some good free translations for Turkey (but has annoying pop up ads) is Travlang.com. Not only can you see the translation but you can hear the pronunciation as well. FYI: I am the worst at languages but almost everyone I met spoke English and every restaurant had menus in multiple languages so there was no language barrier. HELPFUL WEBSITE: If you are looking for a Turkish online translator, try Babylon.com.
TURKEY HISTORY
Turkey is so full of history it would take a lifetime to learn it. But some interesting facts are that Turkey has the site of the first human settlement. It was the seat of the Byzantine, Roman and Ottoman Empires. It was the birthplace of Homer and supposedly the last home of the Virgin Mary. Today, Turkey is a modern nation with a fascinating blend of East and West, antiquity and contemporary.
ISTANBUL HISTORY
Istanbul is historically known as Byzantium and Constantinople. The capital city also has long history, which I'm not even going to pretend I know. But according to Wikipedia.org : Istanbul was the capital city of the Roman Empire from 330–395. Then the East Roman (Byzantine) Empire from 395–1204 and 1261–1453, then the Latin Empire from 1204–1261, and finally the Ottoman Empire from 1453–1922. In October of 1923, the Republic of Turkey was born after the Turkish War of Independence.
ISTANBUL TODAY
Today, Istanbul is Turkey's largest city and one of the fifth biggest in the world. What makes this city unique is that it is located on the Bosphorus Strait, which extends on both the European (Thrace) and Asian (Anatolia) sides of the Bosphorus River. FYI: About 70% of the locals live on the European side.
RELIGION
Just like Rome, Istanbul was built on seven hills all bearing at least one historic mosque. The city is not as strictly Muslim as I thought it would be and according to the 2000 census, there are 2,691 active mosques, 123 active churches and 26 active synagogues.
ISTANBUL WEATHER
Istanbul has a temperate climate. It's hot and humid in the summer with the average temperature being 82°F (28°C) between June and September. On the flip side, the winters are cold and wet with an average temp of 42°F (5°C).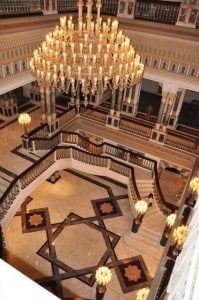 CIRGAN PALACE KEMPINSKI
On the plane ride over, I read in my Frommer's Turkey guidebook and in a Conde Nast Traveler article that The Çiragan Palace Kempinski Hotel is one of, if not the, nicest places to stay in Istanbul. What makes it so special, besides its long history, service and amenities, is its location. It's the only hotel located directly on the European shores of the Bosphorus.
THE PALACE
The Ciragan Palace Kempinski Istanbul is actually two grand deluxe hotels featuring five-star luxury. They are both members of the Leading Hotels of the World group and the newer building was built in 1987 and remodeled in 2007. This one has 313 rooms and is lovely but it doesn't hold a candle to the restored palace next door. The palace first opened its doors in the 17th century and was the residence of the last Ottoman Sultans. This historic building that's open free to the public as a national landmark has 11 out-of-this-world suites.
GRAND TOUR
I was fortunate to get a private tour of the building. I admired the artwork, rugs, staircases, Swarovski crystal chandeliers with 500 energy-savings light bulbs, the enormous banquet room, the original Hammam and of course, the jaw dropping main suite, which apparently the Turkish government frequently rents out when they are hosting heads of states and need a brilliant backdrop for photo-ops.
OPRAH'S ROOM
This suite is so luxurious that it goes for – get this – €30,000 a night. Not too many people can afford this place unless they have deep pockets like Oprah. In fact, Ms. Winfrey spent the night here this summer when she took her staff on a European cruise. President Bill Clinton has also spent the night, though not with Oprah. Even if I had that kind of money I wouldn't throw it down like that but it sure is nice to dream, isn't it? The two-bedroom suite, both with four-poster beds, are straight out of a fairy tale and the two marble bathrooms are seriously drool-worthy.
CHECK-IN
When I pulled up to the main hotel, I was expecting something much grander like the palace. It was close to the road and there was nothing special about its appearance – it was actually kind of blah. But the moment my taxi driver popped the trunk, my impressions began to change. I was attacked by a bellman and two beautiful clerks, dressed to kill in red uniforms and armed with cordless phones and mini Louis Vuitton bags that concealed their papers and portable credit card machines, all needed for check-in, which took place in the comfort of my room. Another crew had refresher towels.
MY ROOM
The rooms are nice but ours was missing something and I'm not entirely sure what … but I think it needed another window. Looking back, it was kind of dark with its lone sliding glass door. But dark is good for sleeping, which it really does get since there are three curtains to ensure a virtual blackout.
THE MAIDS
What I really liked about the room was its size and how solidly it was built (you don't hear the neighbors at all). There's plenty of closet space, a working desk with free wireless internet (no prompts or access codes but the government blocks YouTube), a comfortable bed, soft, high thread count sheets and maids that are pretty much flawless. In fact, every time I went in the room it had been mysteriously tidied up and they always replaced the bottles of water.
OLD TV
I don't watch a lot of TV on the road or at home, for that matter, but the hotel definitely needs to replace the prehistoric boxes they've got with modern flat screens. It would've made flipping through all of its multi language channels before going to bed that much more enjoyable.
THE BATHROOM
The bathroom was absolutely beautiful with its white marble walls, grey marble floor, teak sink and seldom-used bidet. However, the bathtub/shower system required a Master's degree to figure out. On top of that, the water pressure wasn't all that great and the water temperature suddenly changed once in a while. The maids are free with the toiletries but they don't seem to encourage people to use the same towel since they replaced my hanging one each day. Rack rates for a park view room begin at $505. But of course you can get that cheaper by going through the internet or a tour operator. What was surprising to me is that the hotel's number one clients are the Turks., followed by the British and then Americans. The Ciragan Palace Kempinski Istanbul, Ciragan Caddesi 32 Besiktas, Istanbul, Türkiye; Tel: + 90 212 326 46 46.
HOTEL DINING
The entrances of both lavish lobbies have a metal detector, which I didn't see used very often nor did I ever feel unsafe. In the main entranceway, there was always a bevy of beautiful representatives waiting for new arrivals and eager to answer any questions or point guests in the right direction, especially to one of the hotel's half dozen signature restaurants.
THE GAZEBO RESTAURANT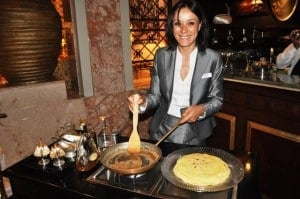 The Gazebo Lounge & Restaurant is their main restaurant—it's right off the lobby overlooking the pool and Bosphorus and has live music. They serve breakfast, lunch, tea and dinner there. I visited twice – once for a late afternoon snack (pizza) and the other for a late-night dinner when Natalie first arrived. We sat outside and I'm not sure why they have the glass partitions up in the summer, since it really diminished the beauty of the setting and sort of blocked the view, too. The food (I had chicken for 28 TL) and friendly service were really good and the prices weren't as steep as in the other two restaurants. FYI: Turkish High Tea features local specialties such as baklava and 'su böregi', baked layered pastry with cheese.
SUMMER BBQ
The one hotel restaurant I really wanted to go to was the Ciragan Bosphorus Barbecue. It's open only during the summer and it has one of the nicest looking displays I've seen. But I couldn't justify the 125 TL price for food only or 140 TL with drinks, especially when Natalie and I weren't even that hungry.
BREAKFAST BUFFET
Equally as impressive is the breakfast buffet in the Laledan Restaurant. Oh my gosh – they have everything you can imagine from Turkish, Japanese, European and American specialties to fresh fruit, infused juices, pastries, honeycomb, waffles – you name it. The €48 (yikes) price tag also included a main entrée from the menu and we only ate here since our rate included breakfast.
HOTEL AMENITIES
One of my favorite things to do at the hotel, besides gorging myself at the breakfast buffet, was walking around their private grounds and admiring the panoramic views. It was amazing. Of course, it was hot and humid out so there was no better place to cool off than in one of their three pools; one was an indoors and another the adult-only lap pool.
POOL
The pool area was immaculate and there was never a dirty towel lying around or room service tray. The moment I sat down in one of the poolside chaises ready with two fluffy towels, a pool boy came by with a complimentary bottle of water in a mini ice holder. If that wasn't good enough, a few minutes later another pool boy came around offering to clean my sunglasses.
TURKISH BATH
I've heard so many travel experts say that their favorite spa experience ever was in Turkey at a Turkish bath so Natalie signed us up to get a traditional treatment. When we arrived at the spa, we quickly filled out the health cards and then an Indonesian woman escorted us to our respective changing rooms after welcoming us. I put on the crisp robe and sandals waiting inside my locker room and then hit the steam room, which was all marble and piping hot with a strong smell of Eucalyptus. Then a therapist yelled in broken English if I was ready for my Hammam. I wasn't sure – from that, I imagined I was going to be in a pool with a bunch of naked men, which didn't appeal to me at all but the Hammam turned out to be the farthest thing from that.
HAMMAM
I slipped my underwater Olympus camera in my robe pocket to take notes and I went to take a picture on the sly of the Hammam sign and cool statue when a pretty blonde in a bikini walked by just as the flash went off. I thought for sure she was a customer and was going to get mad since cameras are a BIG no-no in a spa. But she asked, "Are you Mr. Jet?" When I nodded, she introduced herself to me and escorted me to the Hammam. Where Natalie and another therapist were waiting. I didn't realize it was a couples Hammam. The other therapist was a more robust Ukrainian woman in a one-piece bathing suit and a sexy sash wrapped around her waist. She was very nice as well but didn't speak English as well as the blonde woman who'd escorted me in.
HAMMAM SETTING
The Hammam was in an incredible space of wall-to-wall white marble with three double spickets on each side with silver pitchers below. The room was dark and had a low ceiling. In the middle of the room was a stone table with Islamic art piece that doubled as the drain. Towels were laid down covering most of the table and more towels were rolled up on opposites end to make a pillow. They told us to take off our robes and gave me a tiny piece of cloth to wrap around my stark naked body and then told me to lay opposite to Natalie. This was starting to get a little kinky.
LOOFAH TIME
The Ukrainian therapist adjusted the cloth so it was now just covering my bum like a size 0 dental floss G-string that's made exclusively for hot Brazilian babes, not overweight dudes. I was laying face down when out of nowhere my therapist poured a bucket of warm water over my back and slipped on a loofah mitt on her right hand. When she started slapping her mitted hand on my exposed butt cheeks, I thought this was some kind of sick joke. When I said, "Whoa, Nelly!" she laughed and said that it's tradition. I said, "In that case, may I have another?"
SOFT, MEDIUM OR HARD?
Then she asked if I wanted soft, medium or strong pressure. Like a manly man, I opted for strong. She said I'd have no skin left so I downgraded to medium. Good thing she warned me because medium was so rough, I thought I was bleeding. She scrubbed pretty much everywhere and then some.
BUBBLE TIME
The highlight was when they both started making bubbles old-school-style with a cloth and waving it in the air then distributing it like a baker would with an icing pouch. When the bubbles piled high, the massaging began. It was then I realized why it's called a Hammam (pronounced hammum). Because it takes you back to when your mom used to bathe you after making mud pies in the muddy backyard. Just like my mom, Nelly was kind of rough as she rubbed and dried around my ears.
TIME TO ROLL OVER
To wash me off, she threw hot bowls of water on me, which felt damn good. Then she flipped me over to do it all over again and I was so happy she introduced the cold water because facing up, with my eyes now opened wide, I could see a bikini-clad beauty soaping up another naked beauty and well, I started to feel like … I could use a little cold water! When the cold water hit me, I realized I hadn't died and gone to heaven.
CLEAN UP
The finishing touches were a face and scalp massage – boy did that hit the spot. Then came an endless barrage of dousing with different temperatures of water that went from hot to freezing cold at the end. The whole treatment took about an hour but it felt longer and I was so wiped afterwards that I could barely move. Nelly wrapped my head in a towel and had to escort me to the next room where she plopped me down on the red velvet sofa. Then she brought Natalie out, laid her on my lap and took my camera to snap a picture. "I feel like Sultan Johnny," I said. They laughed. I hobbled through the fitness room to the changing room with the head wrap still on and got some quizzical stares but I didn't care. I'm now a Sultan.
IF YOU GO
A couples Hammam at the hotel is 630 TL. Natalie advises women not to shave their legs the morning of the treatment because the aggressive scrubbing might be too rough on freshly shaved legs; hopefully I don't need to warn the guys of the same. The only thing that would have been nicer is if there was more soap and water but I guess the point is to really to exfoliate the skin, which this most certainly did.
NEXT WEEK
Next week we will explore all around Istanbul. Stay tuned!
Web Resources