Mazatlan, Mexico is not just miles of beaches, but a thriving cultural destination.  We found ourselves both day in night in the heat of the dynamic colonial style "Old Mazatlan," or Centro Historico, a 180-block area district with 479 buildings designated as national historic landmarks.
Mazatlan, once a celebrity hideout in the 1930's for Americans, was discovered by Walt Disney who happened to have his plane accidentally land there. Disney became friends with the investor Lewis L. Bradbury, a mining millionaire who owned a mine named Tajo in Sinaloa, Mexico—who became a real estate developer in the latter part of his life. Bradbury had opened up a hotel and then later westerns were filmed in Mazatlan. Mazatlan experienced a resurgence of wealth again in the 1940's when the Japanese introduced shrimp fishing to the Mexicans who were shark fishing at the time.  The US became Mexico's main shrimp client.
During the day we roamed the interesting streets to appreciate the colorful architecture as we stumbled upon romantic outdoor restaurants, cafes, bars, and handicraft stores. In and out of art galleries, the historical downtown made me think of places I have been in Europe. Glen Rogers, a local artist who has lived in Mazatlan for ten years gave us a tour of her studio and home. As an experienced printmaker and master printer she offers monotype and other printmaking workshops from her studio in Mazatlan.
At night we came back for more ambiance; we ate incredible Mexican food I still dream about at the outdoor restaurant Pedro & Lolo with its colorful tables, center city charm and landscaped streets. Sipping on tequila, the night was kicked into high gear as we floated down the streets from one music venue to another swaying and dancing to the beats in this humid dream.
Each alleyway on Music Day had a different performer or band that excited us until we ended up at the grand stage laughing and dancing with the locals, trying to partake in their young dance moves in a new country.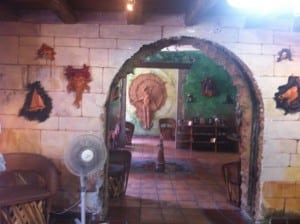 From November to May (4:00 – 8:00 PM) Mazatlan has First Fridays Artwalk, a free self-guided tour of artist studios and galleries.  Learn more here  at Art Walk Mazatlan.
Did you know Forbes Magazine in January 2012 wrote that Mazatlan's Carnaval is one of the three best mardi gras in the world, behind Rio de Janeiro's and New Orleans' festivities?
Mazatlan's 2013 International Carnaval will be held from February 7 to 12 next year. Going on for more than 113 years, the Mazatlan week showcases impressive parade floats, world-class artistic events, and the beauty of its queens along the beachfront boardwalk followed by a firework show that lights up the bay. Approximately 1.2 million spectators watch the five mile extravaganza.
Looking for another way to explore Mazatlan? Take the FunBus, an open air bus where you can drink and enjoy the views. Mazatlan is the Pearl of the Pacific, not just a beach town, but also a thriving cultural mecca. To learn more, visit  www.mazatlanmycity.com for videos and detailed updated information.