Forget the steamy image of a jungle-encased adventure lodge with creaky wooden floors and rustic bathrooms. Ecuador's Mashpi Lodge's spare-but-luxurious cubist layout could double as a contemporary art museum, but draped in rainforest trimmings. The striking basecamp, which appears to be more suited for a Malibu, CA, cliffside, showcases the cloud forest with immense floor-to-ceiling windows, a loft ceiling, and numerous reasons to look outside—exactly where you'll spend most of your time.
Daily nature walks are guided by impassioned in-house local naturalists; they don't look, they watch. In fact, some of the employees have transitioned from forest predators to protectors. Mashpi's footprint is on the site of a former logging mill that went bankrupt 13 years ago.
Mashpi Lodge employs several guides who used to be poachers but became conservation ambassadors in what is now a reserve. Jose Napa (a trail is named after him) is a great example. His nephew, Manolo, co-guided me, and along with giving me a mini-PhD in all things jungle, he reproved that mellowness seems to be baked into highland Ecuador's culture.
No matter where you are inside this boxy-but-beautiful hotel, you're connected to the outside. Your room also has floor-to-ceiling windows (best flat-screen TV going), which invites a constant, intimate face-off with the cloud forest. The only reason to close a window in this "garden apartment" is to tame the volume of the sunrise-inspired animal concerts. And, if the many creatures thriving outside your window are beginning to make you wonder who's watching who, you can lower the huge electronic shades.
Mashpi's 3,200-acre private reserve in the Choco region ecosystem is in a transition area between flatter rainforest and hillside cloud forest, where sunlight can reach more ground space and invite more life, both plant and animal. Creature sightings included a dwarf iguana, bellowing psychedelic frogs, extravagantly colorful butterfly-seeming moths, "ant" trees (bamboo-looking ant apartments defining symbiosis/mutualism), and 340+ bird species.
Look down and see thousands of rapidly parading carnivorous army ants. Look up at dozens of orchids from Ecuador's resume of 4,600 orchid species. Manolo then explains how walking palm trees actually creep toward sunlight via an adaptive pyramid root base.
We finish our day in the western foothills of the Andes looking at bright green tree frogs with translucent bellies that allow you to see their heart beating, and then head back to the lodge for an incredible meal. Tasty, fresh food is on the menu three times a day.
Mostly primary forest, this region was selectively logged 25 years ago, but only alongside a logging road, so it's the real deal. Self-contained rain frequently falls from below the canopy—a rainmaker defined.
There are several overlook opportunities including a fire-tower-style observation deck and a sky bike (think tandem exercise bike pedaling along a cable high above the canopy). At its highest point, the bike is suspended 196 feet above a ravine.
Mashpi Lodge founder Roque Sevilla saw the bike in Popular Mechanics magazine some years ago, loved it and built this one via several incarnations. I'd never heard of a sky bike before, but it reminded me of many upbeat road trip songs from the past. Mashpi's newest headline is the pending opening (for guests only) of their groundbreaking aerial tram that descends from 1000 meters to 800 meters via four-passenger pods, where, at one point you're 250 meters above a river. At the lower station of this ski-resort-lift-like event, you enjoy a picnic set to stunning views.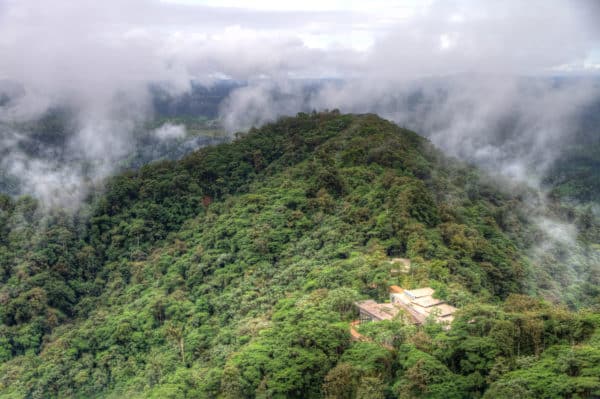 A one-hour (with many education moment pauses) hike through the jungle brings you to Mashpi's Life Center, a research center with a deck sharing another epic mountain view of steaming mountains—truly where the clouds are born. The centerpiece here is a domed Butterfly Garden that's home to an explosion of fluorescent butterflies bred for both preservation and genetic research.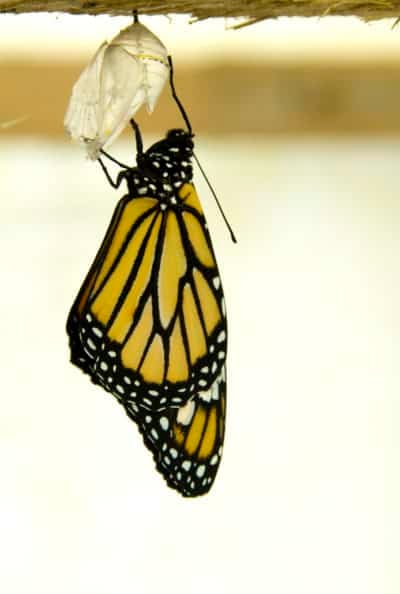 This set of visiting scientists were trying to determine which gene creates iridescence in butterfly wings. They noted that this butterfly wing-prism function—which prevents predation via a warning coloration change that tells hungry birds "we are toxic"—also has the ear of L'Oréal/Max Factor as a possible cosmetic breakthrough for women (note: Mashpi itself has never worked with a cosmetics brand and probably wouldn't).
This hideout is a utopian flittering wonderland. We concluded the Life Center experience on the deck for a wine-and-cheese finale before a night hike back to the lodge. A whole new set of creatures wake up at night, and the guides adore all of them.
Before dinner, Sebastian Vizcarra, one of Mashpi's naturalist/guides, gave a presentation about their camera trap tracking project, which photographs unsuspecting rare animals simply doing their thing. An amazing aspect of the camera trap project for visitors is seeing big felines and larger mammals that now surround them, though it's unlikely they'll see them during the day.
Later, one-on-one, Sebastian framed the highland Andes peoples' patient, relaxed way of being as an alternative to the fast-talking coastal lowlanders (Guayaquil) who have more oxygen to expend for babbling.
Ultimately, Mashpi is a conservation education headquarters with five-star hotel service, including a swank Jacuzzi and a skilled masseuse. Various nature studies are partially funded by guest accommodation. One local bird-mating ritual study proved, we learn, that many local male birds all like to do their breeding show-off dance on the same tree branch (ahh, high school). Chances are high that you'll meet at least one guest who's a birding fanatic…and, that you'll leave at least more curious about wildlife habitats. Mapshi means friends of water…but they don't stop at water.
More on Mashpi Lodge—and how to get there
Equatorial Ecuador doesn't experience seasonal changes (at Mashpi, you can always bank on average temperatures between 72- and 75-degrees, which makes the 90-percent humidity agreeable), nor currency changes (for Americans, they use dollars), nor time changes (from the US east coast).
It is a blissful place to experience South America's incredible biodiversity notched up to megadiversity. Getting here from Quito requires descending 6000-feet via a four-hour ride, half of it on bouncy, dirt roads. The winding journey from Quito's parched perch into this lush Andean cloud forest is where Mashpi Lodge's jungle-chorus otherworld awaits. The opening of the aerial tram will bring the suggested minimum stay to three nights instead of two.