This post contains references to products from one or more of our advertisers. We may receive compensation when you click on links to those products. For an explanation of our Advertising Disclosure, visit this page.
Editor's Note: Some of the offers below may have expired or are no longer available on our site. 
If you are a member of Marriott Rewards or Starwood Preferred Guests (SPG), mark your calendar. The new booking rates and policies for the combined programs roll out on August 18. The merger between the two hospitality giants is sure to change the travel game—especially when it comes to how their individual rewards and points programs will shift to become more widely applied across the chains now operating under one umbrella.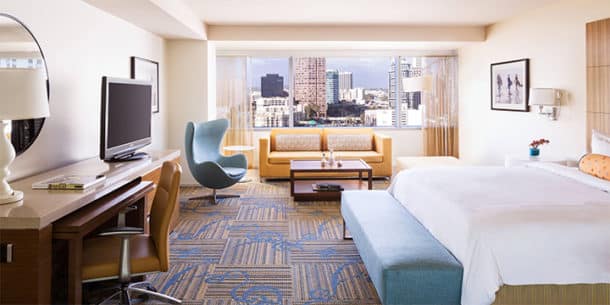 August 18, 2018, is the official launch date for the new program. On that day, three rewards programs will become one super program, which happens to make globetrotting that much easier. Let's start with the biggest changes taking effect.
Marriott and SPG Updates
All SPG members will receive a nine-digit account number that will be their new account key for the platform. Some Marriott Awards members will also receive new account numbers, which will be communicated via phone or email. SPG will also be releasing their new mobile app for booking, which will mimic the look and feel of the Marriott app. This is designed so that members of each program can easily book with their preferred brand, even though other aspects of the booking and rewards experiences will be combined.
The new platform hopes to make it easier for members to earn and redeem the most points possible. Members can book and earn rewards using one account and one point balance. Starpoints balances will be tripled upon combining accounts, and members will earn an average of 20% more points from stays after combining the accounts.
Tiers
Additionally, the Marriott and SPG updates show that a new tier structure will be available. Some members will be automatically upgraded after combining their account balances.
New tiers come with new perks and bonuses. Plus, more properties across different price levels make it easier than ever to earn points. Nearly 70% of properties are keeping the same prices for redeeming points for free stays or lowering prices after rolling out the new program.
The new Elite programs is a definite perk of the merger for most consumers who are already members. However, it also makes it easy for newer fans of the hospitality group to start making the most of the awards programs. SPG Members earn Silver Elite status at just 10 nights.
For Marriott Rewards members, Gold Elite status is available at 25 nights, or go for Platinum Elite status at 50 nights. If you're a member who has recently booked stays across the chains, even better: your stays will combine to upgrade you to one of the Elite statuses as well.
Am I still eligible even though I haven't made my reservations yet?
If you haven't booked a vacation yet, you can book a category eight hotel at category seven rates through the rest of 2018. For 2019 stays, they are introducing off-peak vs. peak rates. Top hotels will be significantly more affordable for those looking to take a vacation during off-peak times. Take advantage of full earning potential on room rates, restaurant and bar expenses, and select items charged to the room.
As you would probably expect, there will be plenty of properties to choose from. The merger means that 6,500 hotels in 127 countries are all eligible to book and earn rewards with the same benefits. Book a stay at the ever popular Wailea Beach Marriott Resort in Wailea, HI and The St. Regis Punta Mita Resort in Punta de Mita, Mexico to earn rewards from both stays on the same account.
To gain even more rewards, book your stay with your Marriott Rewards Premier Plus credit card. You can earn more points and rewards for your purchases.
Final thoughts on the Marriott and SPG updates
Rewards program members look for consistency and value in making sure they get great deals on their vacations. Brands under both Marriott and Starwood have well-earned reputations for providing some of the best stays worldwide. The Marriott and SPG updates hint that members will have the chance to branch out.