Last week we left off from Copenhagen where I was speaking at the TBEX Europe convention. Since I was already in Europe I figured I might as well go to London to attend the World Travel Market (WTM). It's the world's second largest travel conference (after ITB) and flights were only around $100. Besides, it was on the way home and flight time was just a short 85 minutes.
My British Airways flight was on an A319 and I had the first row in economy. For some reason, this plane was poorly configured so seats 9A and 9C (I was in the latter) had an empty seat between them (there was no 9B). The highlight of the flight besides the extra space was reading Conde Naste Traveler Magazine and seeing that they wrote about me! Woo hoo!
Heathrow
Heathrow airport is the fourth busiest airport in the world and most people hate traveling through it but I love it! First of all, I love their new T5 terminal which all British Airways flights arrive and depart from. Secondly I love plane spotting and this place is the best since there are so many exotic airlines flying in and out. I could also spend an hour just looking up at LHR's departure board and dreaming of all their destinations.
Heathrow Express
The best way to get to central London (Paddington Station) from the airport is via Heathrow Express. It only takes 15 minutes and the trains depart every 15 minutes, so there's no need to rush. A one-way ticket costs £16.50 for adults and £8.20 for children (it's £3 more on the train). You can book in advance at HeathrowExpress.com or at the station. I booked in advance and all I needed to do was give the conductor my confirmation number.
The Tube
Without a doubt, the best way to get around London (besides walking, of course) is on the Tube and bus. So from Paddington Station I took the Tube to Marble Arch. To save money on your fare, get an Oyster Card like the locals (it has a £3 refundable deposit). It'll transform the usual £4-ride into a £1.60-ride (although it could cost more for longer distances).
London Marriott Hotel Park Lane
From the Marble Arch Tube stop I had a 50 yard walk to my hotel's front door (the side door was only 10 yards but it was locked). I stayed at the luxurious 157 room London Marriott Hotel Park Lane.
My Room at the Park Lane
Since the World Travel Market was going on practically every hotel in the city was sold out. The Marriott was kind enough to find space for me at a media rate but the only room available was a suite. Boy, did I luck out. The room was unreal. A corner suite on Park Lane overlooking, well, Park Lane and Hyde Park.
My Park Lane Bed
My bedroom was the size of the normal hotel rooms and it would've been perfect since the bed was so comfortable, they had amazing blackout curtains, the windows were fairly well soundproofed and I slept like a baby.
L'Occitane Bath Products
You don't normally find L'Occitane toiletries at Marriott Hotels but I guess since this is London and it's a five star hotel you get nothing but the best.
Did you know:
This Park Lane hotel used to be offices and apartments but it was gutted by Marriott and reopened in 2002.
Marriott's Service
Random hotel observations:
You don't need to bring an electronic adapter as the room had two U.S. style outlets.
This Marriott does have a club room (located on the lobby floor) and it's a great place to grab a quick complimentary breakfast, snack, appetizer, drink or treat if you have access. It was filled with mostly American businessmen.
I found the toilet to be unusually low.
There's a workout room and a 12 meter heated swimming pool
The switch to the night light in the bathroom is in a strange place – next to bed.
The hotel is run almost like a boutique hotel and the service was great.
The best was when my laptop crashed (TIP: bring your recovery disc just in case your computer crashes) they sent up one of their whiz kids who worked in get this catering. He really should be working in the tech department since he knew computers so well or at least Facebook should try and recruit him.
Good To Know:
Rates at Park Lane start at 209£. The cheapest rate is on Marriott.com except once in a while they offer better deals on Priceline.com but one would never know they are going to get the Park Lane since Priceline works on an Opaque system.
Hyde Park
Since I heard it was supposed to rain most of my stay I decided to take a walk in beautiful Hyde Park. The first thing I did was grab an around $4 brie, tomato, and basil sandwich from Prete Manger and go eat in the park. It was a beautiful autumn day. On the way back to the hotel I noticed for the first time this Animals of War memorial – have you ever seen it? Very moving.
Entrance To World Travel Market
This year World Travel Market (WTM) had almost 48,000 senior travel industry professionals, government ministers and press. The overall attendance was a 4.7% increase (unaudited) over WTM 2009. A good sign that the economy is bouncing back!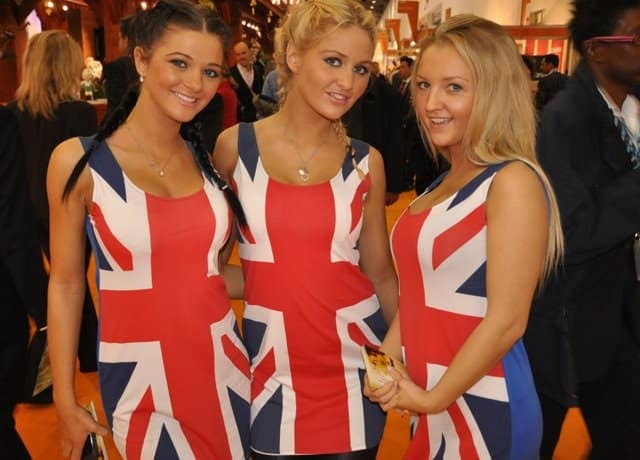 Europe's Hall at WTM
WTM is set up really well. Unlike Berlin's ITB where it's set up in thirty plus buildings and on multiple floors at WTM it's just one huge convention center and you can pretty much walk from one end to other passing all the different countries or companies booths. All you need to do is walk across the busy floor to get to the other hall to get the second half of booths.
Visit Florida
The first section I went to was the America's to see if any of my friends were around. I ran into a bunch including Kerry Morrissey from Ocean Properties, Jessica Taylor from Visit Florida, Al Merschen from Myriad Marketing, Morris Silver, and Virginia Sheridan from MSilver, and many others.
RANDON OBVERSVATIONS FROM THE AMERICA'S:
My home State of Connecticut didn't have a booth in the New England section because their tourism budget is $1. For the second year in a row they aren't represented at WTM. How pathetic.
The NYC booth was my vote for the ugliest
I ran into the publisher of Garden and Gun magazine. Now I've seen every magazine possible.
Not sure what to comment about this California customer
Swiss Tourism Booth
The Swiss Tourism had one of the more attractive booths with their blowup snow globe. I also ran into Aurelia Carlen who I met on the blogger press trip in Switzerland in May. Other friends I saw at the conference were Marion Walsh from Anantara (I stayed at their 2 billion dollar property in Abu Dhabi last March) and this guy (just kidding).
Kazakhstan Booth
WTM has booths of practically every country including Kazakhstan. I was going to ask where Borat was but I decided not to.
No Smoking at WTM
Don't you love this? I went outside to get some fresh air and the whole area was filled with smokers. In fact, I was the only person out in the cold not smoking.
WTM TIPS
It took me 45 minutes each day to get from central London to WTM which is held at the Excel Center. It's not bad when trains are running on schedule and you can just make one switch. I took the Central line from Marble Arch to Bank then transferred to the DLR to custom House. There were lots of signs, walking, and stairs. A better route is to take the Jubilee line from Bond Street then change at Canning Town. Much less walking and no stairs.
Dress in layers. Bring a bag so you can bring something to read, your camera, a bottle of water, a snack (they have restaurants but long lines). If you are hungry get food from booths – some offer all kinds of food/drink. Netherlands and Switzerland had a bar. Remember to wear good walking shoes and print your badge in advance. P.S. Don't be afraid to ask people since they are helpful and make appointments to optimize your time.
DLR Station Outside of WTM
I made a rookie mistake while traveling on the Tube to WTM. I never scanned my Oyster card since I didn't see the readers (there are no turn styles) and I was charged £8 penalty. I was told that by the booth operator the following day when I asked my Oyster Card didn't work. First he told me I owed them £1.40 in back fees but after explaining he removed the penalty and was very helpful.
Meeting Prince Charles
I was having dinner with Marriott's PR extraordinaire Elizabeth Caminiti and her colleague Jenny Mathieson at the Grosvenor House. BTW: I stayed there for five nights when Marriott took it over last year so I got to know the GM – Anthony Stewart-Moore.
Anthony is a real character and has the best stories ever especially since he used to run one of Washington DC's most famous hotels. Anyway, he walked by so we invited him to join us – while we were eating and listening to his outrageous stories he got a call saying that he needed to greet Prince Charles and Camilla at the front of the hotel when they arrived for the Pride of Britain Awards. He left and came back a few minutes later saying the Prince was running late. When the call came again I said you have to let me go with you to take a photo. He said, no problem I just need to ask the Prince's security team. Shockingly they said okay and they positioned me right in front of the paparazzi and fans who were all lined up behind barricades.
It was freezing outside so I was kicking myself for not bringing my coat and even more so for not bringing my big Nikon camera which I always carry but since I was going to the Travel and Leisure party after dinner I didn't have it – just my Blackberry.
Just about when I couldn't feel my fingers (about 20 minutes) up rolls the police escort and the Prince's car. I snapped this shot of Tony greeting them and then Prince Charles walked right towards me – I didn't know what to do so I just stuck out my hand – he looked at it for a second (it was awkward) and I was thinking I just made a huge faux paux didn't I but then he shook my hand asked me something – I don't even remember but whatever I said to him back it was good because the paparazzi later asked me what I said to make him laugh. I have no idea I was just thinking I can't believe I just met the Prince. Anyway – the following day I spotted the back of my head in the papers but I can't find the one of us shaking hands and talking. I know it's out there since thousands and I mean thousands of flashes were going off.
Well, that's my London story – I hope you liked it. Next week we fly across the pond in BA's new London City Service. Woo hoo!