Last week we left off after I landed in London from an Air New Zealand flight. Passport control and customs took no time at all, though it was a long walk from the gate. If Renaissance Hotels, who brought me over the pond, hadn't arranged a car service for me, I definitely would've taken Heathrow Express–it's the best and quickest way to between the airport and the city center–it takes 15 minutes and departs every 15 minutes. Actually, if my flight had landed during rush hour I would've taken a pass on the driver and his plush new Jaguar, since the 40-minute drive would most likely have turned into a two-hour crawl.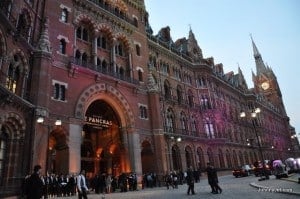 St. Pancras Renaissance
When I signed up for this trip, I didn't do much research on the hotel–I just saw a free trip to London and Paris (next week's destination) in May and was like, I'm so there. But I have to tell you, my heart pattered when the car pulled up to this newly restored 19th-century English Victorian Gothic masterpiece. Then when I toured it with resident historian Royden Stock (yes, the hotel employs a local historian–you gotta love that) and I learned about its history and offerings, I really needed to pinch myself.
History of the St. Pancras Renaissance
The dramatic High Victorian Gothic building first opened in 1873 (built in 1869) as the Midland Grand Hotel. It was designed by George Gilbert Scott, and with its incredible exterior and stately interior it was celebrated as one of the most impressive buildings in London and the UK. It was recognized as one of the city's greatest landmarks, but the hotel closed in the 1940s and the building was sadly neglected along with the attached St Pancras train station. Shockingly, they both came close to being knocked down.
Back to Life
Thanks to some investors, the hotel's owners, designers, and engineers worked painstakingly to bring the building and whole neighborhood back to life–they got a huge boost when Eurostar decided to relocate their high-speed train service to Paris and Brussels to St Pancras International station. Those involved had to work under the close supervision of English Heritage, the Victoria and Albert Museum, and the UK's Victorian Society to complete the renovation. It cost over £150m ($240,000,000) and took more than six years. But the St Pancras Renaissance Hotel opened its doors to guests on March 14, and they had their grand-opening party on May 5.
Checking In
A well-dressed doorman complete with a top hat opened my door and welcomed me to the hotel with a warm smile. One of his colleagues grabbed my two bags from the trunk. When I looked around, all I could say was wow–and it continued when I walked inside to the bright 542-square-meter glass-ceilinged lobby and checked in. On the desk they have a covered glass bowl of blue treats, which I couldn't resist grabbing some of just like the rest of the guests. Since I was an invited guest and considered a VIP (my mother would've been proud), I was escorted to the exclusive Chambers Club that has a private concierge and where they serve free drinks, breakfast and light meals around the clock.
The Hotel
The hotel has 245 rooms; 207 are in the new wing and 38 are Victorian suites in the original section. I was fortunate to be in one of the historic rooms, which I was sharing with Natalie, who had arrived a few hours earlier. Our room was a mini suite, not one of the hotel's monster rooms that go for big money–although we did dine with the rest of our group one night in the Royal Suite, which has a nightly rate of £10,000.
Grand Staircase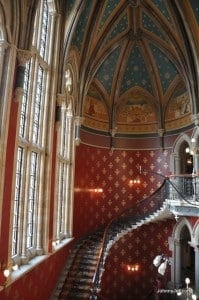 ng I was lucky that I was shown the way to our room on the second floor (it's a three-story building)–otherwise I probably wouldn't have found it on the first try. Along the way I was given the choice to take the stairs or elevator. When I saw the grand staircase, there was no turning back. And it wasn't because I needed the exercise after a long flight–it's because the stairs are jaw-droppingly gorgeous. As my friend Melanie Nayer described in her article, "the grand staircase, which even today stands as St Pancras' main focal point, was a masterpiece that even Scott himself was in awe over, once saying the hotel and its design was 'almost too good to be true.'" Since my words can't describe it, my photos can. FYI: Francis Skidmore designed the iron work, and the carpet is a copy of original it was made to look faded.
My Room at St. Pancras
Since Natalie arrived a few hours before me, my pics depict a room that wasn't in tip-top shape–she had already taken a nap and a shower. At least she left me some delicious macaroons the hotel had sent up as a welcome. The Victorian rooms have incredibly high ceilings and tall windows, and as the press release states, "it combines modernity with many elements of its Victorian heritage, including wallpapers and tiles based on those that were discovered here."
MY NOTES
Here are my notes of my observations from the room. Like all new hotels, there are always flaws to be found, but the good news is most of these are fairly simple fixes.
-The comfortable rooms come with a big ol' flat-screen TV. Ours didn't turn on that easily, but no one else seemed to have the same problem, so unless you get room 255, I wouldn't worry about it.
-Natalie complained that there wasn't a plug near the mirrors or a mirror by any of the plugs, so she used her laptop's camera to dry her hair and apply makeup. Most men won't notice this, but if this is important to you, bring your computer or a travel mirror.
-The electrical outlets built into the table are great, as they even include a U.S.-style plug, but you need to have the lights on in the room for it to work–don't try and charge goods using that outlet during the night–instead bring an adapter and use one of the wall plugs.
-The bathroom had a separate bath and shower. It came with plush Ren toiletries, and the only thing wrong I could find is that the showerhead was placed on the wrong wall, making it too tight for a big guy like me (Natalie didn't notice it). The other annoying thing was the way the soap stuck ridiculously stubbornly to the soap tray. They either need new soap or new trays.
-The windows were not that soundproof, but no cars honked in the middle of the night. Still, bring earplugs if you are a light sleeper.
-There's no alarm clock, but I take that as a plus since I never use them because I use the much more reliable alarm on my BlackBerry. Besides, the light on alarm clocks usually bother me, and it really pisses me off when it goes off at an ungodly hour because the previous guests didn't bother to turn it off.
-The wireless Internet in the room costs £15 a day or £6 an hour and didn't work half the time I tried it.
-The maid did a good job cleaning our room, except she didn't pick up our day-old strawberries and cream or the dishes from Natalie's tea that the hotel sent up when we arrived. What was she thinking?
-The minibar came with free bottles of water and soda.
– The room key didn't work sometimes. Once for me and once for Natalie and once for our neighbor. I'm pretty sure it's because we had it in the same pocket as our cell phones and credit cards, but it was still annoying. Thankfully a security guard was roaming the halls when our French neighbor and I had the problem, and he ran down and got us new keys lickety split.
-Some rooms overlook the Eurostar platforms, so train lovers would go ape watching the comings and goings all day. It's also the perfect hotel for those planning to take the Eurostar to Paris or beyond. More on that next week!
Hotel Restaurants
The hotel has two restaurants that also have bars. The first day we dined in The Gilbert Scott restaurant, which is run by Marcus Wareing, one of Britain's most celebrated chefs (double Michelin-starred). The dining room has Victorian Gothic features and the menu has some traditional English fare with a flair like Kentish pigeon in a pot or Queen Anne's artichoke tart. We went with the fish-and-chips and pistachio-crusted chicken breast and asparagus. Natalie's Kendal Mint chocolate ice cream (£5.50) was insane, and I enjoyed everything about my warm chocolate in a pot (£7.50) minus the sour cream on top. The good-looking waiters were attentive and wore gold elbow bracelets to keep their sleeves up. Main dishes begin at £15.
THE BOOKING OFFICE BAR & RESTAURANT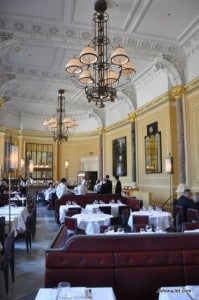 The other dining option is the Booking Office Bar & Restaurant, located in the one-time station booking office. It seats 80 diners inside and 80 outside. The menu is inspired by a Victorian original with dishes like Melton Mowbray pork pies, Stilton cheese, and Bakewell tart, but this trip I didn't have time to eat there.
Ladies Smoking Room
There are nine meeting rooms including Hansom Hall (the main banquet facility), which alone can accommodate up to 550 people. My favorite was the Ladies Smoking Room, which was the first place in all of Europe where it was acceptable for women to smoke in public. There's no smoking in it today, except on its balcony, which has the best view of the hotel's entrance. BTW: During the grand-opening party the hotel hired models to dress up like burlesque girls, and the one stationed by the balcony door handed out cigarettes with elegant long stems to partygoers–nice touch.
Grand-Opening Party
Speaking of the party, the grand opening was a star-studded inaugural bash with attendees like Oscar winner Adrien Brody, Gossip Girl star Ed Westwick, Harry Potter beauty Bonnie Wright, and Twilight star Jamie Campbell Bower. They also flew in DJ Cassidy from New York City, had two talented Cirque du Soleil-like performers who lifted Natalie and other willing guests over their heads, and there was a special musical performance byrenowned British artist Jamie Cullum. In my opinion they were a little light on the food except for the desserts, which were killer–an incredible never-ending assortment of macaroons, strawberries perched on a tree with a variety of dipping sauces like chocolate Pop Rocks. At the party we had a couple small-world moments when we ran into some random friends. One was Jan, whom we met on our Seabourn Baltic Sea cruise last summer–look at Natalie's face when I brought Jan over.
Notes from Owner and Historian Meeting
Here are some of the notes I took down while meeting with one of the hotel owners and the resident historian:
-The hotel is not the best, but it's the most unique, said Harry Handelsman, the hotel's owner. He then went on to say it's a celebration for London. I agree.
-Harry also said he's pretty sure the architect didn't have Marriott in mind when he built it, but he loves the Renaissance concept.
-Two of the last four last general managers of this hotel were knighted because it brought so much business to London–the current GM cracked he's hopeful he will be knighted too.
-The lobby used to be a street up until 2004.
-The building opened May 5, 1873. That's one reason they threw the grand-opening party on May 5.
-Lots of people died falling down the old elevator shaft.
-The hotel has seven miles of fireplace flues. They use three miles of them today.
-All the rooms had working fireplaces and they used coal to stay warm.
– The picture above the staircase was done by Scotsman Thomas Wade. He painted it in 1880, and it's just one of about 30 in the hotel.
–Side note: Sadly I never made it to the hotel's luxury spa, gym, or pool.
HOTEL INFO
The St Pancras Renaissance Hotel London, Euston Road, London; Tel. +44 207 841 3540. Rooms from £190 (US$307)
Melogy Grooming
The hotel had offered to get me a spa treatment, and when I said I'd do whatever they recommended, the PR person wrote back, In that case, how about getting a haircut and a wet shave? I looked in the mirror and thought, Why not? I had on my to-do list to walk into town to get a haircut from my local barber, and I usually shave the day before a big trip. So I waited, and the day after I arrived to London I strolled up to Melogy's luxurious chair salon that's owned by Carmelo Guastella, an Italian who's been cutting hair since the age of nine and brought his magic to London 11 years ago.
CARMELO
The moment I walked in, one of his associates offered me something to drink. I passed on the beer, champagne, coffee, or espresso and took a cold bottle of water instead. I knew I was in good hands with Carmelo, who is obviously a man in high demand–I couldn't switch the time of my appointment, and people kept coming in asking, "Do you have time to give me a shave?" (he didn't). Carmelo touched my hair and said, How about I do… I said, Go for it–seriously, if the man had said he was going to shave my head bald I probably would've said why not–for some strange reason I trusted him, and that was even before I found out he's Sacha Baron Cohen's (Borat) hairdresser and that he designed the goatee for Cohen's Ali G character.
HAIR CUT
Carmelo washed my hair and went to town like Edward Scissorhands. To get a haircut by the man costs £60 (US$97); by one of his employees it's £35 (US$56). Not many things are cheap in London, and obviously you can add Carmelo to that list. I'm glad I don't live in London, but you do get what you pay for. Haircuts vary in duration from 30 minutes to an hour.
Wet Shave
I've never had any one ever shave me, so I was kind of excited yet nervous to have someone put a blade to my face and neck. If the hotel weren't paying, I would've never paid the £35 (US$56) to have an expert wet shave by Carmelo or £25 (US$40) by one of his employees. However I can see why others with disposable cash do pay. He began (and ended) by placing three hot towels over my face so I looked like a mummy. Then he rubbed shaving oil on my cheeks, then busted out an old-fashioned shaving brush and lathered peppermint and clove cream on before taking the blade. When it was over he put a drop of oil and moisturizer on and eye cream. A Ssave takes 25 minutes. It's best to make an appointment, but they do take drop-ins.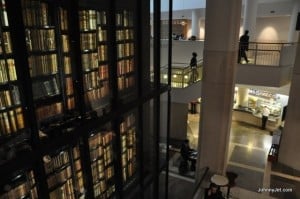 British Library
Another gem that's next to the hotel is the British Library, and this one won't cost a dime to enter. The library, which is one of the world's largest, holds 14 million books, 920,000 journals and newspaper titles, 58 million patents, 3 million sound recordings, and so much more. Inside you can find Captain Cook's journal, Jane Austen's History of England, Charles Dickens's Nicholas Nickleby, Virginia Woolf's Mrs. Dalloway, and a room devoted to the Magna Carta. Currently there's a new exhibition that has the history of the census.
Tube to Buckingham Palace
What's great about the hotel is that it's located within the St Pancras Eurostar International station, so you can hop on a high-speed train to Paris or Brussels and even go for the day if you like (I'll tell you about my trip to Paris next week). Also next to the hotel is easy access to six London underground lines, which will take you to all areas of London. The first day Natalie and I jumped on the Tube (get an Oyster Card to save) and went a few stops to Green Park Station, where we walked a few blocks to Buckingham Palace since the Royal wedding took place there a few days before–they still had some of the flags up and the media scaffolding. Did you know analysts are predicting the wedding will trigger a major tourism boom, pulling in an extra four million or so visitors to London in the next few years and some £2 billion in revenue?
Next Week
As you can see staying at the St Pancras Renaissance Hotel is a real treat, and next week we add to that when we travel to Paris.