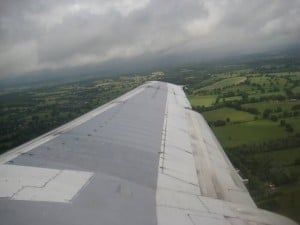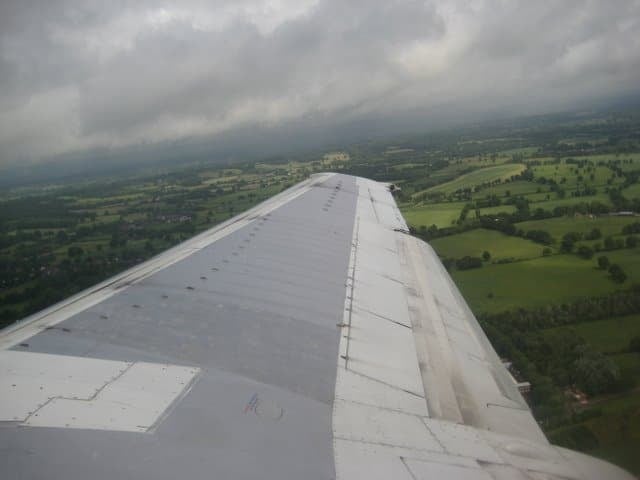 Cheerio from Europe! Last week we left off from London. From there we are flying to everyone's dream destination, the Amalfi Coast. In the coming weeks I will tell you all about my stay in southern Italy, including my flight to Naples on British Airways, which is happening as I write this! We also have a story on an island much closer to home-Catalina, just 26 miles off the Los Angeles coast but a world away. And for those who have a timeshare, you won't want to miss reading about a new site that eliminates the exchange fees.
FREE TICKET
If you missed last week's story on London, here is my write-up on my stay at the Draycott Hotel and my glimpse of the Queen. The week before I checked out the swanky Dorchester Hotel in Mayfair and attended a British Airways (BA) party. While at the BA party (with CEO Willie Walsh), I asked one of their PR reps, How about you guys fly me down to Italy so I can write about it? And they agreed. The kicker is, I was going to fly them anyway, because it was between BA or Alitalia and I wanted to get there on time even with BA's strikes taking place. That saved me $200, so I was stoked-and you know I write about everything, no matter who's paying or how good or bad the experience. My Italian adventure is off to a great start.
PACK LIGHT
I left the Draycott Hotel at 8 A.M. and walked a couple of blocks to the Sloane Square Tube station in the rain. The trains come every few minutes and it took just five minutes to get to Victoria Station. I prefer the Tube because I not only save time (avoiding traffic) but money (taxis are expensive). If you are going to go the same route, it's imperative to pack light, as there were no escalators in either station (there might be elevators, but I didn't stick around long enough to find out). What's nice is that the Tube stations do have a special entry/exit for those with luggage so you don't have to squeeze through. Victoria Station was a mad house at 8:15 A.M.-just like Grand Central Terminal-so stick together if traveling with other people.
GETTING TO GATWICK AIRPORT
I'm pretty much an expert on getting to Heathrow Airport, as I've been there so many times and taken almost every possible mode of transport to get to/from: bus, tube, taxi, private limo, and Heathrow Express. (The latter is by far my favorite and the quickest.) But I've only been to Gatwick a couple of times and it's been a while, so I asked my local friends what was the best way to get there. They said what I thought they were going to: Gatwick Express.
GATWICK EXPRESS
The Gatwick Express train is similar to the Heathrow Express except it takes longer (30 minutes total) and leaves from London's Victoria Station rather than Paddington Station. Trains depart every 15 minutes Monday to Sunday after 5 A.M. FYI: The first train leaves at 3:30 A.M. and the last train is 12:32 A.M. (or in English time, 00:32). The trains in the off hours have their own schedule so double-check times before leaving.
VICTORIA TO GATWICK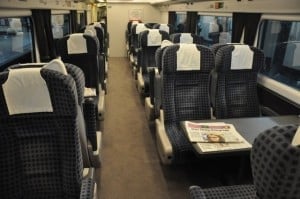 Gatwick Express trains leave right on time, just like mine did, so don't be late. The best place to get your tickets is online so you can get a 10 percent discount (you need to purchase a day in advance). Another way to save money is to buy a return ticket for one of their two classes of service: Express Class (coach) and First Class. First class really isn't worth the extra money unless you have an expense account and want more legroom, a car to yourself, and a free newspaper. Express Class Single tickets begin at £15.20 (US$24), while First Class Single is £22.00 (US$35). Children under five travel free in both classes. FYI: There's no Wi-Fi on the train. It's possible to buy tickets onboard the train and there is no penalty charge. For more info, log on to GatwickExpress.com.
GATWICK AIRPORT
Since my flight was going out of the North Terminal, I needed to hop on the airport's free bus to transfer from the South Terminal . It takes nine minutes during peak times and six minutes off-peak. I checked in for my flight online from the hotel and I wasn't checking bags, so I went straight to security. There was no line and I took my laptop out and belt off, but left my shoes on. Unlike in America, the screeners will bust you for not taking your liquids out, and once they do they will hand-search your bags, which takes more time, so it's best to have liquids in the three-ounce clear plastic bag (just like in America) and take it out of your carry-on at security.
AIRPORT BARGAINS
I cleared security so quick that I had plenty of time to kill. I wandered around trying to find the good deals. The best I came upon was at Boots, where two bottles of water were going for £1.79 (US$2.84) instead of one for £2 (US$3.17). The other deal was £1 (US$1.58) for the big Cadbury candy bars sitting on the checkout counter-I grabbed one.
EXIT ROW
What's nice about British Airways is that they offer complimentary magazines to passengers. What's not friendly is that they charge £10 (US$15.80) to choose your seat in advance. However, from 24 hours before departure it's free to select a seat, so it's best to check in online like I did-I scored an exit-row seat (12F). Sitting in the exit row makes flying coach a joy, and it helps when you have cool seatmates. One of them was reading the Sun newspaper, whose page 3 has a different naked girl each day (no wonder they sell so many papers). FYI: British Airways doesn't allow passengers who sit in the exit row to store any bags underneath the seat.
LONDON TO NAPLES
We boarded the 737 right on time, there was plenty of overhead bin space, and the flight was full. We pushed back exactly as scheduled at 10:55 A.M.. We taxied for 25 minutes, and 8 minutes after takeoff the seat-belt sign went off, even though we were still climbing. Why can't U.S. airlines do this? Instead they keep it on for what seems like an hour after takeoff. Flight time for the 988-mile flight was 2:20.
ENTERTAINMENT/FOOD
There was no entertainment on board, so be sure to bring a book, iPod, computer, or Sun newspaper. However, BA does offer free food. The flight attendants came down the aisles passing out drinks (first alcoholic one is free) and sandwiches: One half was Coronation chicken, Red Leicester, and Chutney, and the other was a cheese sandwich .
ARRIVAL
We landed a few minutes early and deplaned by descending open-air stairs and then boarded a bus. The line for passport control was really long for EU citizens, but after a few minutes the agent started waving them all through, just glancing at their passports. For non-EU citizens like me the line was short (eight people in front of me) but had a longer wait. I stood there anxiously for 12 minutes until it was my turn (I was the second to last person in line). After the agent stamped my passport I headed to the fairly clean bathroom so I could change out of my jeans and into shorts-it was hot out.
Web Resources:
Note: This trip was sponsored by British Airways