Cheerio from Europe! Last week I gave you part one of my trip to London, where I stayed at the prestigious Dorchester Hotel in Mayfair. This week we move across town to Chelsea and check in to an intimate and very English hotel called the Draycott. On my way over I got a glimpse of the Queen leaving Buckingham Palace, and later I hit a brand-spanking new restaurant in Soho that felt like a private club.
Did You Know: Yesterday (Tuesday, July 27) marked the two-year countdown to one of the world's biggest events: the London 2012 Olympic and Paralympic Games.
THE QUEEN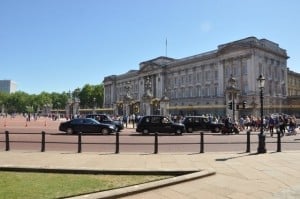 I forgot to mention last week that I saw a glimpse of the Queen of England as she left her residence! I was walking down Piccadilly and thought it would be disrespectful if I didn't walk through Green Park and at least take a Twitpic (a photo to upload to my Twitter account), and lo and behold, the gates were open and a Royal motorcade was about to leave. I figured it had to be the Queen, so I crossed the street to get as close as I could. Unfortunately, I didn't get a good photo because I got caught up in watching a bobby (police officer) who was yelling at an Italian tourist who wasn't obeying his commands, and next thing you know the Queen cruised by. It was just five motorcycle police, followed by a Bentley (I think) and a green Range Rover. I saw her head from behind and it was nothing as exciting or extensive as President Obama's motorcade that I stumbled upon last April in Washington, D.C. Here's that 30-second video.
GAUTHIER RESTAURANT
I also failed to mention that I had dinner one night in Soho with two of my friends from the British Tourism Board. They took me to a new restaurant called Gauthier (21 Romilly Street, Soho W1D 5AF). Gauthier is down a quiet side street only a few steps away from the Palace Theatre, where Priscilla is presently playing. I thought I arrived to the wrong address, because to enter the Georgian townhouse required ringing a doorbell. A tall, well-dressed Italian maitre d' who reminded me of Lurch (from the Addams Family) answered. He was definitely much better looking than Lurch, but he had the same calming and odd gestures-or it might have been the restaurant's minimalistic decor that was giving off an eerie vibe.
SERVICE
There were only a few tables in the room we were in, which felt empty-there were no paintings, just sterile white walls. The restaurant had just opened a couple weeks ago, so the service was patchy at times. The waiters were in dark suits and the Belgian bus boy wore a crisp white jacket. I quickly learned that this is not the place to come if you are in a hurry or pre-theater, as the table next to us kept telling the waiter they were going to be late for their show if the food didn't come out soon. It didn't. It took 25 minutes between our courses, so make sure you are not pressed for time and have good company like I did.
PRICES
The prices are very reasonable for an upscale white-linen-tablecloth experience. Like most places, lunch is the best deal, as two courses costs just £18 ($27) and three courses at dinner go for £35 ($54). What's nice is that they offer free still and sparkling water to all guests. They also come around with complimentary crudités and a wide selection of bread: tomato and basil, brown, French baguette, parmesan, black olive, and chorizo. Patrons also get to choose their own olive oil: fruity or peppery. Salted or unsalted. So many choices.
AMUSE-BOUCHE
One thing we didn't choose was a complimentary amuse-bouche of duck foie gras in a port reduction, which was served before our dinner appetizers.
SURPRISE
There were some surprises too. One was that just after taking our seats, the bus boy poured water on dime-size tablets that turned into refresher towels. My hosts really got a kick out of that.
FOOD
For my appetizer I had herb and ricotta ravioli with broad beans and parmesan. It was delish, just like my main dish, summer truffle risotto chicken with jus reduction and brown butter. I went out with a bang by getting the Golden Louis XV: dark chocolate and praline. In between the appetizer and main came grapefruit sorbet with Campari jelly, which cleaned our palates nicely.
GREAT BRITAIN
Since I was with my friends from the government, I decided to have them finally explain to me the difference between Great Britain and the United Kingdom. They told me that Great Britain and the United Kingdom refer to different areas. Great Britain is a political term that refers to England, Scotland, and Wales, the three nations which together include all the land on the island. If you look at the full name of the UK, you will see that the UK includes Great Britain AND Northern Ireland. Now you know.
FINDING THE DRAYCOTT
I wasn't sure what was in store as I aimlessly wandered the quiet neighborhood streets looking for my hotel. Only one person I asked out of ten had heard of the Draycott Hotel-even a traffic cop who was just 20 steps away. OK, so I didn't ask a taxi driver, who would've known right off the bat, but I was keen on saving money and taking the Tube.
DRAYCOTT HOTEL
The Draycott Hotel is located near Sloane Square and is a few blocks away from the fashionable shops of Knightsbridge and Chelsea. All the buildings on the sleepy street are grand Edwardian brick-faced houses; in the 1990s the Draycott combined three of them to create one intimate hotel. To enter, I walked up their 10-step staircase, rang the doorbell, and was quickly buzzed in. The moment I stepped inside, I felt like I was in an old country inn. Their sales material was right to describe it as the "elegance of the past with great style".
WELCOME
A very friendly Portuguese (I believe) house manager gave me a warm welcome but informed me that my room wasn't ready. After all, I was a few hours early, and the rooms aren't usually available until 2 P.M. (check out is 11 A.M.). It was just as well, as I had plenty of work to do, so I found a comfortable spot in the hotel's library and used their free Wi-Fi. The Internet connection was fast except in my room, where I had a weak signal. FYI: The hotel does have a computer for guests to use at no charge.
ROOMS
The hotel has 35 spacious rooms, which include 11 suites, 10 deluxe doubles, 6 superior doubles, and 8 single rooms. Each room or suite has a different dramatic theme and is named after a theater luminary. I was in Alan Bennett's and I was happy that they provided his bio and cartoon caricature, as I had no idea who the chap is (he's still alive).
JOHNNY JET ESQ.
A really nice touch, and one that I've never seen before, is that on the outside of each room door they place the name of the guest, so it feels more like a residence than a hotel. I loved seeing "Johnny Jet Esq. "
MY ROOM
All the rooms are appointed with antiques, and have an extensive art collection and high ceilings. There's air-conditioning, flat-screen TVs with satellite, a minibar, laptop-friendly safes, and a bathroom the size of a small apartment. The tub-shower with its wonderful water pressure was also a noticeable size, and it was so high that you practically need a pole vault to get into it (they do have a stepping stool). Most rooms have fireplaces, as did mine, but I found the gas (when off) to have an annoying hiss.
LAUNDRY
Seven of the suites have fully stocked kitchens and a washing machine that also doubles as a dryer. I had never seen that before, either, but I sure appreciated it, as I was on day 7 of my 14-day trip and I only pack a week's worth of clean clothes. They make it so easy by supplying free detergent as well.
OTHER ROOM HIGHLIGHTS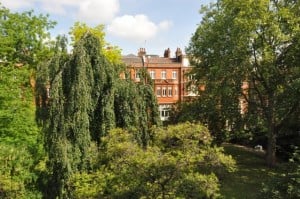 – The windows opened, and mine overlooked a private park that guests have access to.
– There was no noise coming from outside and I didn't even hear a horn beep once.
– The beds come with a teddy bear with a note tied around its neck that reads, Please take good care of me but please don't take me home. P.S. I do have many relatives at the reception who would love to travel.
– Vanilla and chocolate homemade shortbread were left for me as a welcome gift-not sure if everyone gets them, but they sure were darn tasty.
– The rooms have English outlets, so bring an adapter.
DINING
My pad was so nice that I didn't want to leave, and I was actually unhappy when the sun started shining and I no longer had an excuse not to enjoy the beauty of London. When I did leave the hotel it was usually to go get food. My cheapest meal came from Marks and Spencer (M&S), a popular upscale London grocery store about 10 blocks away. Prices weren't bad at all: Guess how much I paid for two candies, blueberries, bottled water, and chicken with pasta? Here's my receipt .
BREAKFAST
The Draycott does offer 24-hour room service, and most room rates include breakfast (7-11 A.M.). Breakfast was served in a bright morning room. They had continental offerings and main dishes like a full English breakfast (eggs, sausages, bacon, grilled tomatoes, mushrooms, black pudding, and baked beans) and smoked salmon with scrambled eggs.
TEA / CHAMPAGNE / HOT COCOA
Every day, the Draycott serves tea and biscuits at 4 P.M. in the drawing room, followed by champagne at 6 P.M., and hot chocolate before bed (after 9:30 P.M.), all at no charge.
Here are some of my other observations from the Draycott Hotel:
– Although the hotel felt and looked very English, only one person on staff was from England. All were very friendly. The house manager and my Jamaican maid stood out.
– The hotel provides umbrellas if it's raining.
– The closest Tube stop is Sloane Square, three blocks away.
– Room rates begin approximately at $224 per night.
For information or reservations, email reservations@draycotthotel.com or call 1-800-747-4942 or 011 44 207 730 6466. The website is Draycotthotel.com.
Web Resources
Note: This trip was sponsored by Draycott Hotel & British Tourism Board