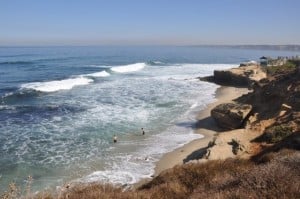 Greetings from San Diego, California! This past week, I spoke on three panels about social media and the main thing I learned is that web writing has to be short – so I'm attempting it this week. So let's get right to it, shall we? This week, we check in at the world's largest business travel conference, the National Business Travel Association (NBTA), where all the airlines are strutting their new seats. They featured a slew of amazing gimmicks and speakers (including President Bill Clinton and Captain Sully) to entice. We'll also see a couple of new hotels and restaurants that are hot and affordable. We broke up the stories to make for quick reading, so scroll down to see what interests you and then click. In addition, this week my sister Georgie Jet takes us to Yellowstone National Park and Marcela Swenson tours us around Thailand.
L.A. TO SAN DIEGO
The 120-mile ride from Los Angeles to San Diego takes about 1 hour and 45 minutes. To avoid rush hour traffic, it's best to leave early in the morning, late in the evening or between 10am and 1pm.
SAN DIEGO
Ah San Diego … its slogan is "America's Finest City" as it has sunny weather year-round. If I couldn't live in Los Angeles, San Diego would be my second choice. It's the ninth largest city in U.S. with a population of 1.6 million (three million in SD County) and 20 beautiful beaches. The new ballpark really revitalized downtown and the convention center is huge.
DID YOU KNOW? Charles Lindberg's plane was built in San Diego. Well, now you do!
NBTA
The main reason I went to San Diego was to attend an NBTA conference. NBTA is the world's premier business travel and corporate meetings organization where they collectively manage and direct more than $200 billion of global business travel and meetings expenditures annually on behalf of more than 10 million business travelers within their organizations.
Due to the down economy, I had anticipated that the place would be a ghost town but boy was I wrong. This year, more than 5,400 travel professionals attended, which was the conference's third highest attendance ever. For more information about NBTA, visit NBTA.org.
WALKING THE SHOWROOM FLOOR
I love going to NBTA to network with old and new friends, attend some crazy fun parties but most of all, to walk the showroom floor. This is a chance to see lots of new products and it's a real kick to observe all the creative ways they try to lure buyers in.
AIRLINE BOOTHS
Pretty much every airline had demos of their seats and real flight attendants working them: American Airlines, Avianca, Qatar, Etihad, Emirates, Virgin Atlantic (although I heard these girls were models), Singapore Airlines – way too many to list. The only ones I think didn't have flight attendants were China Airlines, Eva Air, JAL, Jet Airways and Midwest Airlines but they had their famous chocolate chip cookies (though they were a tad stale).
MY FAVORITE AIRLINE BOOTHS
At the jetBlue booth, the flight attendants passed out in-flight snacks. V Australia's FAs poured champagne, Delta Airlines had flavored oxygen, which they offer in their Heathrow Lounge. AirTran had a paper airplane throwing contest, British Airways had brownies, cappuccinos and the best marketing plan; they were offering 10 round-trip business class tickets to anywhere in the world to 100 small businesses to increase their face-to-face meetings and exponentially grow their businesses. For more information, log on to BusinessGrants.BA.com.
OTHER BOOTHS

Some of the booths were huge but large or small, the ones that got my interest were: GoGo Inflight because they had free passes to try their Wi-Fi service the next time you fly. Avia: I don't even know what they do but they had $1 million in cold hard cash (with two armed guards) and attendees could try and crack the code to win. I thought for sure I was going home rich but I didn't nor did anyone else. At least I went home with a mini bag filled of my favorite treats growing up thanks to World Hotels' mini candy shop. IHR had a Vegas-style wheel where everyone won something – for the sake of full disclosure to the FTC, I won $1. Leros (no clue what they do, either) had a Plinko game. A limo company had a zoo and Geoff & Drew's Cookies had the richest treats of them all – samples of their corporate gifts. The cleverest was Wyndham Hotels as they gave out odometers at registration and the person who walked the most won a prize. I walked over 21,000 steps in 2.5 days but the winner did over 90,000.
JOHNNY JET ON FOX NEWS
Fox News San Diego was looking for a travel expert to interview alongside Chris McGinnis and lucky me, I was it! They edited most of it out but here's a quick snippet.
CAPTAIN SULLY
NBTA sure didn't skimp on speakers. They had a high profile keynote speaker each day. The first night was Captain Sully (Captain Chesley B. Sullenberger III). He's a true American hero – but unfortunately I found his speech kind of boring (he's a bit monotone in his speaking) and my buddy Chris McGinnis pegged it when he said, "Sully gave a good Grandpa speech." Some useful information I took away:
1. "Commercial aviation is the safest way to travel."
2. "All frequent fliers' duty is to read the safety manual. Count rows to exit and thank your flight attendant and pilots."
3. "The best job in the world is to do the one you love and would do for free."
However, Sully was anything but boring during the Q&A. The funniest thing he said was when he answered a question about what he would have done differently if he had to ditch into the water again. "I'd do it in July!" he said.
JAY LENO
Other keynotes included Olympic Champion Dara Torres and comedian Jay Leno, who was hilarious for an hour straight. BTW: You can watch him pretty much every Sunday at the Comedy Magic Club in Hermosa Beach, California.
RANDOM OBSERVATION
At lunch, 8 out of the 10 people at my table were on their Blackberry or iPhone … including me. This is increasingly becoming the norm and the jury is still out on whether this is a good or bad thing …
PRESIDENT CLINTON
By far, the best keynote speaker was President Bill Clinton. He brought up the importance of business travel and talked about his recent "business trip" to North Korea. He also pushed for more investment in solving healthcare here in the US and third world countries like Haiti and places in Africa where AIDS and malaria run rampant. My two favorite quotes from his one-hour speech were: "The most important thing is for parents to make their kids feel they are the most important person and they can do anything." And: "Pessimism is a copout."
AIRLINE CEO PANEL
There was the annual airline CEO panel with Southwest's CEO Gary Kelly and Continental's CEO Larry Kellner (he's about to leave the company). It was moderated by the slim Peter Greenberg and the main thing I took away from this was that Southwest said they weren't going to impose any baggage fees in 2009 but Gary alluded to the fact that they could add a second checked bag fee in 2010. He didn't say this but that was my impression. Kudos to Gary as he was kind enough to sit down privately with a few of us bloggers. You can get the play-by-play from the CrankyFlier here.
WI-FI TIP
To avoid the San Diego Convention Center's high-priced Wi-Fi access ($20), rent a wireless card from RovAir.com. You don't have to sign a two-year contract and can get them for as little as $6 a day.
NEXT YEAR'S CONVENTION
Next year's convention is in Houston in early August (what were they thinking?) For details, visit NBTAConvention.org.
DINING IN SAN DIEGO
San Diego has a ton of restaurants. Here are three to try:
IVY RESTAURANT
One quiet Sunday night I had dinner at the Quarter Kitchen in the Ivy Hotel. They feature American dining, with locally grown produce, healthy organic ingredients and I loved my heirloom tomato salad with homemade burratta cheese ($15) and a side of creamed corn ($8). Yum. If you go, be sure to grab one of their cigarette-like box of matches as a keepsake and checkout their hilarious menus. Quarter Kitchen, 600 F Street San Diego, CA Tel: 619-814-1000.
URBAN SOLACE
If you want to dine like a local, take a ride to Urban Solace in Hillcrest. It's about a 10-minute drive from downtown and they serve tasty comfort food like gourmet mac n' cheese with blue cheese, duck confit, roasted garlic, arugula, scallion ($15.75); or the grilled four cheese sandwich with creamy tomato-fennel soup ($9). I had the pulled chicken and buttermilk dumplings ($15.75). I didn't like the sage they put in it but it was still good. Urban Solace Restaurant, 3823 30th Street, San Diego; Tel: 619-295-6464.
BROCKTON VILLA
One of my favorite places for breakfast is Brockton Villa in La Jolla. Diners can make reservations a day in advance and I recommend doing so since it's always crowded. I went with my flight attendant friends from a popular Middle Eastern carrier and after walking along the La Jolla cliffs, we shared carne asada benedict ($13) and blueberry pancakes ($9). Brockton Villa, 1235 Coast Blvd La Jolla, CA; Tel: 858-454-7393.
SOFIA HOTEL
I stayed at two hotels while I was there. The first two nights were at The Sofia Hotel, from whom I received an email 10 days before arriving, offering to make a reservation and check out their spa. They even provided a map of San Diego with things to do. Not only is it a great way to up-sell their products, but it helps guests plan their trip better.
CHECK-IN
The staff is friendly … from the valet guys to the front desk crew. The hotel is clean, historic (it used to be the Pickwick Hotel) and pet-friendly — they have dog treats at the front desk.
ROOMS
It's an old building so the rooms are small but clean, well designed, built solid and are quiet. They have everything you could want: a mini-fridge, microwave, safe, soft towels, blackout curtains and flat screen TV.
SOFIA HOTEL: LOCATION
The hotel is situated on the outskirts of the Gas Lamp but it's walking distance to a ton of restaurants and bars, all just three to five blocks away. Horton Plaza, the shopping Mecca of San Diego, is three blocks, the Convention Center and Petco Park are seven blocks. The only downside is the it's right next to the Greyhound bus station and you know what kind of crowd this seems to attract. Other points of interest like The San Diego Zoo, Seaport Village, Sea World, Old Town and The Embarcadero are all a close drive. Rack rates begin at $124. Sofia Hotel, 150 West Broadway, San Diego, CA; Tel: 619-234-9200.
SE HOTEL
The other hotel I stayed at was the Se, located on 5th street and five long city blocks from the convention center. Se opened in December 2008 and was supposed to be called the Setai but they realized they had such a good product they didn't need to be associated with the Miami hotel. So they created their own brand. From the moment you walk through the huge, funky front door, you realize you are in for a design treat.
ASIAN STYLE
There are 184 guest rooms (including 20 condo residences) at this hip, trendy spot. Checking in, I felt like I was in a stylish Asian hotel with hot American girls working there. There's no framed art on the walls; instead each wall is a work of art. They got their design concept from 20 different countries.
DINING
There's one happening restaurant and two bars – one out by the popular outdoor pool. When I went to use the loo I though uh-oh, I just got steered into the ladies room! But it turned out to be a unisex bathroom, which is always a little uncomfortable for me, but it's really something to see and is said to have cost $500,000 alone.
SE ROOM
The rooms are huge with 15-foot ceilings. I was in a suite because when I checked in, all the other rooms were full thanks to the NBTA convention. This means I had two of everything instead of one: two flat screen TVs, two cordless phones and two bathrooms. The pillows were soft and long but the comforter was way too heavy for my liking (Natalie would have loved it, though). The curtains took me a while to figure out but that's what I get for leaving the Do Not Disturb sign on the door; the maid couldn't come in and do a turn down service and tidy up. The bathroom door is frosted glass so the room didn't get pitch black. The windows weren't very soundproof and the planes buzzing over the city in the morning woke me up … fortunately, I love airports. Internet cost just $9.95 a day and my Sprint wireless card had a weak signal so I was forced to log on. Parking is $36. Rates begin at $179.
SE SPA
If you already have a reservation at another hotel or live in San Diego, you will at least want to visit the Se to check out the decor and get a spa treatment. I had a massage, which was pretty much perfect. The Se offers a unique concept. Guests wait in a beautiful co-ed room with hot tea or cucumber/orange water and bowls of chocolate almonds until your therapist fetches you. They take you to your own private room where you get changed and have your own closet — there are no locker rooms. Each has a high-pressure shower (with two showerhead options) and it doubles as a steam room. Unfortunately, the steam doesn't get too hot – and I heard that same complaint from another guest so they need to get that fixed. But the microfiber sheets from Comphy are like silk and I want them for my bed. My masseuse was a talented therapist who asked if the pressure was good and it was nice and firm – just the way I like it. Se, 1047 5th Avenue, San Diego, CA. Tel: 619-515-3000.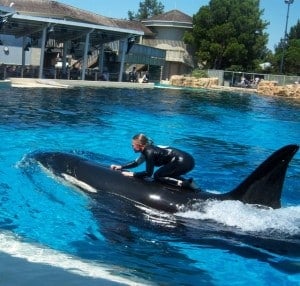 SEAWORLD SAN DIEGO
Since I couldn't be in two places at once, I sent one of our correspondents, Lisa Mittin, to give us a review of Sea World:
Conveniently located off the I-5 freeway, SeaWorld San Diego is both an amusement park and a chance to get up close and personal with marine life. When we first walked into the park, we went straight to the reservations counter to find out what activities were going on for the day. This is where you can sign up for special 'behind the scenes' tours, etc …
LUNCH WITH SHAMU
We decided to sign up for a special lunch called Dining with Shamu. This is a private buffet that allows you to sit right next to the orca whales while you dine. The trainers are right by your table to answer any questions you might have about the whales – and also to perform some tricks while you are having lunch. Although it was a bit pricey for lunch ($100 for two adults and four kids), it was worth it and our kids promised that they wouldn't want to buy snacks throughout the day. I think they all agreed that the chocolate-covered, Shamu-shaped cookies were the best!
THE RIDES
The rides are fast and thrilling! The exhibits are fun and educational (i.e. the Shark Encounter, The Wild Antarctic, the penguin habitat and so much more). The Shamu: Believe show, dolphin adventures and the sea lion/sea otters extravaganza are all exciting, but be prepared to get soaked if you happen to sit in the soak zone area! TIP: Rent a locker for the day ($11). This allowed us to bring a second set of clothes, as we knew we'd get wet from all the rides and the shows.
SEAWORLD
Traveling anywhere with children can be crazy. I found SeaWorld San Diego to be the perfect place for a quick getaway. It's just the right size. You can do it in a day. The exhibits are incredible. Both adults and children get to see amazing mammals up close and get a brief insight into their world. We give it two thumbs up. Educational. Amazing. Gorgeous.
GOOD TO KNOW: Entrance fee: $65 for adults, $55 for children. SeaWorld offers AAA discounts ($6 off the regular price) and they offer discounts with various coupons that are available either through the Entertainment Book (you need the coupon; you can't just present the actual entertainment card for a discount) or online. They constantly run promotions on their website that offers discounts so keep checking online as the specials vary by season. SeaWorld San Diego, 500 Seaworld Drive, San Diego, CA; Tel: 1-800-257-4268.
Web Resources