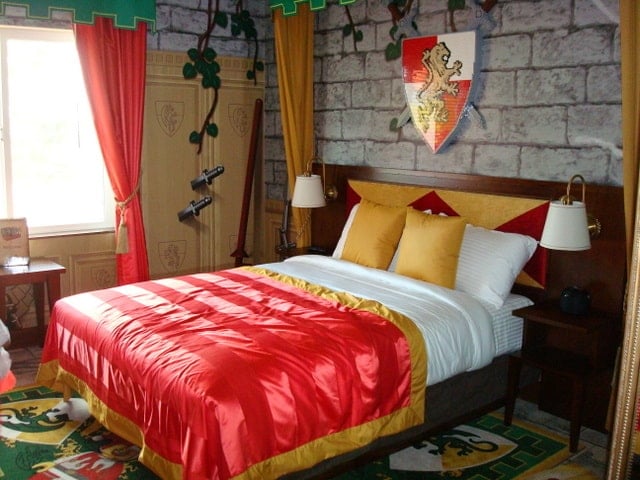 That familiar sound of plastic Lego pieces hitting each other is what you'll hear when entering the new Legoland Hotel. The newest San Diego County hotel has brilliantly placed a big sandbox filled with thousands of lego pieces in the middle of the lobby for young guests to hop in and enjoy.  As a parent, you immediately feel a sense of relief that this "kid-friendly trip" may actually be somewhat relaxing. There are many large animated lego models scattered throughout the hotel, that keep you guessing what's around the next corner. The trip to our hotel room alone, kept smiles plastered on the faces of my 10-year old son Gavin and 6-year old daughter Sloane. From a built-in carpeted whoopee cushion, to the disco playing elevator with a swinging mirrored ball, the sights and sounds are fun touches for all ages to enjoy.
Accomodations:
The 250-room hotel gives guests the option to stay in an Adventure, Kingdom or Pirate themed room. One of the best features is the separate sleeping area for up to three children. There's a bunk bed with a pull-out trundle, along with a TV that plays only kids programming. Another great detail is the treasure chest with Lego figurines, that little ones can unlock after finding clues throughout the room. And there are at least eight Lego models throughout the cleverly decorated rooms that add to this imaginary experience. Premium rooms sleep five and suites sleep seven.(Rooms starting at $209,877-534-6526)
Eating & Drinking:
The restaurants and lounges here make dining with your kids fun. If you're grabbing a light snack or coffee, Mini's Lounge is perfect with a 32-foot high Pirate Castle. While adults take a breather, kids will be thrilled to climb, hide and play within this structure. Then there's Bricks Family Restaurant with different buffets throughout, including one at a height for children. There was a nice selection for both breakfast and dinner, with many healthy choices, such as a delicious Mediterranean Tabbouleh. This is also where the Lego Character Breakfast takes place. Lastly, The Skyline Café greets you with a Lego cocktail waiter holding a martini. Inside was a nice bar with a view of the pool area, and many loungy tables for eating as well. But, the Lego skyline with 35 detailed scenes was the crowd pleaser. We decided to have a glass of wine right outside by the gorgeous fire pit.
Activities at Legoland Hotel:
The family pool is a draw for kids and adults alike, with a gradual incline up to 5 feet, with "swim up movies" on the weekends during peak season. There's also nightly entertainment for children in the Castle Play Area by Mini's Lounge. But my son had a blast just trading his Lego figurines he got from the treasure chest in our room, with the ones on the hotel employees name tags. As you can imagine, it's not hard keeping one's interest peaked at this hotel, that creatively displays more than 3 million Legos.
Activities near Legoland Hotel:
Legoland California is situated a few feet away from the Legoland Hotel. The Lego themed amusement park targets children 2-12 years old, with more than 60 rides, shows and attractions mostly geared toward younger children. My 10-year-old liked a couple of the roller coasters and mini golf, but mostly enjoyed the Legoland Waterpark.
The Legoland Waterpark's entrance is inside Legoland, and it's the world's first and only Lego-themed waterpark. There's something fun for everyone at this five and a half acre park. For the older kids there are four main slides, coming off a 45-foot Lego inspired water tower. For the little ones, there are plenty of interactive wading areas, smaller slides and even a build your own river raft ride. For me, I relaxed on one of the white sandy beaches peppered with palm trees. The waterpark is a nice addition to Legoland, during the warmer months.
The Sealife Aquarium is another attraction to experience at Legoland California Resort. The Aquarium has its own outside entrance along with one inside Legoland. There are more than 4,000 creatures, many interactive attractions and hands-on marine exhibits. We spent about an hour here, and enjoyed the large shark aquarium, which creatively displayed Lego underwater divers. Visitors can pay just to enter the Sealife Aquarium, or upgrade a Legoland ticket. But the waterpark is an additional charge and can only be accessed by Legoland ticket holders.
This trip was sponsored by Legoland Hotel