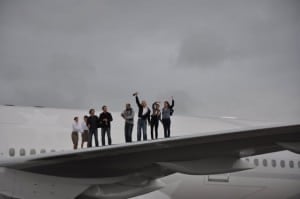 G'day from Australia! I'm back in one of my favorite countries and getting here was seriously half the fun … and half the price! I flew Richard Branson's newest airline V Australia, which recently entered this lucrative route once dominated by Qantas and United. Along with Delta (who began flying to Sydney on July 1), they have ruffled all kinds of feathers and fares have been slashed as the competition heats up. Read on to discover why you should visit Australia now and what makes V Australia so special. If flying clear across the Pacific is too far to travel, check out a destination closer to home. My brother Frank DiScala visits the Swine Flu free Mexican Riviera.
WHY V AUSTRALIA?
I used to be 1K (a very frequent flier) on United Airlines for years but when they started getting into financial trouble, I began to spread my love to all the carriers. These days, I fly about 30 different airlines in a calendar year but even if I was still a United Airlines mileage whore, why would I want to fly them to Australia in their dated 747s? Likewise, why fly Qantas for double the price when I can get on one of the newest and most hip planes out there with the friendliest flight crews around? Hello?!
TIME TO GO TO AUSTRALIA NOW
If you haven't been to Australia, now is the time to go! Seriously, prices have been slashed by 50% or more and they have deals out there for around $700, which includes all the taxes and fees. The sale ends soon but the tickets are good until December 15th. (The first day of summer for Australia is December 1 so it's only going to be getting warmer there.)
V AUSTRALIA PARTY
Back in February, I attended V Australia's coming out party at LAX. Los Angeles' mayor Antonio Villaraigosa, Sir Richard Branson and his posse of Australian celebrities were all there as he walked out on the wing and christened the brand new 777-300ER (extended range) aircraft with a bottle of champagne. Currently, V Australia has three 777 planes. They fly daily between Los Angeles and Sydney and three times a week between Los Angeles and Brisbane. In September, they'll get another 777 and fly between Los Angeles and Melbourne and another international route. Rumor has it that it will be Sydney to Johannesburg making it even easier for passengers to buy around-the-world tickets using the Virgin brand.
FEAR OF LONG FLIGHTS
I don't know about you but long flights (over 11 hours) freak me out a bit. I always find myself thinking, "What the heck am I going to do for that long? What if I get sick?" The same fears run through my mind over and over, even though I take these flights all the time. But in the end, I always find myself wishing they were longer because I didn't do a tenth of the things I'd planned.
AF447 FREAKED ME OUT
My fears stem back to a time when I used to be afraid to fly. It was a control issue and the fact that I had bad asthma, which a Chinese doctor in Malaysia cured me of a few years ago. But Air France's Flight 447 that mysteriously crashed over the Atlantic really freaked me out, so much so that I was practically dreading flying over the Pacific. I couldn't stop thinking how intensely awful it must have been for those poor passengers and why it took authorities and investigators so long to even find out about it or where it happened and why … they still don't know. But I realize the odds of that happening again are one in a million and that air travel is still the safest mode of transportation so I tried my best to trade my worried face for a happy one.
LAX
I arrived at LAX's Terminal 3 at 9pm for a 10:30pm flight. I was running late. The economy line was packed mostly with Sydney passengers, which was taking off an hour after the flight to Brisbane. There was only one person in line at the business class counter and I was completely stoked (and relieved) to find out that my space available upgrade had gone through; I guess that's what happens when you make friends with upper management at their coming out party.
ALASKA AIRLINES' BOARD ROOM

V Australia has a pretty strict carry-on policy so I was forced to check my second carry-on bag. Luckily, I remembered to pull my jumper out in case it got chilly on the plane. The upgrade not only gave me a phat seat but access to the club lounge, which is on the second floor (above Gladstones) and run by Alaska Airlines. It was my first time in Alaska's "Board Room" and I was quite impressed. It was brand new, smartly designed and operated by friendly staff. There were some computers and it wasn't overly crowded. They had an open bar, snacks and the soup of the day was hot corn chowder. What I didn't like is that my T-Mobile Blackberry wasn't picking up data, though that's not their problem, I know. I could have had access to the Internet but I didn't feel like logging on so instead I sat at the bar and made phone calls quietly, while staring in horror at the behavior of a very flu-sick middle aged woman who wouldn't stop coughing and sneezing. She also dropped a dirty tissue on the floor on purpose and didn't pick it up.
BOARDING
We were late in boarding (11pm) because the air bridge was malfunctioning. V Australia was adamant in pointing out that it wasn't their fault (which it wasn't) and that it was LAX's; I guess this happens often. While waiting to get on the plane, I met a guy who's taken V Australia to Australia three times already and he said he loves it. I asked him why he chose them and he said it was because Qantas' fares were double the price and the seats go all the way flat in business class.
SEATING
V Australia offers three classes of service: International Business Class, which has 33 seats and features fully horizontal flat beds (six-foot-two long) and 77 inches (1.95 metres) of legroom in a 2-3-2 configuration. Premium Economy has 40 seats with 38 inches (96.5cm) of legroom and a nine-inch (22.9-centimeter) recline. These seats are set up 2-4-2 while the 288 economy seat section is 3-3-3 and has 32 inches (81 centimeters) of legroom and a six-inch (a 15-centimeter) recline.
ENTERTAINMENT SYSTEMS
All seats come with the same Virgin America entertainment system called RED. This one doesn't have live TV or Internet (yet) but it has movies, popular TV shows, games, music, flight mapping and seat-to-seat chat on a 10.6-inch screen. In business, the screen was bigger than my laptop (14 inches). There's also apower outlet that fits US and Australian type plugs and a USB slot. FYI: There are no power ports in economy, just USB ports to charge your iPod.
BUSINESS CLASS
The first thing I noticed when I stepped onto the plane was how friendly the flight crew is. Most of them came from other airlines like Ansett, Emirates, British Airways, Qantas and V Australia's mother, Virgin Blue. The second thing I noticed was how fantastic the seats in business were. They have so much legroom that I couldn't even touch the seat in front of me with my toes, with my legs fully outstretched; I was a good two feet short. Theseats are pods so they don't go back on the person in back of you. Instead, they slide down to form the bed. The seats have normal overhead lighting and a snake mag light so you can read without disturbing the whole cabin. In one of the seat's storage areas were noise canceling headsets and another had a bottle of water. The flight attendants passed out Bulgari amenity kits with lotion, perfume, toothbrush, earplugs and the most comfortable eye mask I've seen in kits … though still not as comfy as mine!
SWINE FLU
The third thing I noticed was that the sick, rude woman from the lounge was sitting across the aisle from me and I was starting to worry she had the swine. So when the flight attendant came around, I discreetly pointed out the woman in question and said that she seemed really sick. The flight attendant said that she'd already noticed her and that she (the flight attendant) was a registered nurse and didn't think the passenger had the Swine Flu. I wasn't the only passenger worried about this. She said it was a different kind of cough.
SERVICE
As soon as passengers sit down, they serve drinks in designer glasses and even ask if you want "a topper" when finished. Since the service and flight were so good, I took impeccable notes (below) to give you a play by play of what it's like to fly V Australia to Brisbane.
PLAY BY PLAY
We pushed back from the gate at 11:30pm and just before we started, the pilot got on the PA and said that flight time was going to be a quick 13 hours and 20 minutes (it was supposed to be 14 hours). While taxiing, I saw Qantas' A380 (the world's largest commercial aircraft) take off, which got me all pumped up for the trip across the Pacific. The safety demonstration was an entertaining cartoon that featured Richard Branson as one of the passengers. It was the first time I'd seen a safety video where they rolled the credits of those involved.
NOTE: Times are Pacific Time (US & Canada)
11:52pm Takeoff!
11:55pm Cabin manager got on the PA to welcome everyone aboard and said he won't be making any more announcements since it's a night flight; just buckle your seatbelt on the outside of your blanket so they won't need to wake you. He also said it's a 17-hour time change forward if you want to switch your watches (I always do). A random observation: If we took off just before midnight on a Friday, the flight is 13 hours and the time change is 17 hours, that means I will miss all of Saturday.
11:58pm Seat belt sign goes off. I use the loo and notice they have a female only bathroom. Very cool but I pee on the seat since they don't have a male only one … we take a tenth of the time! (Just kidding about the peeing.)
12:10am Immigration forms are passed out.
12:14am Out come the hot towels.
12:27am Flight attendants take drink orders.
12:32am They add cushions to the leg rest (that was weird but comfortable). And in Premium Economy, since the seats don't have leg rests, they pass out bulky hassocks — but they are divine.
12:33am Come by with drink and choice of pretzels or cashews.
12:57am Food order taken. I choose the salad and chicken; here's a scan of the menu.
1:03am Come around with linen tablecloth. Food was served shortly after. First the bread: Rye, panini, dinner roll. The flight attendant brought me shrimp over linguini as an appetizer. I said with a smile, "I thought I ordered the salad." He said with a smile, "That is the salad." He realized I meant a normal salad so he said he'd whip one up for me. He did and it was incredible. So fresh with an Italian dressing on the side!
As I watched some travel programs on my screen, I started to doze a little bit in between courses. My main entrée was chicken osso buco – I'd never heard of it but I couldn't pass up the fava beans ragout and soft polenta. The highlight were the Opera House salt and pepper shakers that had a business card size note below that read: No need to pinch our salt and pepper. Ask the crew and they will pinch a set for you! Too funny. I passed on dessert like a good boy.
TIME TO MAKE THE BED
2:15am A beautiful young flight attendant from the back came and asked if I wanted my bed made. For a second there, I thought I was dreaming so I rubbed my eyes, took my ear plugs out, popped a mint and said, "Excuse me?" I heard her correctly so as she made my bed (she put a cover and duvet down and a V chocolate), I went to the loo.
THE BATHROOMS
All the bathrooms have a full-length mirror, automatic faucets and music. They don't play music in the cabin except on takeoff and landing but the moment you shut the bathroom door, it's pumping and all bathroom themed music like Shake That Ass You Shook Me All Night Long.
NIGHTY NIGHT!
On the way back from the washroom, another flight attendant asked if I wanted anything else (coffee, tea …) before bed. Just as I was about to say, "No, thank you," he said, "How about a hot chocolate?" How could I pass that up? I didn't. They dimmed the main cabin lights and out popped stars on the ceiling as a night light. Too cool. Once I was in bed, I found out that they do offer pajamas and flip-flops to business class passengers. They must have forgotten to ask me or I didn't hear them. If it was the pretty flight attendant, then I must not have been paying attention to her words.
SICK LADY
I slept well for several hours but I woke up to the sick lady across the aisle coughing and sneezing. I guess she wasn't covering her mouth because I felt her sneeze spray my face. I almost snapped, ready to pile-drive her through the window. Instead, I grabbed my laptop and went back to the bar to work. I told the flight attendant and she said she would get her a mask from the back. But of course the sick passenger wouldn't wear it. However, her semi-sick husband did and before landing I heard her say to him, "Why are you wearing that thing? You look ridiculous, like you should be in the hospital!" So when I went to collect my bag from the overhead, I leaned over and said to him, "Thanks for wearing that mask. It's nice to know that some people are so considerate of others," all the while, giving her the death stare.
THE BAR
In all classes, they offer a self-service bar. In coach it's just one little cubby hole with some snacks. In Premium Economy, it's supposedly everything in business class except no space. Business Class' has a bar with bolted in stools attached to it. Actually, the bar was disappointing in terms of offerings – maybe I just got there late but the Premium Economy Bar was more stocked than Business. Either way, it's not as elaborate as Emirates, with their flat screen TVs and bartender, but it's a great place to work or chat. I sat there for hours on my laptop, escaping the swine and chatting with the crew who really were amazing. I asked them all kinds of questions and here's what I learned.
The crew gets about 2.5 hours rest and they have a special sleeping area in the back of the plane.
Row 5 is in between business and premium economy and it has its own little section with curtains. It looks like crew rest but it's mostly reserved for celebrities; they get a lot since they have a movie contract with Paramount Studios. There was some model I'd never heard of before on my flight.
The Internet should be on the planes by the end of the year.
I asked a bunch of the crew, including a pilot, if they were nervous about the Air France flight. They all said, "No, that's an Airbus. We're on a Boeing," and they were serious.
Four out of 5 flights get bumpy over the equator.
BACK TO THE SEAT
The seatbelt sign came on twice during the flight, once over the equator for two minutes and another time four hours out for about 20 minutes but there wasn't bad turbulence at all. When I went back to my seat the second time to get some more shuteye, I put on the medical mask, pulled up my hood from my jumper and put my eye mask on so I was completely covered. I must have looked like a beat up Unabomber.
BREAKFAST
I woke up again about two hours before landing when breakfast was being served. Before I went to sleep, they gave me (and every other passenger) a menu card – similar to those you get at a hotel that you fill out and hang on your door. I ticked off the energizer drink, blueberry muffin and the omelet with sausage. It was just okay but my neighbors raved about the bacon roll. Next time, I will get the bacon roll.
LANDING
On the tray was a tea dish that read: Look! A flying saucer! Pretty funny. The cabin manager got on the PA for the second and last time one hour before landing to say they'd be putting the seatbelt sign on in 30 minutes (so people can use the toilet) and that since we were an hour late, they'd rebooked those passengers on connections. We landed just after 6am on Sunday morning (what happened to Saturday?) just as the sun was coming up and the Australia's winter skies were trying to clear of clouds. It's winter down here; their first day was June 1 and it's a bit nippy.
CUSTOMS 
On the walk to immigration, they took thermal pictures, looking for passengers with a fever/swine flu. I wonder if the rude American got stopped. I breezed through passport control and customs. The secret is to get stopped by one of the roving agents so they give you a stamp to bypass the screening machines; not sure how you do that but luckily, they always seem to pick me. My bag came out within 10 minutes and I was off to catch my connecting flight to a destination you certainly don't want to miss. I'll give you a hint below.
OVERALL
Overall, V Australia was amazing. If it wasn't for the sick woman, the flight would have been a 10 out of 10. The only improvement V Australia needs to make, besides monitoring passengers, is to get a better functioning website. They don't have a place to manage bookings, change seats, or even show flight arrival and departure times (see Flight Aware). You have to dial their call center (from the U.S. 1-800-444-0260) and they put you on hold for a bit (four minutes for me but it felt longer). But their agents are like their flight crew – super friendly and they quickly assigned my seats and informed me that I needed to get a visa. You can do this online in a matter of minutes and it costs $20AUD unless you book through a travel agent. And, it's free.
ECONOMY
I know I flew Business class but I'm flying Premium Economyhome and one of my buddies flew down in coach. He's a freak when it comes to space (like me) and he was going to pay the $100 extra (each way) to get the exit row but it had already been sold. He said it turned out to be a good thing because it would have been a waste of money since economy was so very comfortable. All in all: V Australia – Good on ya, mate!
NEXT WEEK
Next week, we go to a dream destination that has been in the news a lot in the last six months.