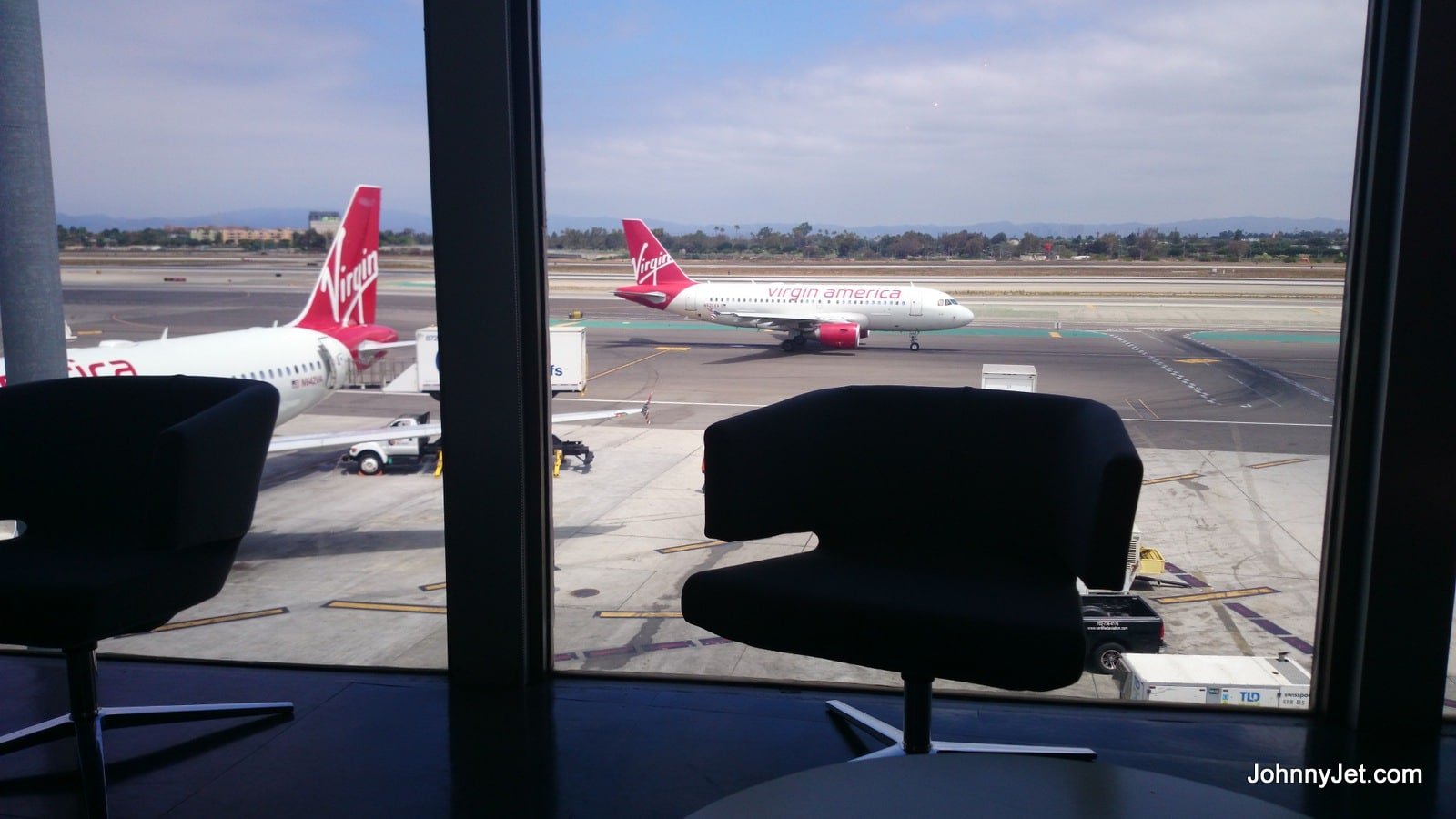 I've flown Virgin America over a dozen times, but never before in First Class on a transcontinental flight. Last week, I had a paid Main Cabin Select (premium economy) ticket but they upgraded me at the last minute so I could check out their product and let you know. Here's what I found:
LAX-JFK
Virgin America has six flights a day between LAX and JFK airport. They also have three flights a day to nearby Newark Airport from LAX. According to Joe Brancatelli, the esteemed business travel expert, "the route between Los Angeles International and New York's John F. Kennedy International is the nation's single busiest. With about 3.2 million passengers a year, government statistics show that LAX-JFK fliers generate about $1.4 billion in annual sales."
Virgin America's First Class
Virgin America flies A320s on this route that have just 8 seats in First Class, 12 in Main Cabin Select, and 138 in economy. First Class has white soft leather recliner seats that are 21-inches wide with 55-inches of pitch—the distance between the back of your seat and the back of the seat in front of you. That's not great compared to the competition, which is in many cases offering lie-flat seats. Source: SeatGuru.com.
But Virgin America has a loyal customer base that love the airline's cheeky attitude, innovation (being able to order food and drinks when you want and having seat-to-seat chat), mood lighting, products, and employees, who you can tell just love working for Sir Richard Branson.
The Loft at LAX
First Class passengers at LAX can use Virgin America's Loft. It used to be Alaska Airlines' Board Room and then Virgin Australia's Club, but now it's Virgin America's first official airport lounge. They don't have very exciting food but they do offer more snacks than most U.S. clubs, and drinks are free. They also have designer seats and free Wi-Fi. For those who aren't flying First Class you can get a day pass for $40 or get in free with a Priority Pass.
Boarding
Virgin America boards anyone with disabilities first, then First Class, then Main Cabin Select, then families, followed by economy class passengers. The captain greeted most passengers and even shook the hands of all First Class passengers. He then got on the PA to wish a happy 13th birthday to the passenger in seat 2A.
Flight attendants
The lone flight attendant working First Class (there are only two in economy) was nice but not overly friendly like others I've had withVirgin America. Though she was the most excited flight attendant that I've ever given a free Gogo pass too.
Pre-departure drink
She offered everyone a pre-departure drink and I chose a bottle of water. Interesting fact: Flight attendants have to collect whatever they hand out—including bottles of water for takeoff and departure—in case there's an aborted takeoff because everything could be turned into projectile missiles and the airline would be responsible (I never knew that).
Pre-dinner drink
After takeoff she came around again with our desired beverage (she took the order before takeoff) and some spicy chips. I chose a bottle of water (didn't want anything fancy or a glass).
RED Entertainment
I reclined my seat a bit, plugged my laptop in, and logged on to the Wi-Fi to get some work done. Virgin America was the first airline in the U.S. to have Wi-Fi on all of their planes. I also opened up their RED Entertainment system, which has free movies (Winter's Tale, The Wolf of Wall Street, Veronica Mars, Muppets Most Wanted, Bad Words, Divergent, RoboCop, The Grand Budapest Hotel, Gambit, Mr. Peabody and Sherman, Labor Day), live TV (CBS – NY, NBC – NY, FOX – NY, The CW – Los Angeles, WGN America – Chicago, Comedy Central, Course of the Force, GoPro Channel, Onboard Virgin America, Boing Boing, Virgin Produced, Disney, ESPN, ESPN 2, USA, TNT, TBS, Bravo, E!, CNN, MSNBC, FOX News, CNBC); premium TV (Orange is the New Black, Veep, Silicon Valley, Girls, True Detective, Californication, Game of Thrones, True Blood, Ray Donovan, Dexter, Breaking Bad and more), music videos (Britney, Gavin DeGraw, One Direction, Imagine Dragons, and more); as well as Virgin-produced and -featured content.
Food
What sets Virgin America's First Class apart from most airlines is their food. First Class passengers are presented with menus (they are a bit beat up since they reuse them). Choices are:
Appetizers
-Arugula tomato watermelon salad with prosciutto
Entrees
-Dijon chicken with wild mushrooms
-Rigatoni with fava beans
-Roasted chicken salad
Main classics
There were also sandwiches that were available that they give to Main Cabin Select passengers for free. Those were:
-Southwest Veggie Wrap: Roasted red pepper wrap with chipotle lentil hummus spread, filled with a mixture of cotija cheese, charred corn, jicama, red peppers, romaine lettuce, lime juice, cilantro, cherry tomatoes and avocado, served with a quinoa, wheatberry, mango, cucumber salad in lemon herb vinaigrette. Calories 460, Fat 23g, Carbohydrates 56g, Protein 12g (Contains dairy and wheat.)
-Green Goddess Sandwich: Thinly shaved chicken breast served on Dark Anadama Oat Bread with kale, cucumber, tomatoes, feta cheese and a herbed greek yogurt spread. Calories 600, Fat 16g, Carbohydrates 78g, Protein 38g. Contains: Dairy, Poultry, Wheat, trace amount seafood.
-Protein Plate: Cage free hard boiled egg, Brie, muenster, cheddar cheeses, roasted turkey breast, red grape tomato, green grapes, carrot, cucumber and kalamata olives served with whole wheat pitas and edamame hummus. Contains: Poultry, dairy, wheat Calories 540, Fat 20g, Carbohydrates 58g, Protein 26g (Contains wheat, poultry, and dairy).
-Artisan Cheese Box: Brie, pepper jack, cheddar and Swiss cheeses served with dried apple and fig, green grapes and Crunchmaster Gluten Free Crackers. Contains: Dairy Calories 310, Fat 19g, Carbohydrates 21g, Protein 16g (Contains dairy).
Dessert
Hail Merry Mini Chocolate Tart with fresh berries
Snacks
If you're still hungry after the meal, they also come around with a basket of really good snacks that they sell to coach passengers. My favorite items were:
-Krave Basil Citrus Turkey Jerky
-Holly Baking Company Chocolate Chip Cookies
-479° Popcorn Sea Salt Caramel
So the food is really good, but I didn't love the seat. It's not only not lie-flat but I also found the controls hard to read and difficult to use. On top of that, they allowed coach passengers to use the First Class bathroom so when I wanted to use the loo I had to wait. And worst of all, there was the constant slamming of the door.
It's a competitive battle on the L.A. to New York market and no question Virgin America has a solid product, but their main competitor jetBlue has just upped the stakes with lie-flat seats for a third of the price. Virgin America will need to combat that. It will be interesting to see what Sir Richard Branson and Virgin America come up with.