Greetings! If you are following me on Twitter (@JohnnyJet), then you know I was freezing in Chicago and Columbus this week. I have stories from both cities, including my United flights. In addition, my sister Georgie Jet is finishing up part two of her Trafalgar Tours trip to Italy and our newest writer, Melissa Jo Peltier, lets us inside her film festival travel journal!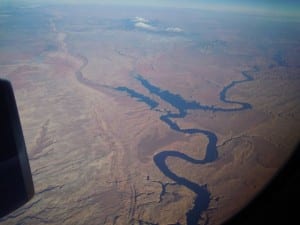 Last Thursday, I headed to Columbus, Ohio, to speak at the AAA Great Vacations EXPO over the weekend. I left my house at 7 a.m. for an 8:23 a.m. flight to Chicago. Since I was only going for two nights, I drove my car and parked at Park One (it's the closest private lot to LAX). Because I live so close to LAX, I was still making good time. However, I was flying United, and all of their security checkpoints in Terminal 7 (T7) had long lines. The longest wait time turned out to be in the shortest line, which was the one for frequent fliers. Doesn't make sense, right?
SECURITY LANES
A private security official (she didn't work for either United or the TSA) was checking tickets to let only passengers into security. When she saw that I had "Premier" (United's elite frequent-flier status) printed on my ticket, she guided me to the special line. There were four security lanes, and the first checkpoint to reach the two TSA officers checking tickets and IDs made no sense.
UNITED'S BEST CUSTOMERS
The far right lane was completely empty, as it was reserved for international first-class passengers and Global Services (United customers who are invited into this special top-tier program because they spend a lot of money a year and/or influence major corporate travel contracts at their company). Frankly, I was quite surprised United didn't include their 1Ks (frequent fliers who fly at least 100,000 actual air miles on United and/or Star Alliance partners) in that line. Instead, the 1Ks had to stand in the security lane reserved for domestic first-class passengers, Premier Executives (United customers who fly 50,000-99,999 miles a year), and Premier (customers who fly 25,000- 49,999) members. I'm a lowly Premier member.
TSA AGENT
One would think the TSA agents would take two lanes each and that the shorter lines would be a breeze. But that wasn't the case at all, I later realized. To make a long story short, the wait in my lane turned out to be twice as long as the regular lanes because of the actions of one stubborn and clueless TSA agent named Officer Groomes. He was taking passengers one by one from each lane, including regular customers that didn't fall into any of the premier/first class categories, while his counterpart was only clearing passengers from the far left two lanes like he was supposed to. When some Premier members started putting up a beef, Office Groomes refused to listen, and his partner wouldn't change his methods either. It was frustrating to see the agents disagree with each other.
DON'T BE SHY TO COMPLAIN
Once I cleared security, you know I asked for a supervisor and complained–and a bunch of people behind me jumped in and backed me up. I'm only sorry I didn't do this when I first noticed it, so I didn't have to wait 25 minutes. I think it's clear that the TSA needs to train these guys much better, and United should be doing a better job monitoring the lines to make sure their best customers are being taken care of. Don't you agree?
TERMINAL 6
Next time the lines are long at T7 I will check the security line at T6 (Terminal 6), because I ended up flying out of gate 69B and I noticed while walking by there that it was a ghost town. FYI: The reason I didn't go to T6 to begin with is that the United flight notification I signed up for stated my flight was going out of gate 70 (terminal 7). I didn't learn of the actual gate until I read the airport monitors on the other side of security. My eyes almost popped out when I saw gate 69B, since it's a long walk and I was now late. Lesson learned: Check the monitors before going through security, and don't rely on flight notifications.
ECONOMY PLUS
It turned out that when I strolled up to the gate they were boarding zone 1 (they began with first-class passengers and Global Services). Premier members all get zone 1 and they get to sit in Economy Plus, which is the first few rows of economy that have five extra inches of legroom. It's a huge perk. Premier members also get free upgrades on domestic flights (except to and from Hawaii and LAX/SFO to/from JFK). To my surprise the 757 plane was not full at all, and in fact, I had a whole row to myself. When was the last time that has happened? FYI: Economy Plus can be purchased for a fee when you check in (if there's room), and the fee is dependent on the length of the flight. I know on the first leg of my flight home–from Columbus (CMH) to Denver–it was $50.
L.A. TO CHICAGO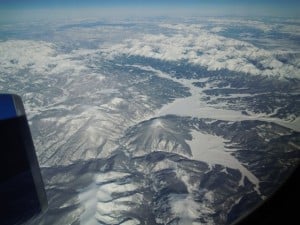 We pushed back from the gate a few minutes early and took off at 8:20 a.m. Flight time was 3 hours and 52 minutes and it was smooth–even going over the Rockies. I love looking out the window and seeing the dramatic topography of Arizona, Utah, and Colorado, and then the winter wonderland of the plains.
PLANE UPGRADES
I hope that now that United has merged with Continental they will take some of Continental's money and upgrade their planes. They don't have Wi-Fi (except on those P.S. flights between LAX/SFO and JFK), and there weren't any individual entertainment systems. They do show movies on the ancient overhead monitors for free (bring a headset), and the planes are all getting a new paint job (United name, Continental logo on the tail). On my flight from CMH to Denver the A319 had it and it was a big deal. Even the gate agents were taking pictures of the new paint job (they said it was the first time a plane in Columbus had it).
BUY ON BOARD
Since I didn't have time to grab food from the airport (thanks to Officer Groomes), I purchased one of United's on-board snacks. Prices were reasonable: for breakfast they offered fruit and yogurt parfait for $5.49, ham-and-swiss croissant for $5.49, continental breakfast (bagel, cream cheese, strawberry jam, strawberry yogurt, and fruit and trail mix) for $6.29, or a smoothie for $2.99. (FYI: They only take plastic, like most airlines these days–no cash.) Flight attendant Rudy, who was wearing a dirty old uniform, wasn't that friendly until we were about to land. Earlier when I asked him how the smoothies were, he said, "I have no idea–I never had any of these." What, United doesn't give their flight attendants the leftovers? I know they must have some, since many of the passengers didn't purchase anything.
FLIGHT CREW
FYI: The purser and the other flight attendant working my section were friendly. The purser even went out of his way to walk down the aisle and ask every passenger in first class and Economy Plus if they had a connection, and if they did he told them their gate. Later he made connecting announcements over the PA. FYI: 65 of the passengers were making a connection, and 10 of them were going toStockholm on SAS.
Web Resources: