On July 1, 2014 the city of Los Angeles opened the Courtyard and Residence Inn L.A. LIVE—a unique two-in-one hotel that brings a new punch to the Los Angeles hotel scene. It's directly across the street from the J.W. Marriott and the Ritz-Carton, another two-in-one hotel.
The Courtyard has 174 rooms and the Residence Inn features 219 suites. The $170 million project not only adds more hotel rooms to the city, but adds to the revitalization of downtown Los Angeles as well.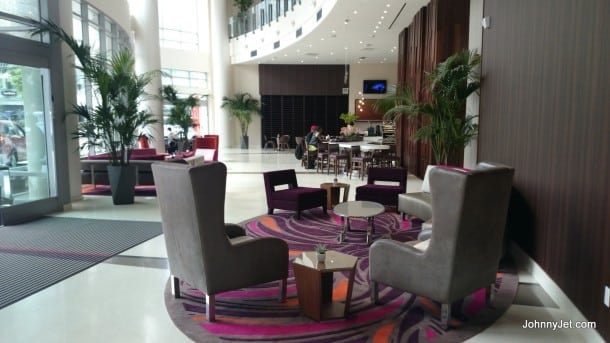 I spent a night at the Residence Inn L.A. LIVE and learned that the hotel(s) has valet parking ($38 a night), a beautiful open and bright lobby that features Table 901 LA Cafe, offering breakfast, lunch and dinner options, a full bar, and Starbucks coffee. It also has a shared state-of-the-art fitness center and huge rooms.
The Residence Inn L.A. LIVE is the only extended-stay hotel in the area that offers studios, one-bedroom and two-bedroom suites that are designed for stays of five nights or more. Each suite has a custom designed fully-stocked kitchen with microwave oven and appliances. And like in all Residence Inns, they offer complimentary Wi-Fi and breakfast (on the second floor).
The beds are not like the J.W. Marriott or the Ritz-Carlton (here are my 10 reasons to stay at the Ritz-Carlton L.A. LIVE) across the street and I could hear the TV and door slam from the room next door or above. But I appreciated the cleanliness of the hotel, the fact that they have blackout curtains, and the friendly staff. Rates begin at $249.