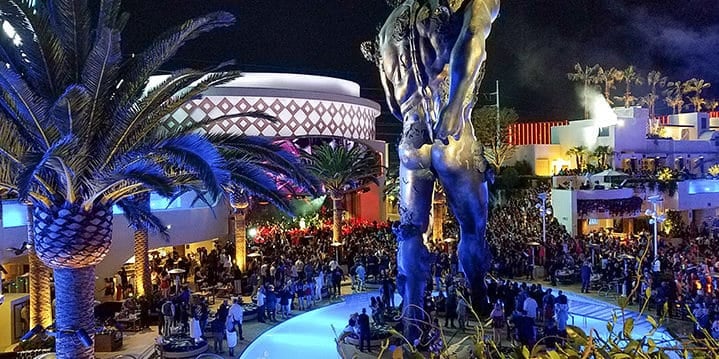 If you crave the newest, hippest and most expensive experience that Las Vegas has to offer, the reimagined Palms Casino Resort has got you covered. The Palms has brought a whole new level of cool to Las Vegas with the completion of a $690 million dollar renovation
I recently flew west for JohnnyJet.com to take a look inside:
Kaos
The centerpiece of the renovation was and iis Kaos, a fully integrated music and party venue. This 73,000-square-foot day club opens up to an adjoining 29,000-square-foot nightclub by way of an enormous retractable glass wall.
On weekends, the day club becomes a bacchanalian pool party built around 39 private cabanas and accompanying pools, plus two large main pools and a main stage outfitted with water canons, lasers, fog, smoke, and fire machines.
Looming over guests is a menacing, 60-foot work of bronze by Damien Hirst, a headless man holding a bowl entitled Demon Bowl. The whole scene is livestreamed on a mega 270-foot LED screen mounted on the east side of the resort's Ivory Tower, giving pedestrians outside on the strip an envious peak at all the action.
With world-class exclusive residencies by Cardi B, G-Eazy, Marshmello, and Skrillex, to name just a few, Kaos is now considered Vegas's premier music venue.
Contemporary art is a major focus of the resort's rebranding. The multi-million dollar art collection includes works by Hirst and other contemporary artists. Pieces by Jean-Michel Basquiat, Andy Warhol, Banksy, and more fill the space that is Greene St. Kitchen, a circa-70s, NYC-street-art-inspired Asian fusion restaurant.
British artist Hirst, most of all, has put his stamp on the new Palms Casino Resort. Above the casino lobby bar is a 13-foot segmented tiger shark encased in steel, glass and formaldehyde, a Hirst creation.
The rooms, including the "world's most expensive hotel room"
Other Hirst installations beyond the main floor include the many inside the Hirst-designed Empathy Sky Villa suite, a 9,000-square-foot, two-story accommodation overlooking the Vegas strip. It currently bills itself as the world's most expensive hotel room at $100,000 per night, with a two-night minimum.
If $100,000 a night is too steep for your taste, then any of the redesigned guest rooms in the Fantasy Tower might suit you better. All rooms have an open-space design, neutral tones, floor-to-ceiling windows, and contemporary artwork above the beds. Bathrooms are elegantly appointed with marble throughout and with walk-in showers and spa amenities.
Food and drink
The rebranded resort elevated its culinary star power in the renovation. The 10 restaurants (soon 11) at the Palms include are celebrity chef restaurants like Bobby Flay's Shark, featuring Mexican- and Mediterranean-influenced fish and seafood dishes and an elaborate raw presentation of sushi, ceviches and tartars.
Michael Symon's Mabel's BBQ offers unique and traditional Cleveland-style BBQ. In the back, behind a hidden door, is a secret room offering exclusive dining at Sara's, a self-proclaimed "meateasy." Then there's Vetri Cucina, Marc Vetri's establishment, specializing in rustic Italian cuisine.
For a drink, the four bars are led by Mr. Coco and Unknown, where Hirst's shark installation dominates the scene.
Off-property: the Fremont Experience
If after a night or two you grow weary of all this uber-cool excess, you can always break away and head to Fremont Street, in historic downtown Vegas, for a more honky-tonk, down-to-Earth Vegas experience.
The Fremont Experience, as it's called, encompasses a five-block pedestrian promenade featuring hotel-casinos, live concerts, street performers, and the hourly Viva Vision light show on the world's largest LED video screen. A great way to see the lights of Fremont Street is by flying on the SlotZilla zip line!
Sometimes, if all you have is a weekend, combining a little bit of the old with the extreme new is the best way to go.
---
For more on the Palms Casino Resort, visit palms.com.