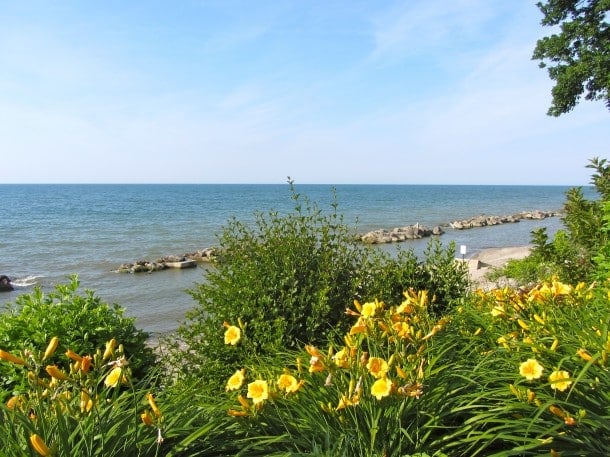 Good ol' Ashtabula County, is a scenic, hour-long drive 53 miles east of Cleveland. It's not the first place that comes to mind when I think "summer getaway" but I was in for a pleasant surprise.
Ashtabula, the state's northeastern most region, sits on Lake Erie and is perhaps best known for its vineyards, wineries and covered bridges including the Smolen-Gulf Bridge, the longest one in America at 30 miles. The area's particularly fertile soil and mild weather makes for the perfect climate to grow grapes. In fact, Ashtabula produces nearly 60 percent of Ohio's grape crop.
We drove further into the county and finally arrived in a small, picturesque town called Geneva-On-The-Lake. It was there, in what most people would call "the middle of nowhere," that I fell in love with this quaint yet flourishing summer community.
I watched young boys fish on Lake Erie as families grilled in their front yards. Barefoot children ran hand-in-hand in the street while teenagers scurried off to their summer jobs at the local park and arcade. Couples strolled down "The Strip," a mile-long road lined with old-fashioned restaurants, bars, food stands and live music joints. All of it was eerily reminiscent of a small town in the 1950s and not much has changed since then.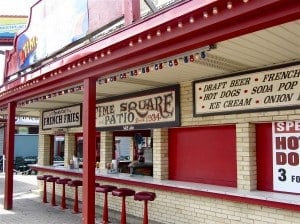 Known as "Ohio's first summer resort," most locals have lived there for nearly five generations (which explains many of the vintage style homes). Some reside there year-round while some rent out their properties and only visit for the summer months. Visitors from all over Ohio (particularly Cleveland) have been coming to Geneva for decades for a quick and affordable getaway.
The Lodge At Geneva On The Lake was built to accommodate GOTL's growing popularity. The inviting resort is adjacent to Geneva State Park and includes an indoor and outdoor pool, hot tub, indoor/outdoor dining, and bike rentals, topped off with a breathtaking view and activities to suit every lifestyle.
One of their packages offers various trips to Northeast Ohio's local wineries – some a short shuttle ride away and a few walking distance from The Lodge and on The Strip at Lake Road.
I spent the first half of the evening at The Lakehouse Inn & Winery dining on grilled Lake Erie Perch and sampling their local Grand Vally Riesling. Couples with wine glasses in hand enjoyed the view and colorful landscape from the patio decking. The Inn doubles as a bed & breakfast and offers guests unique activities with a small town flare, such as A Clambake At The Beach and Ladies Night At The Spa.
I took a 10-minute walk over to Geneva's first fire station which has been restored into one of the largest wineries on the Great Lakes. Now known as the The Old Firehouse Winery and for its signature red wines, this winery also provides GOTL's finest nightly summer entertainment.
Classic American food menu and a variety of wine options? Check. Live music every night from Memorial Day to Labor Day? Check. A lake-front view of the sunset from the Historic "Erieview" Park Ferris Wheel? Check. 
Geneva-On-The-Lake, with its distinctive, wholesome setting, variety of activities, and spectacular views arguably rivals any  summer getaway. But what makes this place a rare gem is the affordability. I had to remind myself many times that I was in a small town in northeast Ohio.
Attention all value-conscious vacationers, this is a truly a bang for your buck.