Guide and ranger post walk, no doubt annoyed at me with the heat at 9am!
Written by: Michaela Guzy, Founder of OhThePeopleYouMeet.com.
I had the pleasure of spending a couple days in the Shaba Reserve at Joy's Camp in Northern Kenya, named after the infamous Joy Adamson who reared the orphaned lion, Elsa and later the leopard Penny. Joy was also author to several books, including, Queen of Shaba.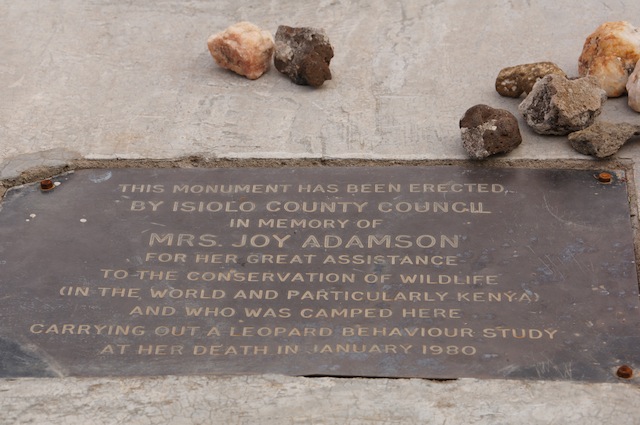 The tents may not be as ornate as Samburu, but you certainly aren't roughing it (the view from inside my tent).  The decor is more Ethiopian, which to my untrained eye almost looked Moroccan.  The food on property was light to compliment the hot desert weather and the best I've had yet in Kenya.  A favorite find is that the tents and uniforms are all made by a tailor on camp, Cyprian  (check out the "Sleeping Around" page on ohthepeopleyoumeet.com for a pic of the sweet pants they made me).  Strong wi-fi service, spa treatments in room and  open year round- joyscamp.com.
The landscape was much more desert like than the Rift Valley and hotter. After spending a few days bouncing around in a safari vehicle, it was a great change of pace to start each morning with a hike. Granted there was a ranger following me with a gun, which added a little excitement and it felt good to get a little exercise.  And mysteriously our safari vehicle always arrived to pick us up sans driver at the end of every hike.  I've included a few photos from my hikes below.

Michaela Guzy enjoying a Sundowner at Joy's in Northern Kenya.
In addition to the wildlife, I also saw my first sand tornado which we had to wait and let pass our Cruiser.
Save
Save
Save