Located 12 miles northeast of the bustling town of Punta del Este, José Ignacio has become Uruguay's most coveted holiday destination over the last five years. The prime time to visit is from December 23 through January 10, when there are festive parties, international polo matches and visitors from all over the world.
I have frequented Jose Ignacio over the past three holiday seasons and am in love with this understated beach town, which resembles a mix of Laguna Beach, Malibu and the Hamptons filled with very stylish South Americans. Eighty percent of the homes here are owned by Argentines and the architecture is very modern, using elements of glass, dark wood and concrete.
Getting to José Ignacio
There are no direct flights to José Ignacio. Visitors must either fly first to Buenos Aires, then switch to the local airport for a connecting flight to Punta del Este, or fly directly to Montevideo, Uruguay, rent a car and drive 100 miles (approximately two and a half hours) to José Ignacio. Driving from Punta del Este to José Ignacio is quicker, taking approximately 45 minutes. I highly recommend renting a car from the airport, and booking the car reservation in advance, as taxis are very scarce and the towns in the area are spread apart.
On the way to José Ignacio from Punta del Este, one will pass through the beach town of La Barra, which has a vibrant art scene, along with fashion boutiques and casual restaurants. Driving into the mountains from La Barra, we found a spectacular sculpture garden and gallery, with works of art from famed Uruguayan artist Pablo Atchugarry. The second year we visited, there was a magnificent ballet performance one evening in the middle of the sculpture garden.
Stay, eat and play in José Ignacio
José Ignacio is still very bohemian, with dirt roads, hand-painted street signs, independent boutiques and small inns. During 2011 and 2012, I stayed at Posada Arenas de José Ignacio, designed and owned by architect Fernando Sosa and his wife Esther. This is one of the most reasonable yet contemporary inns in the area. Out of season, room rates start at $160 per night but go up to $470 during the festive time (December 23 to January 10). Located on a dirt road on a residential street, the modern glass and wood façade resembles the homes in the area.
Posada Arenas features 12 guestrooms with concrete floors, Wi-Fi, two terraces and a range of hammocks facing the pool. On Christmas and New Year's Eve, the owners and staff presented us with complimentary champagne to toast and celebrate before we headed out for the night. Posada Arenas is located on the same gravel road as the top dinner restaurants Marismo and Namm. Please note that most of the restaurants, including both Marismo and Namm, and with the exception of La Huella, are only open seasonally from December to March. The prime time for lunch in Uruguay is 3 pm and the average time for dinner is 10:30 pm.
At Marismo (Ruta 10, kilometer 185; 598-486-2273), guests dine in the sand under beautiful lighted trees with a bonfire in the center of the restaurant, indulging in roasted vegetables, grilled fish, braised lamb and top Argentine wines. Dinner for two with wines ran us $125. Namm (Ruta 10, kilometer 185; 598-486-2526) serves sushi and grilled meats in a wooden space under the sky with a Japanese design containing dim lanterns and tables with rustic pillows. Dinner for two with wine and cocktails here ran to $150.
The best restaurant for lunch in José Ignacio is La Huella, and reservations are definitely recommended during the festive season. La Huella is located right on the sand at the edge of the little town of José Ignacio, near the haute fashion boutique Takkai. The most popular menu items are fresh sushi, salads, whole fish, calamari, heirloom tomatoes, and the restaurant is famous for its house-made sangria. Models, families, travelers and surfers all come for lunch at La Huella, which can accommodate large parties. Lunch for two with sangria is approximately $75.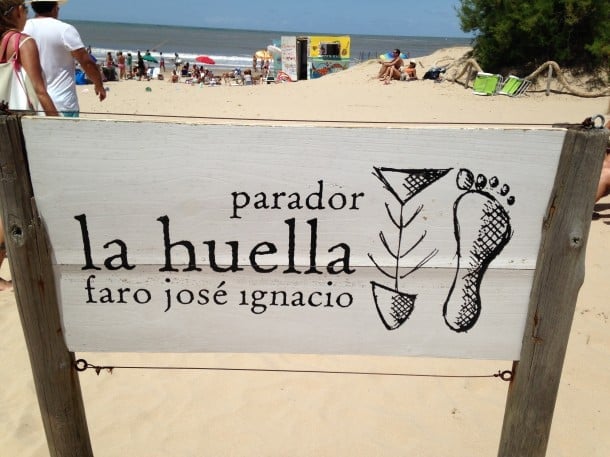 The best party of the season was held by Lacoste at La Huella, with fireworks and a DJ lasting until 6 am. One tip I'd offer here would be to immediately make friends with the locals to find out about parties around town. That is how we were invited to the Lacoste party, as well as the Veuve Clicquot Polo Match featuring the Argentine Polo Team playing—including the famous Nacho Figueras.
José Ignacio features large stretches of beaches, and my favorite morning ritual was walking along the coast to the lighthouse, which dates back to 1877 when it was erected on the rocky peninsula that eventually became José Ignacio. I also recommend climbing to the top of the lighthouse to see spectacular views of the area.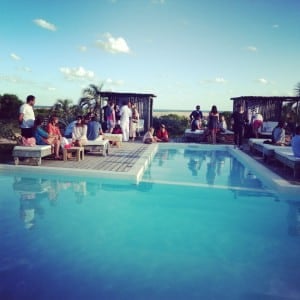 Over the last holiday season, I was fortunate to stay at Casa Suaya, owned by hotelier and restauranteur Adolfo Suaya and his wife, journalist Stacy Suaya. The hotel features 16 stone-wall suites and three thatched-roof bungalows, with Sal y Pimienta restaurant overlooking the pool. Breakfast is included daily with a range of pastries, fruit salad, eggs and prosciutto. We enjoyed a very memorable Christmas dinner with Adolfo and Stacy the first year we visited the area. Room rates in low season start at $200/night but spike to $800/night in the high season. Our room was 538 square feet and had a lovely outdoor terrace on the second floor with views of the ocean.
The most glamorous hotel in the area is Playa Vik, which opened in 2009. Play Vik is perched on the most coveted point of Playa Mansa with a notably spectacular 75-foot infinity pool comprised of Uruguayan black Absolute Nero granite overlooking the ocean. Internationally acclaimed architect Carlos Ott, who is known for creating the Paris Opera House, designed Playa Vik. The hotel resembles a modern sculpture, and has an impressive collection of international and South American art throughout. Playa Vik features four suites and six casas that range from two to three bedrooms. Room rates in low season start at $750/night and in high season start at $1,650/night.
The hotel's sister property, Estancia Vik, is located in the rural countryside of José Ignacio. Situated on 4,000 acres, the ranch's heart is a traditional Spanish colonial structure featuring adobe walls and red tin roofs—designed by Uruguayan architect Marcelo Daglio—as well as a full polo field, where the Veuve Clicquot polo match was held in 2011. The actual ranch building is 50,000 square-feet with gardens, courtyards, a reflecting pool, a steakhouse restaurant and suites. The owners Alex and Carrie Vik reside part of the year with their children in Uruguay and are a truly inspiring couple. Estancia Vik features 12 suites, and room rates in low season start at $550/night and in high season, at $1,100/night.
One other thing to note is that it is important to get cash before landing at Punta del Este airport, as there are only a few ATMs in the area, and many restaurants do not accept credit cards (although that is slowly changing). U.S. dollars are accepted nearly everywhere in José Ignacio, so there isn't a real need to switch to the Uruguayan currency.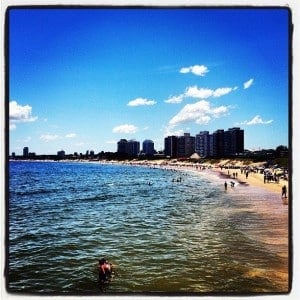 For a vacation itinerary…
For a vacation itinerary, I would highly recommend flying to Buenos Aires and staying for a few days at the newly remodeled Four Seasons Buenos Aires in the posh area of Recoleta—or the modern, Philip Starck-designed Faena Hotel—to allow time for a visit the town of Palermo Soho and its great fashion boutiques, restaurants and cobblestone streets.
If you have time, I also suggest taking the ferry from Buenos Aires to Carmelo, holing up at the Four Seasons Carmelo for two nights, and then renting a car and driving through Montevideo to José Ignacio.
Another, final great itinerary would be to visit Buenos Aires for a few days, then head down to the new and spectacular Vines of Mendoza, and from there fly to Punta del Este as I did this past holiday season.