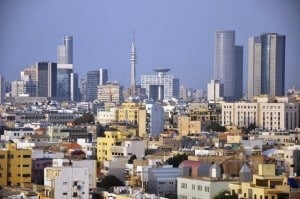 From Jerusalem to Tel Aviv is an hour drive (without traffic). Tel Aviv means "Hill of Spring", but metaphorically it's an old place revived. Driving down some of the back streets of Tel Aviv, as we made our way from the highway to our hotel, reminded me of some neighborhoods in New York City. However, when we turned on to the main road that runs parallel to the Mediterranean, its beaches it looked liked San Diego. The beaches and promenade were pumping, and I couldn't wait until my schedule allowed for some beach time.
DAVID INTER-CONTINENTAL

We checked into the newly- renovated (2008) David Inter-Continental Hotel which has 20 stories and 555 guest rooms. Just to enter the hotel's driveway guests have to be cleared by a security guard and have their trunk checked. There's another checkpoint to enter, like all Israeli hotels. Once inside, the lobby had a typical international feel, but with low ceilings and tons of flight crew.
OUR ROOM
Our room was stylish with grass-cloth wallpaper, a leather-tufted headboard and a very comfortable bed with marshmallow pillows. There was a large, flat-screen TV, working desk ($22 a day for internet access) and floor to ceiling window with a jaw-dropping view of the beach (a block away) and the city skyline. The walls were thick, so we couldn't hear guests in the rooms next-door or above. The window and door weren't soundproof, though, so we did hear planes landing and taking off from the international airport, and some hallway traffic.
BATHROOM
The marble bathroom had a tub/shower with one of those half-shower glass curtains, which I despise since the water goes everywhere. But you have to love the fact that they aren't filled with germs like shower curtains. Side note: the David Inter-Continental does recycle towels.
CLUB LOUNGE
We have access to the hotel's Club lounge, which was on the top floor and filled with Americans, plenty of food (sweet potato soup, lasagna, salmon, salads, desserts), and drinks (including free booze). David-Inter-Continental, 12 Kaufman Street, Tel Aviv; Tel.: +972-3-7951111.
DINNER AT BELLINI'S
Our first night we had dinner at Bellini's, a Tuscan-style establishment. It was a 10-minute confusing walk from our hotel to Neveh Tzedek – the popular area known for its ethnic restaurants. Bellini's is a casual indoor/outdoor restaurant and was way better then I imagined. Who would've thought an Italian restaurant with Israeli chefs (I'm an Italian food snob) was going to be good? But these chefs must've been trained in Italy, because our food was tasty. I started off with a Caprese salad and the tomatoes were so fresh as was the antipasta. I then had Chicken Marsala with a side of spaghetti and a side salad which was large enough for a meal. I finished with delicious chocolate mousse filled with vanilla – yikes! Beliini's is across from the Suzanne Dellal Center, so it's perfect for a before-theater dinner. We sat outside overlooking a square and joked with our fun Israeli waitress. Bellini's, 6 Yechieli St, Neveh Tzedek, Tel Aviv; Tel.: Phone: 03/517-8486
DINING IN THE SKY
In doing some research about Tel Aviv, I learned about a new, unique and crazy dining experience that up to 22 thrill-seeking guests and three staff members will love for a private dinner party. It's – get this – in the Sky! Your table will be suspended 150 feet in the air by a large crane so you can enjoy 360-degree panoramic views of the City of David, the Tel Aviv beachfront or another Israel location. For more information, visit DinnerInTheSky.net.
MUSEUM
The following day our top notch guide, Amir (e-mail: or-ly@inter.net.il or Tel: 011 972 523 806 800), gave us a tour of the Tel Aviv and neighboring Jaffa. First of all, Tel Aviv was founded 100 years ago in 1909 when 60 families, from the old Mediterranean trading port of Jaffa (a 5-minute drive from our hotel), were fed up with Jaffa's cramped, putrid living conditions. These pioneers created a better place to raise families which began with just 5 streets. They installed the land's first water tower and plumbing, they built a school, created a central park and hired someone to clean the streets. The best place to learn about the development and see their first street light (it used kerosene) is at the Tel Aviv Museum of Art.
CREATION OF TEL AVIV
What's crazy is that, earlier in the day, Amir treated us to some tasty gelato and told us most of this history. My ears really perked up when he mentioned one of those founders was his grandmother. She migrated from Russia and hated Jaffa. She wanted to go home, but once Tel Aviv was established she said it was more beautiful than her mother country. Tel Aviv was established so there would be people around 24-hours – not just a working city that's sleepy at night. Today, when you see a skyscraper – below it will be an amazing restored building. However, they didn't want loud kids disturbing the peace, so the bars/discos are by the port where no one lives.
INDEPENDENCE HALL
If you want an overview of when, how and where the state of Israel was created, then visit the Independence Hall. It's the site of the signing of Israel's Declaration of Independence. Independence Hall, 16 Rothschild Blvd; Tel: (03) 510-6426 (Adult entrance fee: 20 shekels).
JAFFA
Jaffa (Yafo in Arabic) dates back to Old Testament times and now is a popular touristy quarter and a haven for artists. We visited the Ilana Goor Museum. I'm not really a fan of Mrs. Goor's artwork, but her house/museum is in an amazing 4-story building. Highlighting the old and new of Jaffa, Goor is well-known around the world. Later that day we went to lunch at Dr. Shakshuka's. Along the way we walked through the flea market, which was interesting. They sold everything from carpets to old clothes. At night, Jaffa has views of the Med and Tel Aviv skyline that I could stare at all night. Next time I will do it by dining out at one of Jaffa's rooftop restaurants. However, our highlight, besides seeing St. Peter's Church, was listening to a young high school couple perform some of their original music while wandering a deserted street.
FLIGHT HOME
From Tel Aviv, a taxi to the airport costs around 135 Shekels. Security begins a mile or two before entering, where they quickly look at the passengers in the car. There was no wait. Once at the airport there were huge lines to go through just for the first security check. Here you really need to show up 3 hours in advance. Passengers get questioned like you wouldn't believe. The agent was young and pretty, but hardcore; always on guard – a kid screamed about 50 yards away and her eyes were on it like there was a terrorist incident. The whole experience is surreal. It's amazing how vigilant they are, and have to be, to survive. Their intelligence is second to none.
SECURITY AT TEL AVIV AIRPORT
While flipping through my passport, she asked what I did and why I travel so much, where we stayed and if I packed my bags. They asked Natalie about her last name, origin, religious beliefs, where her parents were born, their names… everything. Once we passed through that checkpoint, we went to a screener who was rude and spoke little English. The screening was supposed to be for checked bags only and we weren't checking luggage. Three out of the four bags still went through and he made it seem like my carry on with all my electronics was too heavy and I had no choice but to check it. He and I were about to go toe to toe because I wasn't getting on that plane without taking out my valuables, especially camera and laptop. But, lucky for him, that wasn't the case. The agent on the other side of the machine said I needed to have my carryon hand screened and I went to the kiosk they pointed to. The woman scanned the bag tag the rude man put on, and said if this is hand luggage it doesn't need to be screened. But she did a quick explosives test, and I was cleared.
CHECK-IN
We checked in at business class, which was in another room much nicer and saner, with no wait. The agent was very friendly. She was happy to give us a whole row in the middle and block the middle seat once she found out we were travel writers. We went through another security check like the one at home, but shoes and coins didn't need to come off/out. Also, I didn't take my liquids out (I had about 8 mini-bottle toiletries of L'Occitane from the hotel to give to the senior citizens home.)
LOUNGE
We got a pass for the lounge which was 2 floors, well run and had plenty of seats but not many (if any) outlets to charge up. Wi-Fi was free. They offered hot soup, cold drinks and a wide selection of dessert. The bathroom was clean, but had only two stalls for men. No bottled water in there. I went to spend the last amount of Shekels I had, but didn't see anything worth it – though they had plenty of options. I cashed in 230 SH and got back $55 USD. They charged a $4 fee, so the exchange was probably a rip.
TVL-YYZ
Having an empty middle seat on El Al makes all the difference in the world. The flight was an easy 12 hours and 15 min, which was scheduled to take off at 12:50am. We pushed back 5 minutes early and were wheels-up at 1:13am. The dated 767 plays continuous movies & shows. But like the flight over, we could've rented a personal entertainment system for $15. There were Lots of kids on the plane, mostly in the bulk head – bring ear plugs or an iPod. The flight attendants weren't as friendly as the crew, but they worked hard and passed out a lot of water.
OVERALL
In short, going to Israel has not only made me a more experienced traveler but a better person. My dad was right – never judge a book by its cover.
Next week: Caribbean Cruise!
 WEB RESOURCES
 Note: This trip was sponsored in part by Israel Tourism.