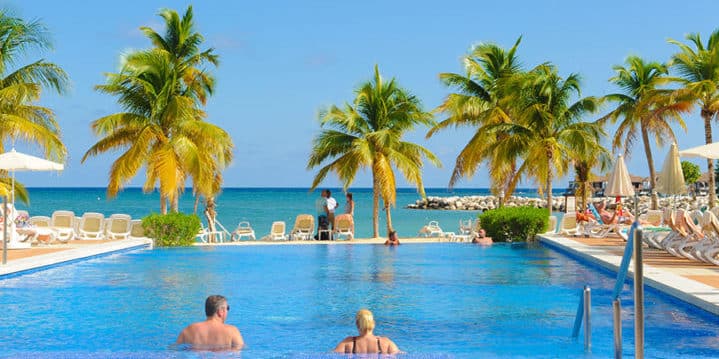 I seem to have a knack for skirting epic storms when leaving for a trip. And last month's hurricane Irma was no exception when I headed off to Jamaica for the first time. As Irma careened towards the Caribbean, every storm tracker confirmed that Jamaica would be narrowly bypassed and though it was only a couple hundred miles off shore, we barely felt hints of its presence. Other than a few swift passing clouds, and a slightly wavier-than-usual ocean we had blazing hot sun, and gentle breezes. It was surreal, given the constant news of the destruction so nearby.
My journey began with a three-and-half-hour, non-stop flight out of Philadelphia to Montego Bay. Greeting us upon arrival in front of Sangster International Airport was Willie, our handsome driver with Paradise Travels.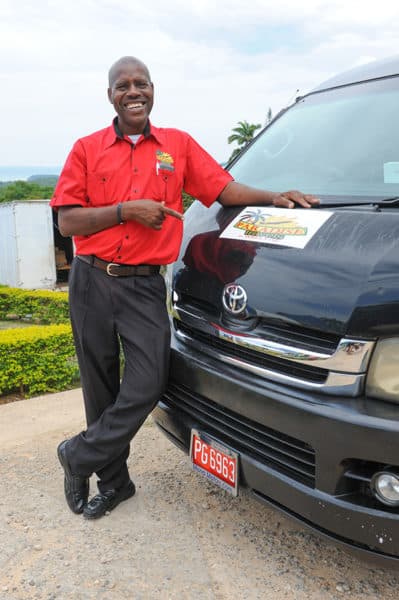 Based out of Montego Bay, the company owns a fleet ranging from luxury cars to coach buses to accommodate individuals or group travelers needing transportation throughout the island, including for excursions and chaperoned tours. The cost of hiring a 10-seater minibus like my group's begins at $150 and goes up to $450 depending on the day activities.
Part 1: Montego Bay, via the Hotel Riu Palace
About a ten-minute drive brought my media group to the Hotel Riu Palace, an all-inclusive, adults-only resort situated right on the beach and between two other Riu properties. Since it was only mid-afternoon when I arrived, there was plenty of time to change into a bathing suit and take a dip in the calm, late-summer Caribbean warm waters in any of the three infinity pools.
It's amazing how quickly one can melt that travel stress away with a rum cocktail and killer view.
My Junior Suite ($225/night in the off-season) was a bright, open, contemporary-style room with a jacuzzi in the middle and a terrace looking out over the center courtyard and beach off to the left.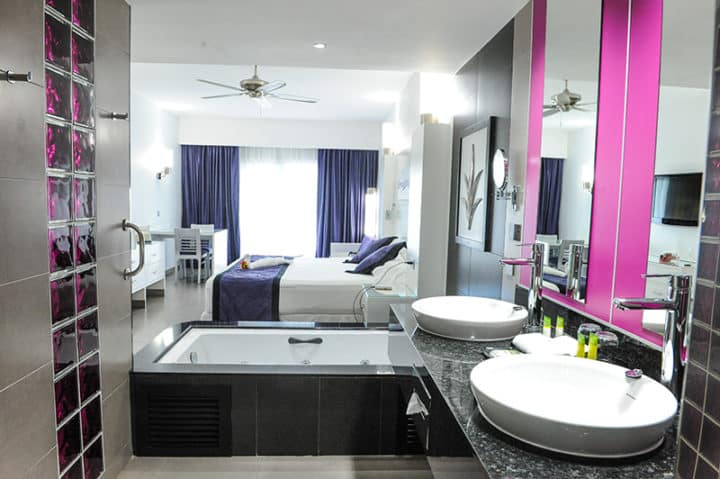 Hotel Rio Palace is an all-inclusive resort, so the wristband I was given at check-in granted me carte blanche to 24-hour room service, dining in any of the four restaurants and buffet, various activities, drinks at all bars, and even access to the adjacent Riu family properties and their offerings.
Off the property, there was plenty to do:
1. Rastafari Indigenous Village, Montego Bay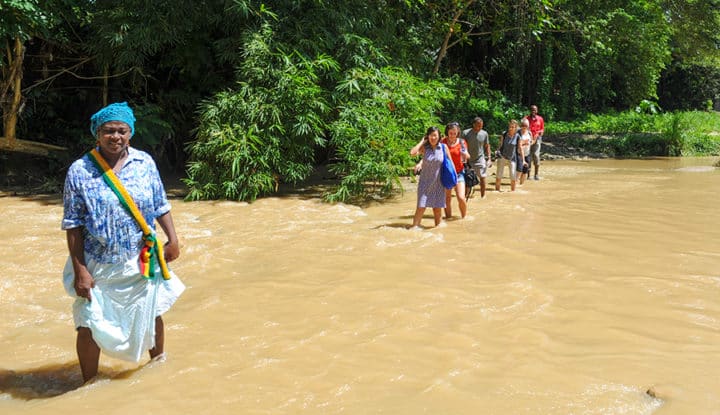 Our first excursion was a visit to the Rastafari Indigenous Village in Montego Bay. We met our guide and village resident Queen Berhan near the banks of the Montego River. The tour is so off the beaten path—there's not even an obvious entrance, nor less a sign. Queen B walked us across the river to the opposite side where the village was.
Along the way she pointed out all of the flora: the blue mahoe (Jamaica's national tree), noni and banana trees, and an endless variety of plants the residents use in their diet, for medicine, bug repellent, etc.
Our Rastafari education continued with drum carver King Toto—a very spiritual man who has been here since this living cultural center was established—and then finished up in the sacred worship space with a presentation given by First Man. He enlightened us with the origins and the guiding positivity of Rastafarianism, its love for the human family.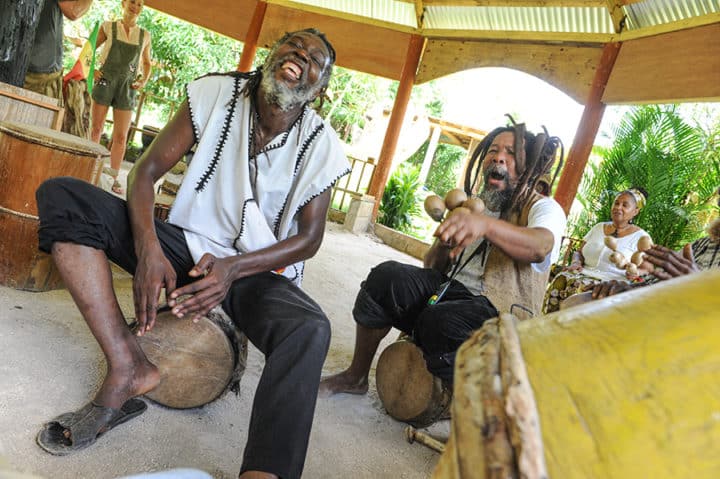 At one point, my hero—our driver Willie—saved me from a huge spider that fell at my feet from the ceiling (I didn't know it was dead).
The moment was oddly appropriate. Anansi is an African folktale character that takes the shape of a spider and at the time the spider dropped in we were getting a lesson in Rastafari folklore. I can't recommend this experience enough. Just go. A tour costs $25.
2. Scotchies for jerk chicken and pork, Montego Bay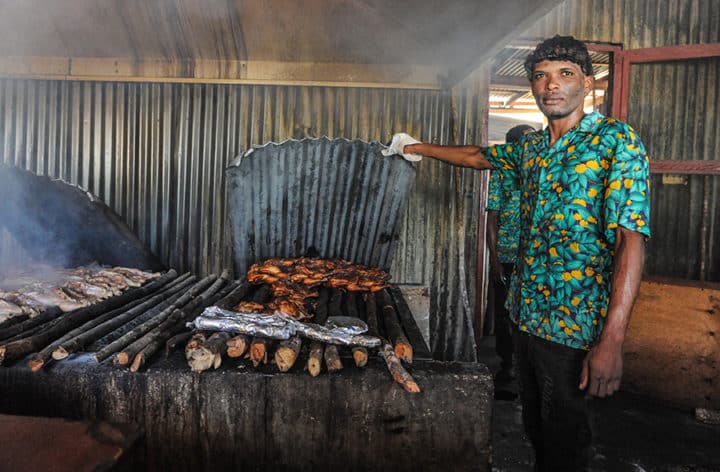 On our way back to the hotel, we stopped at Scotchies for the best jerk chicken and pork. Jerk is a slow-cook process of heating marinated meats and fish over smoldering pimento wood that originated in Jamaica when escaped slaves hiding in the Blue Mountains cooked dried meats without creating smoke, thereby avoiding detection.
3. Bioluminescence in Luminous Lagoon
Sometimes excursions don't turn out exactly the way you hoped, especially if they rely on nature. We signed up for the Glistening Waters' Luminous Lagoon boat experience. The lagoon is one of the few places on earth where natural bioluminescence occurs—where billions of microscopic organisms glow an iridescent blue when the water is moved.
We hopped aboard a packed boat of vacationers intending to swim in the light show, but unfortunately the phenomenon wasn't perceptively active on this evening.
4. Chukka Adventure Park, Good Hope
On day three, we checked out of the Riu Palace and drove to Chukka Adventure Park at Good Hope where we spent much of the day. There are several Chukka locations across the island but Good Hope offers the most activities. It wasn't the Disney-fied experience I expected. The grounds are lush and beautifully maintained. Many of the old plantation buildings have been either repurposed or kept as part of the landscape.
An Ultimate Thrill Seeker package ($149 per adult) gives you access to: ziplining, river tubing, ATV/island buggy, swimming pool, and bird aviary.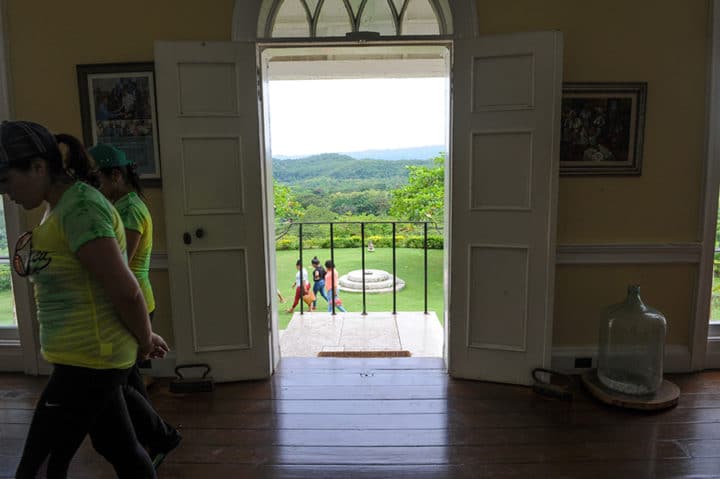 Part of that package and not to be missed is the historic great house tour: a Georgian-style plantation home built in the 1700s that offers a spectacular view of the Cockpit Country, the challenging, mountainous terrain where escaped slaves hid beyond the reach of Spanish and British colonists. The included lunch is simple, fresh and delicious: jerk chicken and rice and beans with an open bar.
5. Spontaneous fruits, side of the road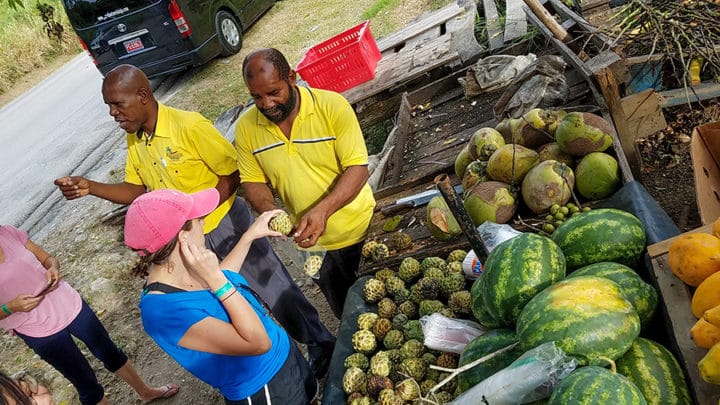 En route to Moon Palace Jamaica Grande in Ocho Rios, Willie made a stop at a roadside fruit stand so we could purchase some fruit and cane juice. These kinds of spontaneous experiences make for a more authentic visit to any country.
Part two: Ocho Rios, via the Moon Palace Jamaica Grande
Our arrival at Moon Palace in Ocho Rios was met with an efficient and welcoming security guard at the front gate. Once confirmed as registered guests, we were allowed onto the massive property. Its impressive white marble sunlit lobby speaks to the tasteful design of the 700-room luxury resort.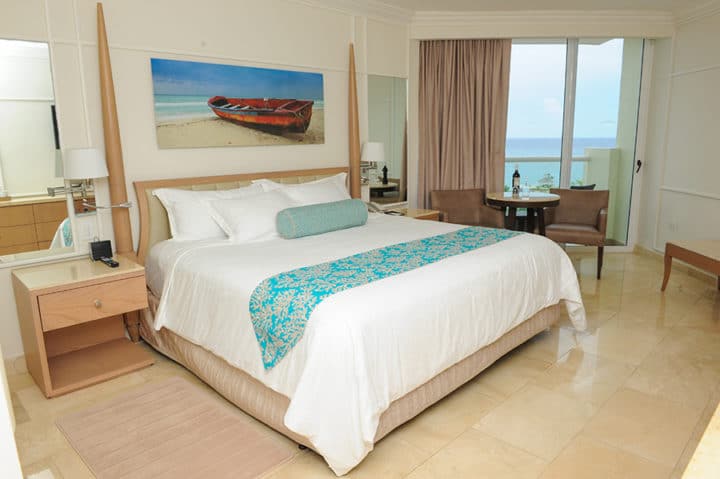 At Moon palace, all-inclusive means access to any of the five on-site restaurants, six bars, and amenities like the FlowRider Wave Simulator, water sport and scuba diving center, and more.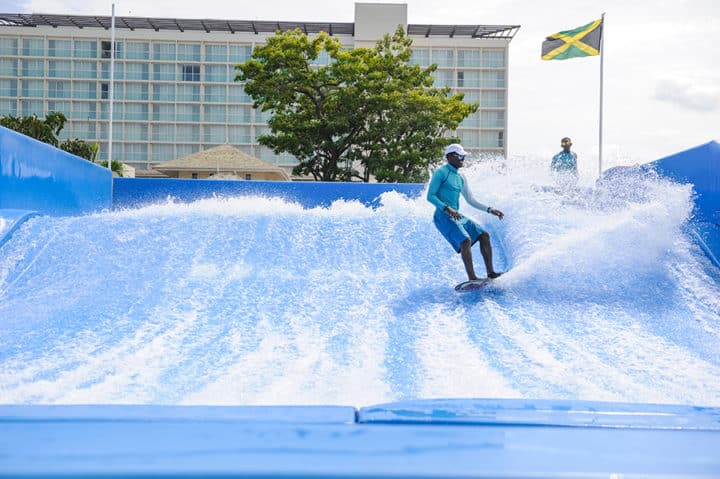 A full range of spa services is offered (not included in the all-inclusive deal) at Awe Spa including the "Water Journey," a hydrotherapy ritual I foolishly declined before my selected massage treatment. It's complimentary if paired with any spa treatment on the same day. It includes an herbal steam or sauna, an ice room, a thermal lounger, and a hot pool.
While a couple of us further explored the activities of Moon Palace, we began our last full day in Jamaica venturing beyond the iron gates and getting a little more in touch with the people of Ocho Rios. Again, the advantage of having an enthusiastic driver is being able to go off script. Among our finds:
1. Fern Gully and the "Bob Marley Tree," Ocho Rios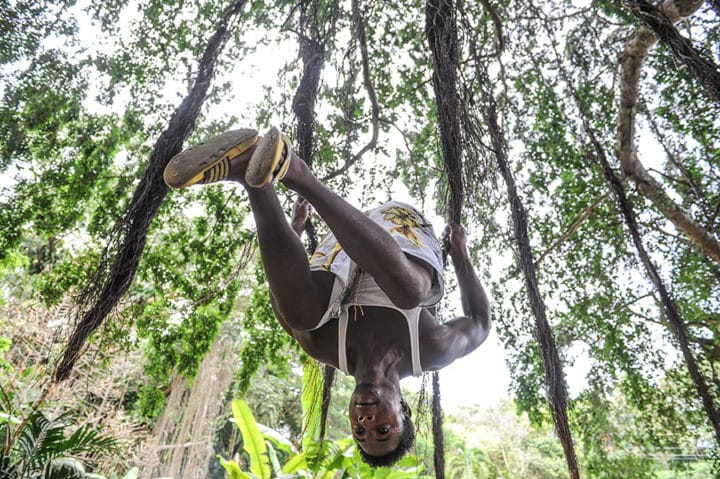 We perused a bustling street market and took a drive up Fern Gully, a winding scenic stretch of road with a high canopy of lush greenery.
2. Horseback riding in the Caribbean Sea, Ocho Rios
In keeping with the spirit of this "active outdoor"-themed trip, we signed on for horseback riding in the open water with Chukka Adventures in Ocho Rios. This two-hour ride-and-swim adventure is open to all levels of riding ability and costs $79. The word "chukka" is a polo term for cooling off sweaty horses after rigorous training. What better way to slow down and appreciate the island flora up close than with a leisurely trail ride then topping it off with a gallop through calm blue waters? It'll be a highlight of your trip.
Flying home
Checking in for our return home flight was a back-to-reality moment. The disruption caused by all of the hurricane-related cancellations in south Florida and the Caribbean was felt immediately as we entered Sangster airport. Rerouted passengers trying to return home packed the restaurants, with long lines everywhere. We found refuge at Club Mobay. A $30 voucher gets you in the door, and hopefully a seat, along with a light buffet and open bar. Well worth it.
It's a miracle that I was able to leave the island at all given the chaos on the ground, but without too much of a delay, our flight departed and in three-and-a-half hours we landed in Philly. With all the ease of travel given the circumstance, Jamaica was beginning to feel more like a dream to me. Perhaps I need to book another visit soon—just for a reality check!