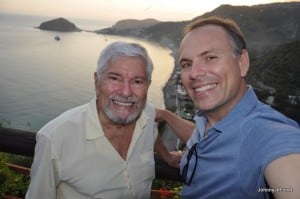 Last week I told you all about our flight to Italy and stopover in Rome in the delightful Rome Cavalieri Hotel. The following day we jumped on the hotel's free shuttle for the 30-minute ride to the city center and then hopped in a taxi to go to Rome Termini (the main train station). The seven-minute ride cost just 5.30 euros (US$7.50), and I gave the driver a 10-euro (US$14) note. When he gave me back five euros, I was shocked to realize he didn't charge for the two bags we put in his trunk. Usually, taxis in Italy charge at least 1 euro (US$1.43) per bag in the boot (trunk), which is why I always keep my carry-on on my lap.
Rail Europe Train Tickets
Rail Europe was kind enough to give me a first-class Italian rail pass. I still needed to make and pay for a reservation for myself and get my dad a ticket and a reservation. Since you need at least three working days before leaving the States to go through Rail Europe, and I waited until the last minute, I booked my reservations (and ticket for my dad) via a travel agent in our Rome hotel. The agent charged 5 euros (US$7) each to issue the ticket, which is standard for travel agents. For my reservation it was 3 euros (US$5) since I had a pass. For my dad's first-class ticket it was 29 euros (US$45) total. We settled for the IntercityPlus train, which in terms of length and price was the middle option. The fast train (Frecciarossa) cut the two-hour trip in half but was double the price. What's convenient about going through the agent is we didn't need to wait in any long lines at the train station. FYI: You can buy rail passes in advance from RailEurope.com.
Roma Termini
Roma Termini was really crowded since it was the day before Italy's Anniversary of the Republic (June 2, 1946). Since I couldn't find the car number on my ticket, I asked one of the conductors and he pointed to the carriage where there was someone sitting in my seat. To make a long story short, the place was a mess as the train was minus one first-class car. The conductor ended up telling us to go sit in second class, which irked me since I had paid for first to ensure my dad would be comfortable. I didn't even bother asking for a refund–the conductor would've laughed if he'd even pretended to understand me.
Looking back I should've paid for the fast train, which I did on the return.
Rome to Naples
Seats in the second-class car are private compartments with three seats on each side facing each other. If the train isn't full these compartments are excellent, but when it's full and the a/c isn't working then it's a long ride.
Notes and Observations from the Trip:
-The train left 15 minutes late.
-The scenery was excellent.
-The light in the WC (bathroom) didn't work, so I used my camera light.
-Air-conditioning wasn't working in our car, but it was working in first class.
-We were sitting across from a pretty Italian girl who was going to see her boyfriend in Naples. My dad broke the ice by asking her what the words "United Colors of Benetton" on her T-shirt meant. She was probably thinking, Good try old man and stop staring at my lovely chest.
-Next to me was an Italian businessman reading the paper; he didn't say a word until he got up to get off at his stop (Latina, which was the first stop). He smiled and said buongiorno (good day in Italian).
-Two Italian girls got on at Latina and I helped them with their bags. One studies English so they were stoked to talk to us on their trip down to Salerno.
-At the next stop a woman my age and her mother got on. She had the same seat number as the girls did, so they all happily squeezed in. Now we had seven people in a car for six. Gotta love Italy! The good news is they were pretty, friendly petite girls.
-The mother didn't speak English but she offered us all a bite of her tasty-smelling sandwich. We kindly declined.
-A train attendant came by a couple times with an itsy-bitsy drink cart. My dad had a double espresso, which came with a packaged croissant for 2 euros (US$2.85), and I bought two regular bottles of water for 1.50 euros (US$2.13) each.
-The signs say no smoking, but you can smell smoke since everyone hovers around the open doors taking a few quick drags at each stop along the way.
-We made about five stops (the high-speed train makes zero stops between Rome and Naples).
-When we arrived in Naples it was pouring, and I mean pouring.
-My dad thought second class was better than first because of the private compartment and the pretty girls.
Naples Train Station to the Port
Taxis were all lined up and there was a long line to get in one since there was a downpour and there were puddles everywhere. To get to Molo Beverello Port the drivers charge a flat rate of 15 euros (US$21). It's only a couple of miles or so and takes about 12 minutes. Later my local Italian friend said if you tell the driver "Tariffa Predeterminata" the fee is just 10 euros (US$14) including luggage, but it didn't work for us on the return. I was just relieved the drivers didn't speed around like Michael Schumacher wannabes like the last few times I was in Naples.
Naples Tip: Naples is still notorious for crime. Be sure to take off all your jewelry, including the fake stuff, and safeguard your belongings.
Naples to Ischia
It turns out there are multiple ferry companies operating between Ischia and the two Naples ports (the other is Mergellina, but it's farther away). Since it was raining so hard I didn't even think to look at the ferry schedule and I bought tickets (16 euros each = US$23) from the closest ticket window. After I plopped down my credit card I saw on the screen there was a ferry departing 20 minutes sooner that didn't stop in Procida. The good news is our ferry was a lot less crowded, and I got to see Procida up close for the few minutes we were there. FYI: Procida is only 10 minutes away from Ischia.
Ischia Ferries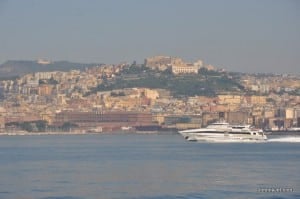 Most of the boats to Ischia are large catamarans that hold almost 300 passengers. They are similar to those servicing Nantucket, Catalina Island, and the Great Barrier Reef. Travel time for the 18-mile (30-km) jaunt is normally just 45 minutes (that's when you don't stop in Procida). There wasn't any outside seating like there is on the ferries I just mentioned, which is a bummer on a beautiful day. There is a small outdoor area in the stern where passengers can hang out, but the air is filled with exhaust fumes and the smoke of die-hard smokers. FYI: There are bathrooms onboard and they do sell drinks and snacks. The ride was rough on the way there but smooth on the return. Here's the best Ischia ferry schedule I found online.
Why Ischia?
Ischia is a volcanic island that's six miles (10 km) wide and four miles (7 km) long. It's located in the Tyrrhenian Sea between the Gulf of Gaeta and the Bay of Naples. It's famous for its warm mineral springs and incredible vistas. Ischia is the island my grandparents emigrated from in the 1920s, and I'd only visited twice previously–same for my dad. The first time for me was in 1996 with my brother Frank and cousin AJ, and the second was in 2007 with my buddy Mike. Both trips were memorable, but on the first trip I got to meet some family members for the first time… and boy, did they whip up some incredible Italian feasts!
Ischia in the Summer
The island is a popular destination in the summer, attracting mostly mainland Italians and Germans. In fact, there are so many Germans that almost all the signs and menus are in both Italian and German; many of the locals speak both languages, too. One of Ischia's best attributes is that few Americans visit. Don't get me wrong! I love my fellow citizens, just not when I'm traveling overseas. For me, being surrounded by Americans when I'm abroad takes away the mystique of foreign travel.
Good to know: Like in Capri, most hotels in Ischia are seasonal. They open in early April and close at the end of October. The population in Ischia is 70,000, but in the summer it rises to 90,000. The island gets a total of five million visitors a year. Most come just for the day.
Ischia Arrival
When we stepped off the ferry we found our hotel's driver waiting patiently for us under an umbrella to grab our bags. I arranged a two-night stay at Hotel Terme Manzi, which is 10 minutes from the port. Fittingly for our arrival the nasty storm was moving on and the rain was slowly tapering off. By the time we reached the hotel the skies were turning blue. FYI: The hotel offers complimentary shuttle service to and from the port and some local attractions, including the beach that is 765 yards away.
Good to know: Italians answer their phones "Si, pronto," meaning "yes, ready."
Hotel Terme Manzi
Hotel Terme Manzi was built in 1863 by Luigi Manzi right on top of the Gurgitiello spring, which rises up from the heart of the Ischia volcano. These waters are so famous that the Romans came to these same thermal baths in ancient times to benefit from the healing properties of the water. In 2000, the hotel was taken over by a local hotelier family. They put millions of dollars and love into the building and reopened in 2006. Today, the hotel has 61 rooms, and in late 2010 it became a member of the exclusive Relais & Châteaux association, which has 475 of the finest hotels and gourmet restaurants around the world in 55 countries.
Our Room at Hotel Terme Manzi
When I arrived with my 80-year-old father, I knew right away we were in for a treat. They were very patient with him, and their personal attention made our stay so enjoyable. Walking through the lobby of the four-story hotel felt like a mix between being in an eclectic Roman museum and my great aunt's house in California. It's very Italian and personal–the owners traveled around the world (mostly Italy) collecting unique pieces and statues to display. The rooms aren't huge but they are comfortable. Here are some of my notes and observations:
-Each floor has a different pattern of Vietri tile, which they brought over from the nearby Amalfi coast.
-Each room has a small flat-screen TV with satellite, a cozy bed, and a balcony with soundproof doors. When you open the door in the morning you hear a ton of birds and roosters.
-Rooms have a working desk and free fairly fast Internet.
-Italians are the hotel's number-one customers, followed by English and then Russians.
-Room rates start at 169 euros (US$241) a night, but Jetsetter.com had a deal for just US$135!
-When you call down to the front desk they answer the phone right away, and everyone speaks English. I asked for a cup of uncooked rice to dry out my father's wet hearing aid (it works for wet cell phones too), and it arrived at our door within minutes without question.
Hotel Terme Manzi Spa
In Ischia there are 104 different hot springs. This hotel is located where it is, and not on the water, because it's on the island's most famous spring. Therma tourism was born here and most people come to the hotel to soak in their pool (it's good for the skin) or get one of their amazing spa treatments.
When I toured around the 1,600-square-meter spa, I was amazed at all of their high-tech machines and the variety of them. They combine the most modern technology with the oldest tradition, the spring water. And there's a doctor who gives free consultations. FYI: I've been to some of the best spa hotels in the world, and this is right up there with them.
Hotel Terme Manzi Doctor
I met with their doctor, who is from Ischia and used to work at the famous Regina Isabella Hotel. He was impressed with my story of being cured of asthma by a Chinese doctor from Malaysia–he himself practices Eastern medicine, so he was familiar with the treatments I received there. He took my blood pressure and heart rate and listened to my lungs and then recommended I get a mud bath then a massage.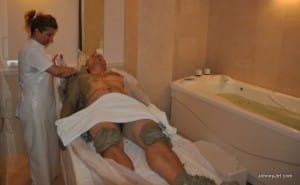 Hotel Terme Manzi Massage
That all sounded good until I was led into one of the private treatment rooms and the female therapist handed me the dreaded paper underwear. I've started to get used to these things, but here they gave me a BLEEPing thong! After I put it on I thought I was on Italy's Candid Camera–I had to try twice to make sure it wasn't on backwards. I felt more naked than I do wearing nothing. Seriously.
I walked into the treatment room where the therapist was spreading hot mineral mud with her hands. I wrapped myself in a towel just to make sure I didn't scare her like my France Club Med incident years ago. She told me to sit on the table minus the towel. I made small talk with her, telling her I had family on the island. After I told her my last name, she told me that my cousin is her father-in-law. Awkward. Now she can tell one of my cousins that I never knew about that his overweight American cousin was in town and didn't call.
She had me sit on the edge of the mud, then lay me down and spread it all over, mostly in huge clumps. She focused on my arms, back, shoulders, knees, ankles, and elbows. Then she wrapped me in plastic and put a warm sheet over me–I felt like a hot corn dog. She then left the room after she darkened it and all I could do was listen to the upbeat Italian semi-techno music playing in the background.
She came in 20 minutes later when sweat and mud was sliding down my back. I asked her to take a photo (after I put a towel over my lap), which she got her colleague Antonio to do. Then I got off the table looking like the Swamp Thing and she hosed me off in the shower like a dumb dog that was just sprayed by a skunk. For obvious reasons I tried blocking my hoohoo, but that didn't work out too well. She then had me jump in a state-of-the-art Jacuzzi tub and turned out the light again for 15 or 20 minutes while I soaked.
When she was done a beautiful young Ischiatan girl with a nose ring was waiting to escort me to the next room. I got out of the tub and they wrapped me in a blanket then left me alone, instructing me to change out of the wet thong and into a new clean dry one. The beauty led me to the treatment room and had me lie on a massage table. She left, and while I was lying on the table I was thinking this is pretty darn cool that I'm getting a massage by a beautiful Italian women rather than Antonio. Sure enough, a minute later Antonio walked in and the fantasy was quickly smashed.
Antonio lifted off my towel from my crotch and spread my legs so he could rub oil or powder (I was afraid to look) all over them. He kept saying "relax" in Italian–how the #&?! could I relax, I was thinking? I finally put my homophobic fears aside and was at peace. The massage turned out to be great. It was a mix of Swedish and Thai–he stretched all my body parts except of course not the most important one. When I was done I put on my clothes and waddled to the lobby, where I realized my bathing suit was on backwards.
Hotel Terme Manzi Pools
Besides the hotel having a state-of-the-art spa, it also has a gym and two pools. Both pools have the famous Gurgitiello spring water, and the one on the roof is where the Europeans love to lounge around on a hot day. The water in the indoor pool felt like the temperature was around 90F. It wasn't hot tub-like, but perfect for relaxing. You probably don't want to do laps in here since it's a little warm.
Hotel Terme Manzi Food
Apart from the spa, hands down the best part of the hotel is their food. Hotel Terme Manzi has three restaurants and bars and the food is exceptional including their luxurious and expansive breakfast buffet, which is included in most room rates. Not only does it have all the usual breakfast offerings, but it has some unique ones too. Where else can you get the freshest tomatoes and mozzarella or hit a table of baked goods filled with chocolate croissants, cakes, and other Italian delights? That's on top of the fresh breads and muffins they bring to the table along with the best-tasting fresh-squeezed orange juice.
Il Mosaico
The hotel's most popular restaurant is Il Mosaico. It's a two-Michelin-star restaurant, one of 36 in Italy, and it only has six tables including Nino Di Costanzo's chef's table. Nino is a really nice Ischiatan and he's basically a celebrity on the island. For lunch one day he whipped up the most outrageous looking and tasting Caprese salad. Then he made me a bowl of spaghetti pomodoro and my dad (along with the hotel's owner and PR manager) Dentice fish. It's baked in salt and there's an art to cooking it (I found this Mario Batali recipe for it from the Food Network.
Side Notes from Lunch
-For lunch and dinner they bring a beautifully packaged assortment of bread.
-The restaurant has its own water menu so customers can get bottled water from around the world. But since this is Italy I stuck with regional water.
-So I didn't have to put my camera on the table or floor, the waiters brought me over a little padded end table.
-During lunch I learned that for good luck in Italy people cross their fingers and touch iron. In Spain they do the same but touch wood.
-Ischia has 6 different city halls.
Hotel Terme Manzi Bars
Hotel Terme Manzi's three bars each serve a different type of coffee. In the lobby bar we had Giamaica Afribon, a mix of African coffee beans that was created by Giovanni Erbisti (one of Italy's premier coffee roasters).
Note: I highly recommend Hotel Terme Manzi, but you probably don't want to bring the kids. This place is geared toward adults looking for a romantic, relaxing, or rejuvenating holiday.
Nearby Attractions
Two days was way too short to spend in Ischia, but that's all the time I could afford. If we had been there for longer I would've explored more of the recommendations below.
-There's a full-service grocery store a half a block away from the hotel that sells everything at reasonable prices, like a large bottle of water for under US$1 (63 euro cents).
-The Negombo Health and Beauty Center is a natural thermal spa on the Tyrrhenian Sea surrounded by beautiful gardens. It's a 10-minute free shuttle ride from the hotel and a perfect place to unwind.
-At Fumarole Beach, not only can you swim there, but the locals cook dinner at night underneath the sand! That's right–they don't use a grill but rather the vapor from the volcano–that's how close to the surface it is!
–La Mortella Gardens, located on a volcanic gorge, has over 3,000 different species of tropical flora from around the world. The views and waterfall make it a perfect place.
-If you are there for a while or get antsy, you can make a day trip by ferry to either the island of Procida (10 minutes) or Capri (80 minutes) or even the Amalfi coast.
-10-day Weather Forecast for Ischia
Visiting the Relatives
The highlight of our trip, naturally, was visiting our relatives. My dad still has two aunts living on the island. One is 97 and the other 93 years old. The older one wasn't doing well, so that's why I left out her photo, but the 93-year-old is doing amazingly well and both my dad and she cried when they saw each other. I also got to meet a bunch of cousins that sadly I never knew; hopefully I will spend more time with them next summer. FYI: One of my cousins operates a beautiful B&B. I didn't get to see the rooms (they were full) but I saw the pool and view, which was breathtaking.
Paradise Restaurant
For dinner on our last night my cousins took us to Paradise Restaurant, which sits high above Maronti black-sand beach with multiple jaw-dropping vistas. It turns out that one of my other cousins runs and owns the restaurant, so I got to watch him make our pizzas. I was shocked that they took less than one minute to cook! And oh my gosh did they taste delicious. I'm not sure on the price since my cousin wouldn't let me pay or even see the menu, but I think they are just five euros (US$7) a for a whole pie. Gotta love Ischia!
Next Week
Next week we had back to Rome to board Seabourn's newest ship, Quest!