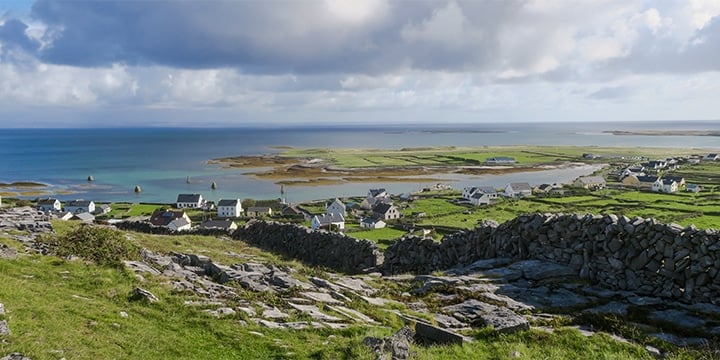 Off the western coast of Ireland are the mysterious and legendary Aran Islands, which have been inhabited since the Stone Age, around 3,000 B.C. Inishmore, the largest of the three islands, looks as if it were pulled straight out of a storybook with its lush green rolling hills and fields of limestone, which lie in stark contrast to the crystal blue waters that surround it. Whitewashed cottages are sprinkled throughout the island, often next to church ruins or ancient burial grounds, creating an ever-present link between the island's storied past and the present.
Now primarily a tourist destination for day-trippers and history buffs, Inishmore has held on to its old-world charm and natural beauty throughout the ages and is worth adding to your itinerary when exploring Galway and the west side of Ireland.
What to do
1. Dún Aonghasa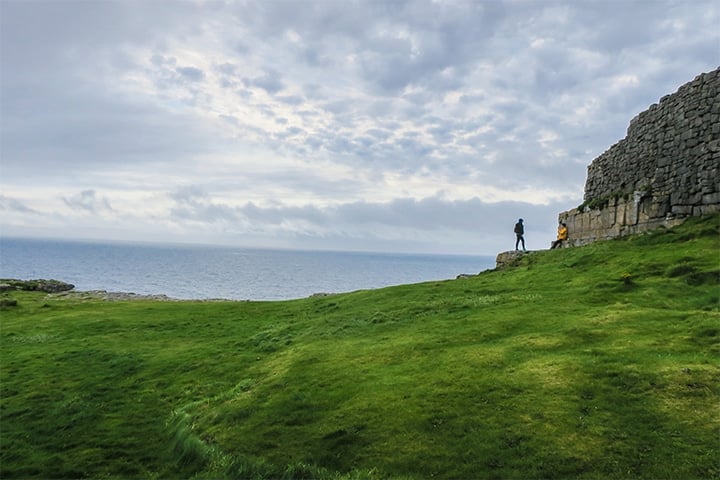 Inishmore's main attraction is Dún Aonghasa, the largest and most impressive of several prehistoric stone forts dating back to 1,100 B.C. The fort consists of six-foot-high rock walls that provided protection from invaders and the elements, but the real attractions here are the views. On top of a bluff overlooking 300-foot sheer cliffs resembling a miniature Cliffs of Moher, you can walk up all the way up to the cliffs's edge to get incredible views of the island's coastline and the crashing waves below.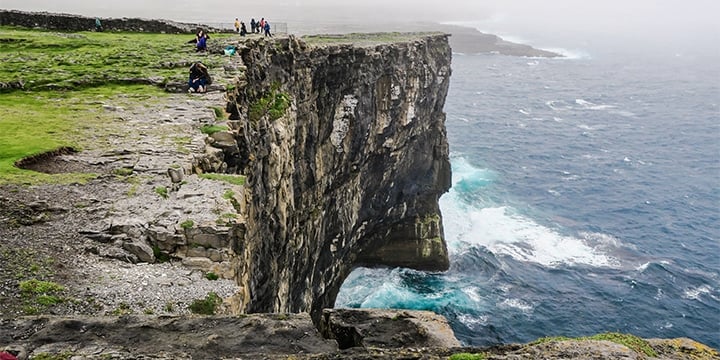 To get to Dún Aonghasa, it's a 45-minute bike ride (or ten-minute drive) from the port village of Kilronan to the main entrance and museum, and then a 20-minute hike from there to the top of the bluff. The rocks are slick and wet from the near-constant rain, so be sure to watch your step while exploring the grounds.
2. Poll na bPeist the aka "Worm Hole"
Perhaps the most intriguing and unbelievable naturally occurring attraction on Inishmore is the Worm Hole. Carved naturally from the sea over thousands of years, the Worm Hole is a near-perfect rectangle- shaped pool that ebbs and flows with the tide. The pool's shape and location within the limestone cliffs have made it a popular sight for travelers, but it became world-famous in 2014 when Red Bull held a cliff diving competition here.
Getting to the Worm Hole can be a challenge. You must follow the signs from the main road for "Poll na bPeist," which are small and not well-marked. We asked for directions from the staff at Dún Aonghasa, who told us which road to take and which house to look for (I recommend doing this). Eventually you'll come across a trailhead and begin to see a series of red-painted arrows leading you across a field of limestone. Follow these for about fifteen minutes and you'll find it. The hike is treacherous with sharp ridges, unstable rocks and a rising tide inching closer with each pounding wave. Be sure to get there before 2pm before the tide really starts to come in and the path begins to shrink. The Worm Hole is difficult to get to, but worth the trek!
3. St. Enda's Monastery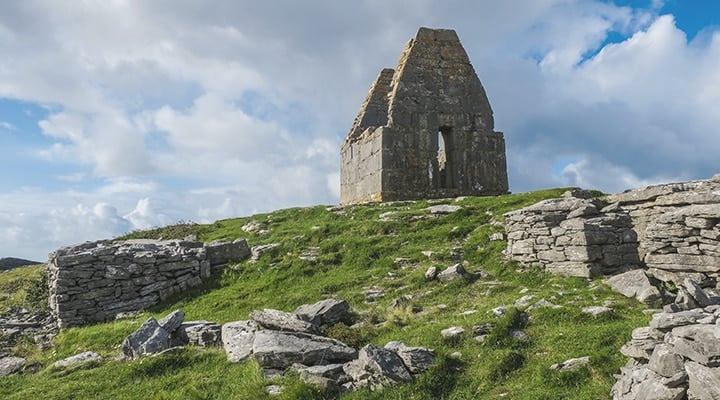 A short hike from our B&B and about 20 minutes from Kilronan is what the locals called "the smallest church in Europe." Whether or not that claim is true, St. Enda's Monastery is a beautiful place of worship built entirely from stone sometime during the 5th century. It sits on top of the highest vantage point on the island, providing 360-degree views of Inishmore, the surrounding islands, and on a clear day, the coast of Galway.
4. Joe Watty's Bar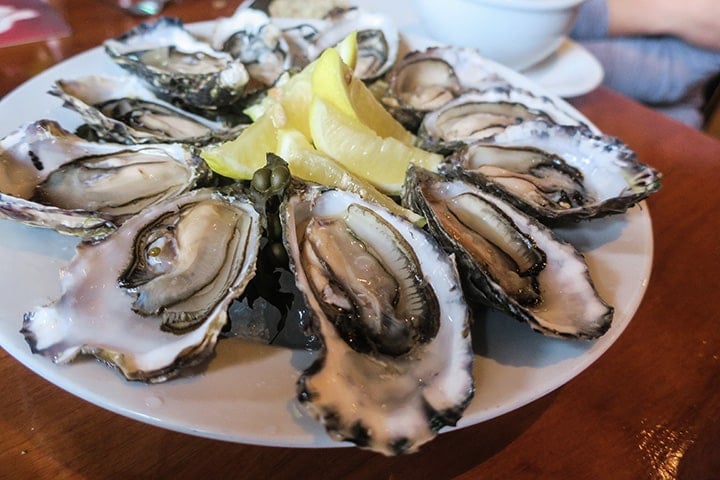 After a long day of bike riding, hiking and exploring the sights, what better way is there to unwind and relax than with a pint of Guinness, fresh-caught seafood and live music? That's exactly what you'll find at Joe Watty's Bar, in my opinion the best pub on the island. We came here for dinner and enjoyed our favorite fish & chips of the trip, steamed mussels and fresh Galway oysters while a local legend performed classic Irish folk songs. The crowd was an even mix of travelers and locals gathering over a pint, creating a vibrant and fun atmosphere. If you spend the night on the island, you have to make a stop here.
Getting there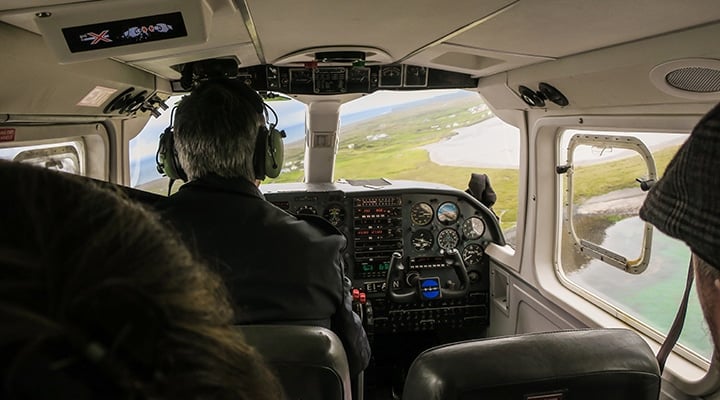 You can get to Inishmore by air or sea. Either is a good option, depending on your budget and how much time you have. The ferry leaves from the village of Rossaveel, about 30 minutes from the Galway city center. If you don't have a rental car, there's a shuttle you can take from Galway that will get you there in time. Check the ferry's website for details. The ferry takes about 40 minutes to get to Inishmore.
We chose to get there by plane using Aer Arann Islands, which I would recommend. The cost was about $100 per person roundtrip. For me, it was well-worth trading a 40-minute boat ride across the wild Atlantic for an eight-minute flight—and getting to enjoy amazing views of the islands on the plane's approach. The planes are small and take six passengers max, so if you're afraid of heights or small planes, this might not be the best choice for you.
Where to stay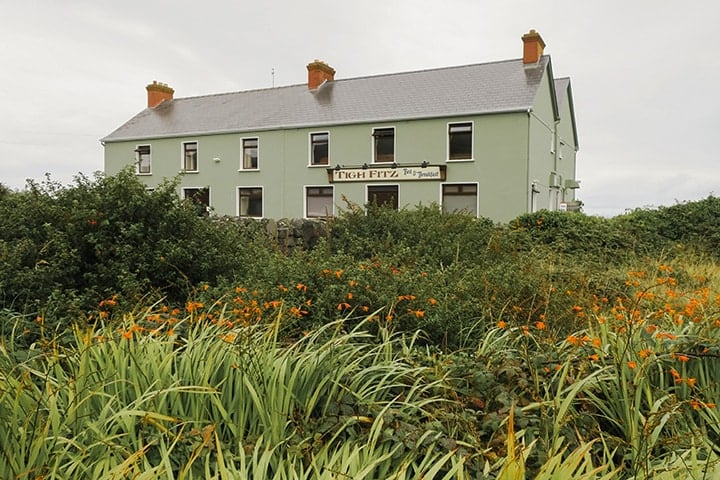 There are a number of B&Bs on the island along with glamping and camping options. We stayed at Tigh Fitz, a quaint B&B with clean and comfortable rooms, cheerful staff and excellent breakfast. We particularly liked it because of its location outside the main port village of Kilronan, away from the tourists and noise. Within walking distance of both the airport and town, we found it to be the perfect option for our needs.
How to get around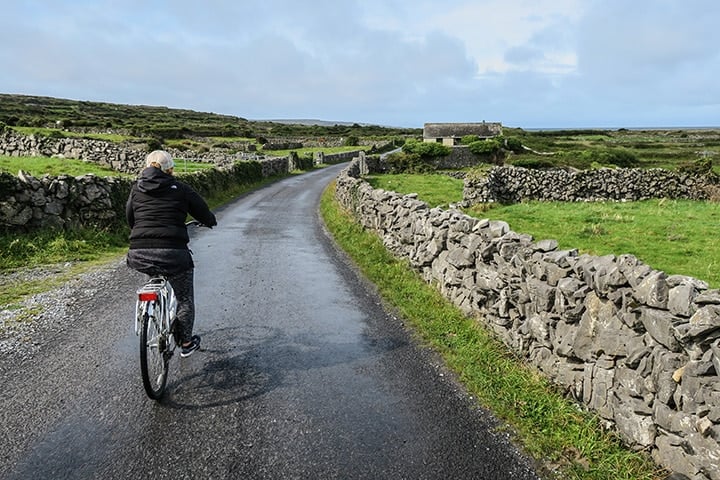 When you arrive on the island, you'll be greeted by cabs, tour vans and horse-drawn carriages (called "pony & traps"), all eager to show you the island for a fee. But the best way to see the island is on a bike to see the island's sights at your own pace and appreciate the surrounding landscapes. Inishmore is only 12 square miles and the coastal road is relatively flat, making it easy for even novice riders to get around fairly quickly. We got our bikes at 11am and were able to see almost the entire island by 4pm. Bike rental shops can be found near the ferry terminal in the main town of Kilronan. At night, once you've had a few pints and don't feel like wandering the windy streets back to your B&B, just let the bartender or waitstaff know and they'll call you a cab.
What to wear
Like most of Ireland, the weather on Inishmore is unpredictable and ranges from sunny and mild to raining and freezing in a matter of minutes. We brought ponchos in an effort to keep us dry, but that didn't work well while riding a bike, so I recommend wearing layers with a light waterproof jacket, jeans or athletic clothing with tennis shoes and some kind of hat for your island adventure.
More Irish Island Adventures