I just returned from Orlando, Florida where I attended the 47th annual IPW Conference (it used to be called Pow Wow). The U.S. Travel Association, the conference organizers, just announced that they set a record with over 6,500 attendees from more than 70 countries. This includes over 1,300 international and domestic travel buyers and 500 media from the U.S. and abroad. I was one of them!
IPW is the largest generator of travel and it's projected that it will bring in 8.8 million international visitors to the United States, $28 billion in total spending, and $4.7 billion in direct bookings to U.S. destinations over the next three years, according to Rockport Analytics. They achieve this by not hosting your typical trade show, thanks to the help from their host city, Brand USA and TravMedia.
Here are some of the highlights:
New Orleans to Orlando on Southwest
On Sunday, May 31, the official first day of the conference, my wife and I flew 82 minutes from New Orleans to Orlando on Southwest Airlines. When I booked the ticket, I was going to choose the early morning flight so I didn't have to roll the dice with afternoon thunderstorms in both New Orleans and Orlando. But since it was my birthday and didn't want to get up early to race to the airport, I rolled the dice. Of course, I rolled snake eyes as we sat on the Orlando runway for over an hour, waiting for the skies to clear. However, it was my first time flying Southwest in over a year and I'd almost forgotten how pleasant it is to fly with them.
Orlando Airport to Hotel
The organizers made a deal with Mears Shuttle to give attendees a $21 ride from the airport to the host hotels but after standing in their line with unfriendly/unhelpful agents, I knocked some sense back into myself. Instead of waiting for a shuttle that's not going to save me much money, I rightly jumped in a taxi. The ride from the airport to the Hard Rock Hotel was $49 and that didn't include the tip (TIP: If you want to include a tip when paying by credit card, tell the driver in advance). On the way back to the airport, your best bet is to take Uber X as it only cost $21 (including tip), the drivers are so much friendlier and the cars are cleaner. Here's more on Uber and how to get $20 off your first ride. Unfortunately, Mears has a monopoly on Orlando so Uber isn't allowed to pick up from the airport but you can take a taxi to the closest hotel or restaurant and then order an Uber.
Hard Rock Hotel Orlando
I was fortunate to be put up in the 650-room Hard Rock Hotel. It's managed by Loews Hotels and they do a fantastic job as it's clean, family friendly and fun. The rooms all have modern amenities like an MP3 docking station and iHome clock radio, HD flat panel TV, a mini refrigerator and a Keurig coffee maker. Basic wireless internet access is free and it was fast enough for me to stream videos. I also loved the Hard Rock art pieces like the bathroom piece made of drumsticks (see photo gallery below) and the mirror that shows the heights of several rock stars like Snoop Dogg (6' 4") and Madonna (5'4"). Other features that I loved were the comfortable bed and pillows and proximity to Universal Studios. What I didn't like was hearing the elevator button ding all day. Tip: Ask for a room away from the elevator. I also didn't like that the elevator close button doesn't work so for folks who are always in a hurry (like me), you'll just have to wait the 20+ seconds that feel like an eternity.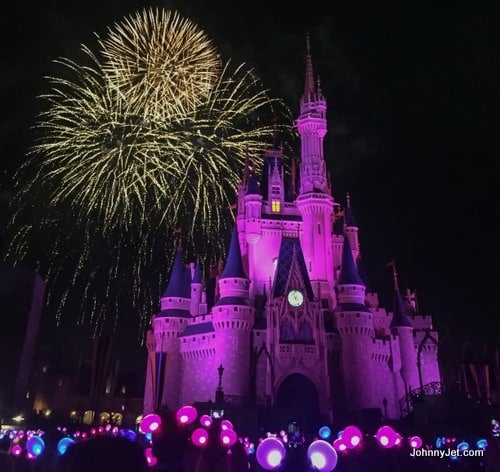 Disney World's Magic Kingdom
The opening night party was at Disney World's Magic Kingdom. The bus ride from the hotel took about 25 minutes and it was shocking that Disney closed down the entire park so they could host the IPW party. I don't think too many people can say they were able to attend a private Disney World party on their birthday! It was surreal not waiting in line for rides, not paying for food, drinks, photos or ice cream! And to top it all off, Disney's fireworks and light show were a huge hit.
Orange County Convention Center
The next morning, I was up early so I could attend Brand USA's press conference. I missed most of it since I just missed the 7:45 shuttle and the ride to the Orange County Convention Center took longer than I was told by a friend; it takes a good 25 minutes in morning traffic. However, I was able to partake in the media marketplace and the reverse media marketplace, which was great to get all kinds of information for future stories and new travel tips for my newsletters. The coolest was meeting astronaut Tom Jones who has been to space four times and has done three spacewalks!
The Band Foreigner
At lunch, we heard speeches from the host city and by U.S. Travel President Roger Dow and U.S. Secretary of Commerce Penny Pritzker. Afterwards, IPW hired the band Foreigner to play and they rocked it. Before their set started, most people weren't too enthusiastic or claimed they'd never even heard of them. But after a few songs, practically everyone got out of their seats and rushed the stage to sing along to songs they all knew but I suppose didn't realize.
That night, Sea World was the party host and closed down the park for attendees but I couldn't bring myself to attend after seeing the documentary Blackfish. I think Mother Nature doesn't like them either as she pretty much made sure the party was a flop; I heard it rained a ridiculous amount and lightening made it a miserable night. I stayed in the hotel to have dinner with friends and catch up on my work.
Broadway Shows in Orlando
The following day, I attended more press conferences in the morning and had tons of meetings in the exhibition hall after lunch. Lunch was another real treat as the sponsor NYC & Company flew in 150 Broadway stars from New York on their off day so they could give the audience a taste of their hit shows. We all saw parts of Book of Mormon, Aladdin, Lion King, Matilda, On The Town and a preview of Fiddler on the Roof. They also had David Hyde Pierce from Frasier as the MC.
Tuesday Night
Tuesday night, IPW doesn't schedule anything so all the big brands can throw private parties and dinners. I attended Minnesota's cocktail party in the Hard Rock Hotel, which featured a Prince look- (and sound!)-alike. Did you know that Prince is from Minnesota? Then I had dinner at Todd English's Bluezoo in The Walt Disney World Swan and Dolphin with MGM Resorts and Bonotel. I was supposed to attend the Fort Worth and San Francisco parties but by the time dinner ended, I looked at my watch and it was 11:30pm! So I just went with the crowd into the Starwood party for a few minutes before jumping in an Uber back to my hotel.
Wednesday
Wednesday was the last day of IPW and I missed it as I had to fly up to New York for a Carnival press conference. But I heard the closing party at Universal Studios was a ton of fun so I was sorry I missed it. Hopefully, I will make next year's closing party which is going to be in the city of New Orleans, followed by Washington, D.C. in 2017; Denver, Colorado in 2018; Anaheim, California in 2019; and Las Vegas, Nevada in 2020.
Hard Rock Hotel to MCO Airport
To get to MCO Airport, I took an Uber X, which only cost $20.36 (including tip). My driver was cool and his car was clean. I just wished they allowed Uber drivers to pick up from the airport.