Founder of OhThePeopleYouMeet.com, Michaela Guzy's ultimate guide for Cape Town, South Africa and about a 2-hour drive in any direction, for:

1.     ACCOMMODATIONS 
2.     LOCAL DESIGNERS (shopping)
3.     DINGING/OUT&ABOUT
4.     OUTDOOR ACTIVITIES, DRIVES & WINERIES
5.     GIVING BACK and CULTURAL IMMERSION
 2. ACCOMMODATIONS
a. Cape Grace, Cape Town/waterfront
b. One&Only, Cape Town/waterfront
c. Kensington Place, Cape Town/top of Kloof Road
d. Dock House/waterfront
e. Grootbos Nature Reserve/Western Cape
f. LeQuartier Francias & Delicious/Franschhoek
2.     SHOPPING
a.  The Oculus has all the funky bespoke eye-wear you could ever hope for.  Owner, Pieter, pictured above, helped me in a bind when I ran out of contacts on my trip (don't ask).  He even went the extra mile when I fell in love with not just one, but two pairs of funky eye glasses and had my prescription filled in the same day.   He carries international eye brands such as Woodstone, which actually makes their frames completely of wood (yes, including the screws).
b.  Loading Bay, Cape Town.  Cafe, Comfort Food and Apparel for men.  They've just added a small women's collection too.  International "casual" brands like Acne and a few local designers peppered in.
c.  Ebony, Franschhoek Square, Huguenot Street, Franschhoek (+27 21 876 4427): For fabulous modern African themed home furnishings and art.
d.  Merchants, Cape Town.  Curio shop featuring locals designers.  Jewelry, women's wear, men's sweatshirts and T's, trinkets and amazing hand bags with local touches (like horn).
e.  KLuK CGDT, Cape Town.  South African designer has shops in Cape Town and Joburg.  Pret-a-porter, bridal, couture and homeware.  Below is a lovely store manager modeling one of the designer's pieces.
3.     DINING/OUT & ABOUT
DINING:
a. Test Kitchen, Cape Town.  Contemporary, cool and a tad expensive.  Chef Luke Dale-Roberts mixes contemporary South African cuisine with tapas and Asian fusion.  Worth a dinner.  Bar seating to watch the chef in action is also an option.
b. Paranga, Camps Bay, Cape Town.  Lighter fare.  Outdoor seating, overlooking the beach.  Low-key during the winter and packed during summer months.
c. Ryan's Kitchen, Franschhoek.  Every table is a chef's table and the cuisine is local South African with flair.  The African tasting menu was delicious and dinner for two with a bottle of wine from a nearby winery was approximately $100 USD for two people.
d. Bombay Bicycle Club, Cape Town.  May very well be the funkiest restaurant I've ever dined in.  Self-proclaimed to be the oldest gentleman's club in the world.  The craziest decorations, combination of food and people you could ever imagine throwing together.  There is some Italian, Indian, Moroccan and Spanish dishes.  Other diners were wearing masks and funky hats.  A lively experience.
e. Overature, Hidden valley wine farm.  Perfect for a picturesque lunch, pre-wine tasting with views of Table Mountain, Stellenbosch valley (for more great wines) and Robben Island.  All about local produce paired with local wines–lunch with wine pairing starts at about $60 USD.
f. Ragu, Cape Town. an Italian Campari Lounge.  Food, music & fashion.  Run by a hip couple from Milano.  Dine and drink in this funky spot, and after a couple drinks, purchase fitted flannel shirts with leather trim or vintage sweatshirts.
g. Bizerca Bistro, Cape Town.  French inspired menu as chef Laurent hails from France.  However, he and his wife have fused the traditional French fare to include inspirations from both Australia and South Africa where they have lived and cooked.
h. Willoughbies, Cape Town.  Located Cape Town Fish Market on the waterfront.  Lively and a tad touristy.  Has great fish, sushi and a Teppanyaki Grill.  Informal.
i. 95 Keerom, Cape Town.  Milanese Italian, fancy.  By Giorgio Nava.  Circa 1682, the building housed the stables and slave quarters of the Company Gardens. Much of the original structure was kept during the restoration process.
j. Carne, Cape Town also by Giorgio Nava, Carne, opened just across the street to sister 95 Keerom.  Also Italian, but dedicated strictly to meat as the name implies.
k. Nelson's Eye, Cape Town.  Old school steak house and a funky local atmosphere.
l. Bihara, Cape Town.  Started by London born, Diana Ross who was craving good Indian.  Bihara is where north meets south in a spicy fusion of North Indian dishes.
m. Royal Eatery, Cape Town.  Funky, buzzy atmosphere on Long Street, so good for a pre-game on weekend night.  Over 50 types of gourmet burgers.
n.  The Tasting Room, Franschhoek.  A part of LeQuartier Francias.  French fusion and seafood.  Anywhere from eight to twelve courses, so get ready to loosen your belt after a day of wine tasting.  Atmosphere is elegant with pops of color.  Is on the expensive side, but you won't walk away hungry.
o.  Hemelhuijs, Cape Town.  Delicious juices, baked goods and healthy food.  Good for a quick bite or sipping mixed cocktails on the patio.  Owner also features funky homeware, as demonstrated by the picture made of bread above.
p.  Skinny Legs & All Luxury Cafe, Cape Town.  Perfect for a quick bite for lunch, coffee or takeaway.
q.  Cafeen, Hartfield Village, Cape Town. Another great spot for a relaxed lunch, coffee and delicious pastries. Love the carrot cake with cream cheese frosting.  Owners Cindy and Craig also run a B&B called Parks Edge.
OUT AND ABOUT:
a. The Kimberly Hotel, Cape Town.  Think hipster bar in a backpacker hotel.  Cheap drinks and good crowd.
b. Orphanage, Cape Town. Mixed concoctions and morsels.  Pricey, trendy but fun vibe.  Who would have thought a bar has a conscience?  Orphanage supports the St. Francis Children's Home for boys which was started in the early 1900's on Bree Street (where the bar is located) where orphaned children would congregate.
c. Asoka, Cape Town.  Restaurant (Asian and tapas) and cocktail bar.  Live jazz.  Open late.  Good crowd.
d. The Reserve, Cape Town.  Very posh club.  Reservations recommended.
e.Jade, Green Point, Cape Town.  Champagne bar and lounge.  Super chic locals frequent this lounge turned club– great DJs later in the evening.  Resies would be handy.
f.Power & Glory, Cape Town.  It's a bar.  They serve food too.  Coffee during the day.  A few homeless folks outside, but somehow funky rustic inside.  Cement floors, shared tables and a jukebox.  Think Lower East Side Manhattan hipsters.
4.     OUTDOOR ACTIVITIES, DRIVES & WINERIES
a. The Penguin colony at Boulders:  You can find the penguins just a short drive from Cape Town. Stop in Simon's Town for lunch on the water beforehand and head down to the Cape of Good Hope afterwards.  Watch sunset at Scarbourgh.  I was pleased to learn that the penguins are formerly referred to as "Jackass Penguins" because of their donkey-like call.  However, it was learned that penguins in South America also produce the same call, so they've been renamed as African Penguins.  Doesn't have the same ring, does it?
b. Hiking Lion's Head and Table Mountain:  There are various routes and levels of difficulty.  If you are a skilled climber and familiar with the area, you may be able to go off the beaten path, however, I would highly suggest the professional guide I used as a) I took a less traveled and more challenging route, b) I learned a lot about the local wildlife, flora & fauna and about the history of Cape Town and c) did it all without getting lost.  There is also the option to take the cable car up and down Table Mountain—there are great views of the city, a restaurant and gift shop up top.
c. Hermanus is normally known to whale enthusiasts as "the place to go" for the migration, but alas I wasn't there in-season (May-December if you are a whale watcher).  Regardless, suggest visiting the wineries out that way.  Recommend tastings in the Hemel en Aarde Valley– Hamilton Russell, Creation Wines, Raka, Bouchard Finlayson, Waterford are some favorites.  You can also take a hike along the mountain trails in Fernkloof Nature Reserve, which are well marked and easy to follow.  Or the coastal trails.
And if you are lucky enough to stay at Grootbos Nature Reserve just up the road, you can hike all over the Fynbos.  Michael, the owner of Grootbos Nature Reserve, started the Green Futures project which has been running since 2003.  He is currently sponsoring twelve students.  I highly suggest a visit to see the gardens and meet the students.The program is meant to teach practical life skills where students are helped through various subjects such as their learners and drivers license test, basic banking and budgeting, business skills and health issues. Each day the college provides students with a hearty breakfast and then it's on with the theory sessions until lunch.
The curriculum is multidisciplinary, focusing on environmental and conservation issues as well as horticulture and landscaping techniques. Each week students learn a new group of indigenous plants, their growth requirements and how to use them in a garden. They explore all aspects of growing and caring for fynbos plants and their use in garden layout and design. The focus isn't only on fynbos but also to provide students with useful knowledge in growing and caring for vegetables and fruit trees and care and maintenance of a variety of machinery and equipment.  Regular visits to botanical gardens, nature reserves and other places of interest add an extra element of fun and learning to the Green Futures program.
d. Kirstenbosch National Botanical Garden, Cape Town.  I ran out of time, but heard they are some of the most beautiful gardens in all of Africa.  Epic views of the city and Table Mountain.
e.  The Constantia wine region is about 15km south of Cape Town.  Fav wineries in the region include:  Groot Constantia, Buitenverwachting, Klein Constantia, Constantia Uitsig and Steenberg Estate.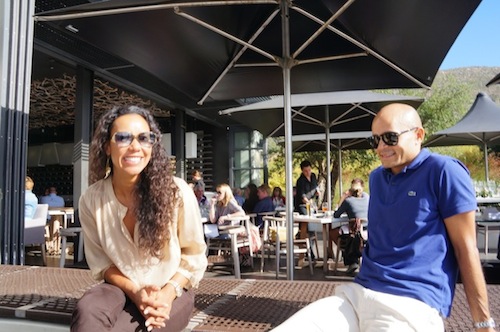 f.  The Franschhoek region: is about a two hour drive from Cape Town, you could head up to the Mont Rochelle Nature Reserve and do the walk up to the look out point.  On the way back down, do a lunch at La Petit Ferme before heading back into the valley for wine tasting – Stony Brook Vineyards, Graham Beck, La Motte, Glenwood, Moreson and Rickety Bridge are some favorites here.  A bit further out is L'Ormarins which is also very good.  You can also rent bikes for your wine estate tour.  Be mindful of baboons on the road and a few hills after a few glasses of wine.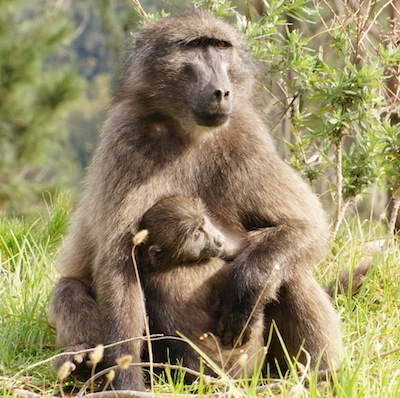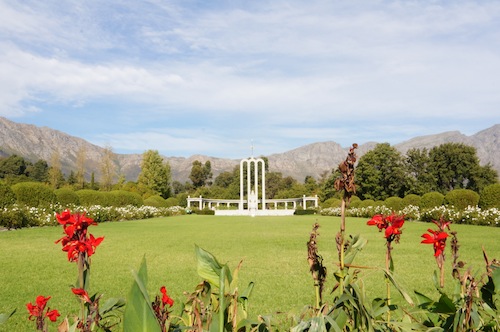 g.  Great White Cage Shark Diving,  Klienbaai, Western Cape:  Still can't believe I did it, but glad I tried it once.  Don't think this will be a repeat performance.  I went with a company called Marine Dynamics who in addition to a friendly staff and great experience,  gives back to marine conservation.  They also run whale watching trips in season (May-December).
6.  GIVING BACK and CULTURAL IMMERSION 
Uthando (LOVE) South Africa, Cape Town:  I had the distinct pleasure of meeting James Fernie, founder of Uthando,  a non-profit organization and unique tourism initiative.  Uthando raises funds and awareness many projects across South Africa.  Unfortunately we didn't have time visit them all, so James brought me to visit three of the projects in the townships surrounding Cape Town.  I have included a few shots of those I visited below.
Uthando hosted a benefit concert in 2011 and most of the projects performed, below are links to You Tube videos of the various project performances.
TO BOOK: Philanthropic cultural visits can be arranged in advance through the Uthando website:  www.uthandosa.org/.  And if you are interested in donating items, check out: "Pack for a Cause" to see what is needed.
Neighborhood Old Age Homes (NOAH):  A community center and medical care facility for the elderly of the surrounding townships.  James is currently working with some of high school age kids to help transcribe the NOAH participants stories about living through Apartheid.
RESOURCES:
Hout Bay Music Project
Classic Music
Happy Feet Youth Development Project
Gumboot Dancing
Amy Biehl Foundation:  I was sorry I didn't get to visit this project.  Amy's story may be the most touching I've heard.  While she was murdered, her parents have chosen to forgive and continue the mission which Amy started in South Africa.
Township Jive Dance
Thokozani Brothers Choir Group
More Things to Do in Cape Town
Unrelated to Uthando, another great charitable organization is Camissa Tours:  a township based township tourism company that has contacts with various grass root aids orphanages and other valuable projects.