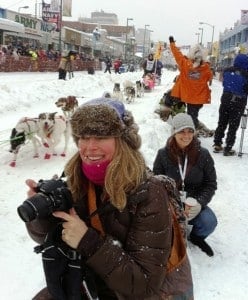 I arrived in Anchorage via Alaska Air (my new favorite airline!) on March 2, 2012, on the eve of the ceremonial start of the Iditarod. I knew a bit about the race, but I was about to find myself surrounded by mushers, some whose legendary family members had won in the past, some with very little Iditarod experience, and sled dogs – all raring to go, barking like mad, right in the heart of downtown !
Anchorage
The Iditarod started in 1973 after Joe Reddington and others were talking in a bar about commemorating the sled dogs that took the diphtheria vaccine from Anchorage to Nome to thwart an outbreak in back in 1925. (There are no roads between the two cities).
2012 has been a record breaking year for snowfall. At the time of this posting, they needed only 5 inches to record the most snowfall ever in a season. In Alaska, 151 inches mean 151 inches – nothing melts in the cold temperatures.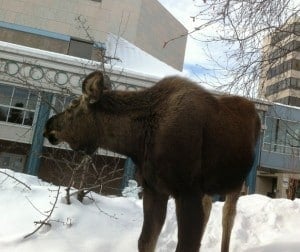 It was really cool (no pun intended!) being there the night before the big race. I was having dinner with four other journalists, two publicists, and James Milton from Visit Anchorage atop the Captain Cook Hotel in their top floor restaurant.
The Crow's Nest is one of the best restaurants in Anchorage, known for its seafood and spectacular view.  From the 18th floor, we could watch the tractors bringing in snow to cover 4th Avenue, where the Iditarod start would take place. I never saw city vehicles bring in snow before!
The Whale's Tale lounge on the ground floor level of The Captain Cook hotel was a favorite hangout spot, where there are more than forty wines by the glass, self served from argon gas dispensers and ready for tasting. Cards are sold by the bartender, and at the bar, there are iPads to play with if you happen to go there alone, or just need some info quickly. I really got a kick out of being carded! Most establishments will ask to see your identification!
It was Friday night, and it happened to be First Friday, an art event celebrating local talent, which takes place every month. After our delicious dinner of pacific oysters, king crab cakes, and fusion style halibut, we walked around the historic part of Anchorage – downtown (not midtown) and wandered into shops that had set up art on their walls and/or musicians in their windows. We also stopped by the Anchorage museum which is worth at least an entire afternoon, to their award winning restaurant "Muse" and watched a local band. The streets of Anchorage were not crowded; it was just above 20 degrees and it was snowing. Because the city is on the harbor, I could feel the cold wind chill, but it was not as cold as I had thought.
I particularly loved the store Octopus Ink  on G Street, which was displaying encaustic wax paintings by a local artist and had an accordion punk band playing in the window. Many people strolled in and out. They sell T-shirts with original silk screen designs, my favorite – octopus tentacles actually made with …octopus ink! Downtown has a Seattle hippie vibe and it is not uncommon to see brightly died hair, dreadlocks and piercings. There are also many native people – Eskimo, Tlingit, Inupiaq, Aleutian, Athabascan, and others, whom I learned about at the outstanding Smithsonian exhibit at The Anchorage Museum.
Across the street from Octopus Ink is another favorite – Modern Dwellers, a chocolate shop that serves the thick dark chocolate drink preferred by French Queen Marie Antoinette. Or you can have Mayan Hot chocolate, their special recipe with three types of chilies added to the dark chocolate (with steamed milk if you like!). Another unusual specialty is truffles made with smoked salmon. I was not game to try this but new friend James insisted, and I had to admit, the salty, smoky taste with the rich dark chocolate worked!
The morning of the Iditarod, before the start, I visited 6th Avenue Outfitters to gear up and get new inner linings for my almost 30 year old Sorel boots, down mittens and hand warmers. I can't thank them enough!
4th Avenue was buzzing with tons of people lining the side of the snowy street, and people selling reindeer hot dogs. The start is at exactly 10 am and the musher's took off in an order predetermined by lottery. Coincidentally, brothers – Ryan Reddington and Ray Reddington, Jr. were first and last (67th) (grandsons of the founder-Joe). Ryan did not finish this race but his brother placed sixth!
I interviewed Ryan Reddington's dog handler, Miriam Osredkar while she petted sled dog Pacman. She told me all dogs have EKG's done before the race and there are vets along the route to make sure they are doing OK. The dogs train all year for this and I personally witnessed that they love to race.
Our next stop was to be Finger Lake, specifically Winter Lake Lodge  to view the second day of the Iditarod race. We were going to fly out there in a WWII Beaver plane from Rust's Flying Services, but unfortunately, due to the constant snowfall, we were rerouted to Talkeetna. This ended up being a good thing because it gave us a much needed extra day in the great sleepy town which the TV show "Northern Exposure" was based on. – Next week's article!
And if you haven't heard enough about Anchorage, my last article on Winter in Alaska ends up back here with two fun nights at the haunted Historic Anchorage Hotel!
This trip was sponsored by Visit Anchorage and the State of Alaska.
About the Author
Hi, I am Georgette, a writer and artist based in Connecticut and Vermont. I am also Johnny Jet's older sister, who quite possibly ignited his first spark of interest in traveling to exotic places, when at the impressionable age of 14, he saw my two-week trip to Australia last four years! Whether skiing in the mountains, snorkeling in the tropics, or exploring faraway cities, I am always game for traveling and the privilege of writing for my baby brother's website JohnnyJet.com. Of course, coming home to my husband Cam, our dog Baci, and my cat Ace – is great, too! Visit my website at www.georgettepaintings.com.
Save
Save