This is the third in a three-part series about Cynthia Cunniff's tour through Portugal and Southern Spain with Insight Vacations. Check out the first story, on Lisbon, here and the second, on Évora, Portugal, here. Cynthia, on Insight Vacations:

"My trip through Iberia can planned on your own, but I highly advise looking into Insight Vacations if you want to take the biggest, most robust bite out of Portugal and Southern Spain you can in limited vacation time. Their expertise on the geography, use of local guides and ability to connect travelers to the everyday people of Iberia is uncommon in a tour.

Through Iberia alone Insight offers 10 different trips on luxury Mercedes buses with Wi-Fi, reclining seats that also adjust sideways and a restroom below seating level (because no one wants to sit next that). The tours are ever-morphing to accommodate feedback from clients and the changing desires of travelers in general. I was once a naysayer, but have converted to this form of travel that's a big bang for the buck as well—I added up the individual cost per day to plan a trip like this on my own and it was almost double the cost of a luxury guided Insight tour."
Seville
My Insight Vacations tour was in the autumn—a time when the chestnut trees in Seville, Spain are hues of gold as they go from bearing fruit into dormancy and the weather is pleasantt. Seville is a walkable city filled with parks, orange trees, mosaics, and ornate metal work. The locals congregate outside on park benches, around fountains or at sidewalk cafés sharing carafes of wine and tapas.
Our hotel, Melia, was set in a neighborhood close to the University of Seville. The area has an energy I've felt in many college towns, but a walk through the university's grand gates and the massive medieval main doors of the 510-year-old school leads to somber shadowy ancient stone halls with proscenium arches and winding marble staircases of another time.
Tip: The area around the university is a unique place to find souvenirs: T-shirts, cups, shot glasses, etc. with the emblem of the university and the various colleges and sports teams (even quidditch). 
Later in the afternoon, our local guide led us through a labyrinth of narrow walking streets in the Santa Cruz Quarter, with everyday shops, tourist traps and elaborate eye-popping tiled and frescoed archways leading to gated courtyard gardens. This part of Seville is stunning in its unique artistic details and the way it embraces socializing through its well-thought-out areas for congregation.
The areas are different at every turn – Enjoy the company of the neighborhood cat under a two-hundred-year-old elm, meet friends on a bench in a busy square, bask in the gentle autumn sun as you stroll to your next destination. It's metropolitan living without the non-stop citified rush. Our walk ended at the Alcázar and the 15th-century Seville Cathedral, a massive nod to Gothic architecture and the grandiosity of the Catholic Church. Simply hanging out in the area you'll find market stalls with handmade items, the Alcázar palace and its magnificent gardens, horse carriages that look like they just trotted out of a history book and lots of people-watching. There are plenty of places to grab a snack, sit on a bench and take it all in.
Tip: The palace and gardens are part of the setting of the city of Dorne in season 5 of Game of Thrones.
Day trip: Jamones Eíriz, one hour and 15 minutes from Seville
On the road from Portugal to Seville, we made a stop at the family-owned Jamones Eíriz in the village of Corteconcepción. Here we had a one-on-one experience with black Iberian pigs and the Eíriz family, who have created world-renowned pork delicacies for 200 years. We were permitted to stroll out into the fields where the pigs grazed while their keeper, Manolo Eíriz, used a shepherd's rod to shake the nuts from ancient trees canopied above us.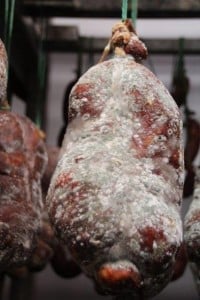 His brother, Domingo, told us about the history and process of the ancient art of raising the pigs and creating the world-famous pata negra. As the pigs gain weight and become less agile, they have a tendency to feel vulnerable and follow Manolo around for protection. This is free-range at its finest and up to their final moments, the pigs are pampered and respected.
We toured the production facilities, full of sweating ham (a sign of highest-quality fat content) and ended up in a garden courtyard where other family members served us unforgettable sausage, cheese and wine with a warmth that can only come from genuine homespun hospitality. It wasn't the last we saw of pata negra. Throughout the Iberian tour we stopped at restaurants ranging from casual to the utmost elegant, each serving it with their own delicious flair.
Day trip: Córdoba, an hour and 35 minutes from Seville
A little over 1 ½ hours from Seville, Cordoba is well worth the day trip through the rustic valley of Guadalquivir. Cordoba is heavily geared toward tourism, but the mosque/cathedral makes every minute worth the time spent rubbing elbows with tourists jostling for the best photo. I have never experienced a bigger mix of religious and architectural influences combined so harmoniously as in Cordoba's 8th-century mosque with a Catholic cathedral in it.
The land has long been a religious site, dating back to the time of the Romans. Walking through the front entrance of the mosque I stopped for a moment to take it all in. The onslaught to the eyes is a bit overwhelming—texture, color, design, flowing and changing in a vast amount of space and in every direction. For those who love history, architecture and art in combination, this is a treat beyond treats.
Tip: Though photography is allowed, you may not use a tripod in the mosque.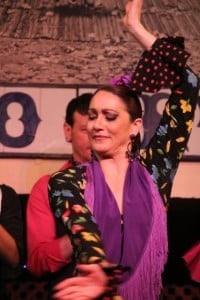 A final evening in Seville: carriages and flamenco
From our centrally located hotel, we toured through the city in horse-drawn carriages, taking in the lights bounding off of the historical architecture and fountains, relaxing in the beautifully temperate November weather, and as we traversed the wooded Parque de María Luisa, we had a group of local children applaud our long convoy.
You can see Flamenco just about anywhere in Spain, but I thought it fitting we had the opportunity to enjoy it at El Patio Sevillano in a city that is more old school than urban. The dancers perform with a distinctive, commanding passion and hold the audience's focus with their heals clicking at a machine-gun rate embellished by flashes and flares of brilliantly colored traditional dresses.
When to visit Seville
Our Spanish guide, Toni, told us the best time to visit Seville is during a holy week when there are festivals and celebration throughout the streets. People hear the song "Una Saeta" and all stop to join in, no one moving until it ends. As Toni put it, "The whole city is into it."
Una Saeta:
¡Oh, la saeta, el cantar al Cristo de los gitanos, siempre con sangre en las manos, siempre por desenclavar! ¡Cantar del pueblo andaluz, que todas las primaveras anda pidiendo escaleras para subir a la cruz! ¡Cantar de la tierra mía, que echa flores al Jesús de la agonía, y es la fe de mis mayores! ¡Oh, no eres tú mi cantar! ¡No puedo cantar, ni quiero a ese Jesús del madero, sino al que anduvo en el mar!