My fiancé Jeanette believes you can glean the essence of a person when you travel with them…fortunately, she's an amazing traveler and excels at going with the flow. And extra fortunately, she thinks the same about me…phew.
Hyatt Regency Monterey
We were a little behind schedule and the weather was chilly and overcast when we arrived at the Hyatt Regency Monterey for a much needed weekend getaway.
We both sought an escape from our workloads and this Hyatt, the biggest resort in Monterey, seemed ready to provide the requisite R&R. The property began life in 1955 as the modest Mark Thomas Inn, a quaint motor lodge off Highway 1.
Now after numerous renovations, including that latest round which started a few years back, the 22 acre Hyatt boasts 579 rooms, 3 restaurants, 6 tennis courts, two pools, a full conference center, and a world-class spa. The staff (even those who didn't know I was reviewing for JJ) was incredibly friendly and helpful. To me, that's always a key sign of a well-run operation
We checked into our very cozy room which featured a view of the Pebble Beach-run Del Monte Golf Course (oldest course west of the Mississippi for those interested in stumping golf pals with odd trivia).  The room included earth-toned furnishings, a king-size bed, in-room safe, fluffy robes, flat-screen TV, and other standard amenities. My only quibble was that it would have been nice to have bottled water available in the room, even if we would be charged for using it.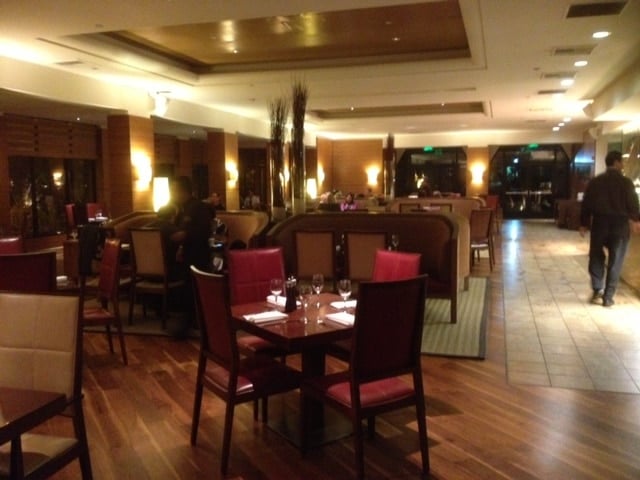 TusCA Restaurant
Speaking of going with the flow, this was a trip where we got to experience some new taste sensations. First up, we went for dinner at the Hyatt's TusCA restaurant.
TusCA is designed as a completely open space, including an exposed kitchen from where they can even offer cooking demonstrations. As an amuse bouche (fancy French words for "little freebie before the meal"), we were offered some amazing ravioli that were sweet, savory and tart all at the same time…awesome! Jeanette tried the white bean soup with sausage while I enjoyed the roasted beet salad that featured a hint of vanilla…an unexpected but perfect complement to the beets.  For main courses, Jeanette had a beef filet with potato croquette which she declared as smooth and tasty, with a good crust outside and soft on the inside. I partook of the risotto with butternut squash and halibut cheeks. It was delicious but led to a discussion on where halibut cheeks come from…near the face or…further back. I was too full to check Google for an answer. For dessert, we enjoyed the TusCA take on tiramisu which was crunchy and creamy, plus a warm apple cake with creme fraiche gelato…heavenly!
Accista Spa
The next morning, we continued flowing as we headed off to massage appointments at the resort's Accista Spa.
A full service spa, the Accista feels calming from the second you enter its doors, with a number of quiet rooms to relax in before your treatment begins. The men's spa area included a steam room (not quite hot or steamy enough for my tastes) and a dry sauna (which was just right).  We each had 80 minute aromatherapy massages, which allow you to select one of several mixtures made from locally grown herbs.
Veronica gave me one of the top five massages of my life, and as a long time massage fan, that's saying something. Veronica seemed to intuitively know which of my muscles needed help or attention, and she knew just the precise pressure to apply. It turns out she performs massages with her eyes closed so she can feel where the work needs to happen. Veronica was phenomenal!
Corkscrew Cafe
At the recommendation of the hotel, we took a short drive to Carmel Valley for lunch at the Corkscrew Cafe.
It's an inviting place that feels both rustic and charming. It's the kind of establishment where our fellow diners loved their food so much that they shared it with us (we returned the favor by buying them a surprise dessert). Jeanette and I shared an artisanal bread plate, an excellent pear salad, and another culinary first for us…a pizza topped Meyer lemon and prosciutto. It was another unexpected but perfect taste combination, the tartness of the lemons providing a fresh counterbalance to the meat and cheese. Yum!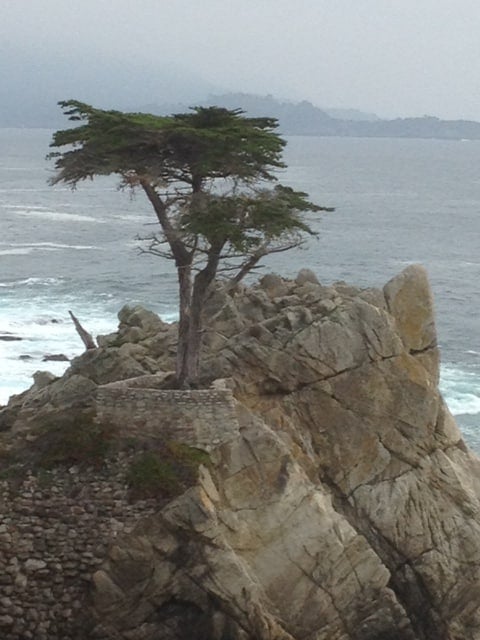 17 Mile Drive
On the way back to the hotel we wound our way around the area's infamous 17-Mile Drive. Originally created as a real estate sales scheme, the current drive follows pretty much the same route today, winding past the Pebble Beach Golf Course, impressive mansions, and amazing scenery, from pounding ocean swells to the majestic cypress trees to the ghost tree area, which resembles a forest out of "Lord of the Rings." It's a wonderful way to spend the afternoon.
Pacific's Edge
That evening we went to the Hyatt's sister property, Highland Inn, which overlooks a remarkable view of the Pacific. We had dinner at the Pacific's Edge Restaurant, where we could see pieces of the view, including some ocean waves, illuminated by lights from the hotel.
The cuisine featured steaks, seafood, fresh California vegetables, and very attentive service. Jeanette again went for beef while I had the salmon – both were top notch. After dinner, we hung out by one of their roaring fires and just went with the flow.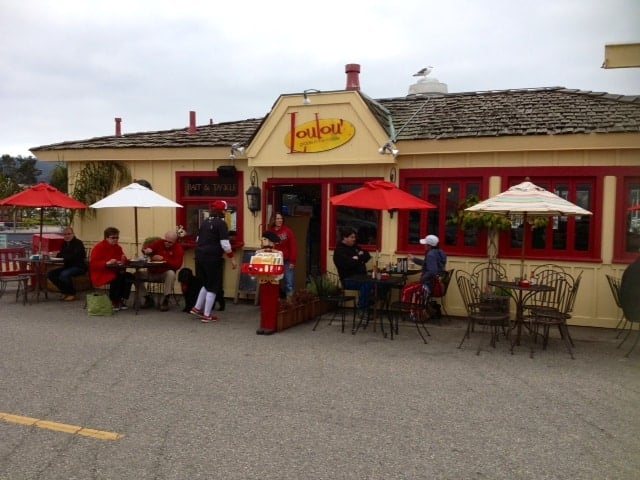 Loulou's Griddle in the Middle
Sunday morning, we were a little sad to leave the warm embrace of the Hyatt. I checked with my best friends at Yelp (okay, I barely know them), who recommended Loulou's Griddle in the Middle for breakfast. Any place where the motto is "Good Eats and Crazy Waitresses" can't be all bad!
Located on one of the Monterey piers, Loulou's is a hoot! The waitresses are a riot — friendly, but prepared to sass you back if you give them any trouble. They offer a full range of breakfast items but beware, the pancakes are bigger than your head (but taste way better), so be careful.
For part of the trip home, we took Highway 1 down the California coast and marveled at the beauty of Big Sur and the magnificence of the Pacific Ocean…a body of water that always seems to know just how to flow.