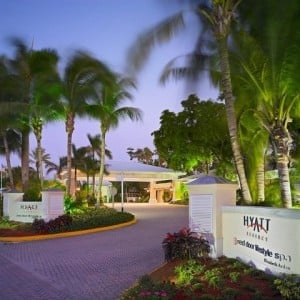 By Hannah L. Uram:
I catch my first glimpse of the hotel as the limo pulls into the parking lot. It's not as big as I had thought it would be, something that I later appreciate. Clebert, my driver, opens my door and retrieves my luggage before saying goodbye with a big smile. I grab my bag and walk into the lobby, at once realizing that size does not matter in the case of the Hyatt Bonaventure. Warm colors and a comfy yet chic atmosphere meet my eyes, the couches and lounge chairs looking as enticing as a bed and a good 12-hour night sleep. I check in at the front desk with Alicia, and set off on the path that she says will lead me to my room. Thus begins my Hyatt experience.
THE BUSINESS
The Hyatt Regency Bonaventure, a AAA-rated Four Diamond hotel just 20 minutes from Fort Lauderdale International Airport, is the result of a $100 million overhaul in 2006. The Certified Green Lodging Hotel is organized as 12 buildings across its 23-acres, which includes a Ballroom and Conference Center, four dining options, and Elizabeth Arden's Red Door Lifestyle Spa. The health-conscious will appreciate the 24-hour gym, workout classes, three pools, hot tub, two nature paths and dining menus that offer a wide range of edible (and drinkable) options from light and fresh to sinfully indulgent. If English is your second language, you're in luck, many staff here are bilingual and are more than happy to translate. Deluxe King starts at $249/night plus $100/day incidental deposit. The Hyatt Regency Bonaventure.
THE LOCALE
I find that when I ask someone what town they are from, they tend to say the nearest central location (in my case, Chicago). Weston is one of those towns that tend to get pushed into the shadow of its larger, ritzier neighbor, in this case Fort Lauderdale. Said to be the ' 'Venice' of the U.S., Ft. Lauderdale is considered one of the best nearby tourist destinations. Its beaches, bars, and incredible restaurants are just a cab ride away, and the weather around here is rarely anything but beautiful. Sawgrass Mills Mall, the second-largest tourism draw in the entire state of Florida, is also located nearby, about fifteen minutes from the Hyatt Bonaventure.
A tip to a traveler looking to get around in this area: Rent a car, or find a good cab company. Our group got around with USA Transportation (954-602-8990, ask for Clebert Aulean).
Fort Lauderdale's got an App for that! Download iVisitLauderdale iPhone Application for the latest news and happenings. You can also follow along as a fan on VisitLauderdale.
THE RED DOOR LIFESTYLE SPA

Elizabeth Arden's Red Door Lifestyle Spa on the Hyatt Regency Bonaventure grounds is the first of its kind in the United States. A destination spa in every sense, it offers several options in facials, massages, body scrubs, nail treatments, hair services, waxes, and makeup applications. Gentlemen spa-goers are offered six treatment options as well. Those wanting to truly experience the Red Door Spa should plan on making a day of it. I had the pleasure of receiving the Champagne and Roses massage at 10am after having worked out from 9pm until midnight the night before. Maria, my masseuse, worked her magic and I found myself so relaxed afterwards that I wound up lounging around the spa's wonderful sauna, steam room, and hot tub for hours afterward. The spa also offers access to a 20,000 sq. ft. gym, locker rooms, outdoor pool area and Bamboo Spa Café.
Packages available, starting at $99. Red Door Lifestyle Spa, Elizabeth Arden, 866-RED-DOOR
SLEEPING AT THE HYATT BONAVENTURE
One King-size bed with five fluffy pillows and a window facing west is how I would describe my room at the Hyatt Bonaventure. My guestroom had all the amenities anyone could ask for: a kitchenette with marble countertops and a glass table that sits four, a living room area with a large couch, coffee table, and T.V., a balcony overlooking the Bonaventure Country Club golf course and walking path, two bathrooms (one with a vanity, bath, and shower), a desk area, lounge chair, plenty of storage space, and the most comfortable mattress I have ever slept on piled high with the aforementioned fluffy pillows. Talk about plenty of room for one person, much less two! Not once did I see anyone, but somehow the soap and toothpaste kept replacing itself and my towels seemed inevitably folded every time I came back to the room… house elves, I reckon.
Something you may want to consider is that groundskeepers do not wait for you to wake up before going about their work just under your open window. Consider yourself warned. Also, no smoking is allowed in guestrooms unless you'd like a $250 cleaning charge added to your bill.
Deluxe King starts at $249/night plus $100/day incidental deposit. Hyatt Bonaventure Rooms & Rates
IRELAND'S STEAKHOUSE
If there is one thing that went above and beyond my expectations at the Hyatt Bonaventure it was the extraordinary food. The first night of my trip I met up with friends at Ireland's Steakhouse where we mingled at the bar with our drinks before dinner. I asked the bartender to surprise me, so he made me a Cosmopolitan. Not the most creative surprise in the book but tasty nonetheless. As we all sat down to dinner the servers bustled about doling out menus, placing bread, and offering wine for the meal.
Ireland's is a AAA four diamond Award winning restaurant, making it the top restaurant in Florida. I would be lying if I said I couldn't tell. To start I highly recommend the Roasted Red Pepper Soup with Jumbo lump crab, asparagus, and Mascarpone cheese, especially after a chilly day. I also tried the classic Italian Caprese salad which had heirloom tomato, fresh buffalo mozzarella, and balsamic syrup. Delicious, but if you're looking for more veggies than cheese I would opt for one of the other four salad options.
For my main dish I chose the Cobia, a leaner swordfish. It was very flavorful and colorfully presented, but unfortunately it is not listed on Ireland's online menu. The menu does change from time to time as the chefs find foods that are more local and more in season. Not in the mood for fish? The Petit 8oz. Filet was a crowd pleaser. I also had the pleasure of trying three of the eleven sides offered: lobster mac n' cheese, jumbo asparagus, and potatoes au' gratin. All three were just as delicious as every other thing I had tried, but the mac n' cheese stood out as the group favorite. One side dish serves three. By the end of the meal we all had slightly bulging stomachs, but none of us regretted it!
Main courses starting at $32, Dress casual, no shorts.
Ireland's Steakhouse
WEB RESOURCES:
Note: This trip was sponsored in part by The Hyatt Regency Bonaventure.