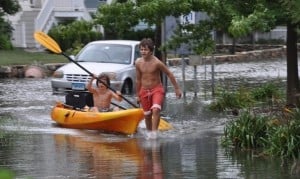 Like most rental houses in Nantucket, they have free Wi-Fi, so I was monitoring Hurricane Irene every few hours. When I saw that she was going to hit New York City on Sunday and I was flying through there, I changed my flight back to California from 2 p.m. to 6:35 a.m. on Saturday. I figured the first flight out would be safe, but I was wrong. They canceled that and my flight from LaGuardia to Chicago (remember, I was using miles so I had to make multiple stops). So my only choice was to take the first ferry off the island on Saturday morning (6:30 a.m.). We took the slow ferry so we could get back to Frank's house in Westport and pack up. The ride was unusually smooth (the calm before the storm) and we met some cool locals who told us that you can order Chinese food and Domino's Pizza takeout from the mainland and they will deliver it to the island. They said it's much cheaper, especially when ordering in bulk. For example, 10 pizzas on the island cost $200, but 10 pizzas from Domino's cost $60 or $70 and that includes the delivery flight (they put it on one of the local airlines).
The drive from Hyannis to Westport, Connecticut, wasn't bad. It took four hours and there were no traffic jams. Since my brother's house is right on the water we all stayed at my cousin AJ's house in Rowayton, a few blocks from the water. I wasn't worried until around 11 p.m. when the wind started whipping up and according to the weather maps Hurricane Irene hadn't even reached us yet. With all the media hype and New York closures I thought we were going to be in big trouble. It didn't help that I was sleeping on the top floor of a three-story house either. At one point in the middle of the night I went downstairs with my pillow so I was away from the roof and windows, but I just ended up spending time using my computer. Luckily we didn't lose electricity like a lot of the other residents and my brother, so we had it easy.
In the morning I was tempted to go outside, but the winds were still strong and high tide was peaking at 11 a.m. When I tried to drive toward the beach I realized it was a bad idea–a tree was down and the main avenue was flooded. Two of the neighbors had their cars crushed, so we were lucky. I went back to bed and went out a few hours later with my brother and saw all the destruction. The South Beach wall, where I spent a bunch of my childhood, got wiped. It looked like a scene out of Planet of the Apes. The streets were still flooded at medium tide, so I saw people in boats cruising around. Frank and I had to make all kinds of detours to get to his house in Westport as there were a bunch of trees blocking the roads. His neighbor took this picture of his garage around high tide–the water was four feet high and crushed his garage. The wind was still whipping, and actually I think it was worse after the eye of the storm passed because on the way home there were additional trees down.
On Monday, my brother, nephew, and dad went for a walk around Rowayton and it was a spectacular day out. Everyone was out cleaning up and life was getting back to normal. When I saw a bunch of kids jumping off the Bluff Bridge I had to join them, since I used to do it almost every day in the summer when I was a kid. I'm now back in California–I had to call United a few times to finally get through–one time I was on hold for two hours before I gave up, and that was when I called the VIP number I have since I'm a Premier member (frequent flier).