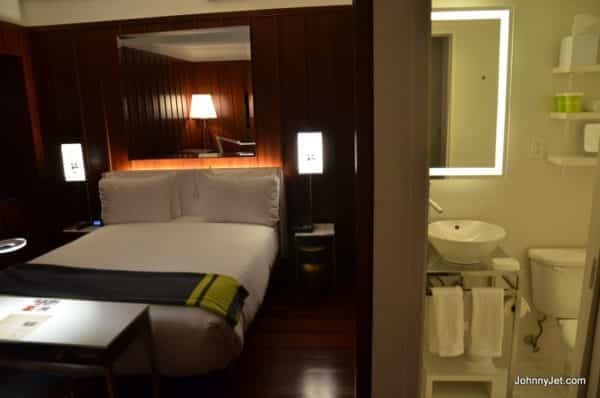 I was in New York as a guest of Nokia to check out their new Lumia 1020 phone, and while I was there, Nokia put me up at the Hudson Hotel. I had only been there once previously for a party (they have an incredible scene and a popular outdoor patio that's a mix between a beer hall and burger joint south of the border).
When I checked in, I asked the clerk how many rooms they have and I was shocked to learn the answer: 866. I was expecting a lot fewer. She said it used to be an apartment building until the Morgans Hotel Group and designer Philippe Starck pumped 125 million into it and converted into a hip hotel back in 2000.
The hotel is located in midtown Manhattan on 58th and Ninth Avenue so it's just a few blocks from Central Park, Columbus Circle and the theater district.
The Hudson proclaims that they represent "the next generation of Cheap Chic: stylish, democratic, young at heart and utterly cool." I totally agree with that statement, but the hotel is not for everyone. In short, it could use some help with its slow elevators, funky hallways and lack of personnel to answer the phone (I called multiple times on different days and hours and usually had no answer or a long wait).
The biggest shock was the vivid chartreuse-colored neon lit hallways (same as the escalator which transports you, both literally and figuratively, to the Hudson's climactic lobby). Walking down the long hallway I felt like I was back in college. I could hear guests talking in each room, their TVs and their showers. It also smelled so much of pot that I'm pretty sure that I will now fail a drug test.
One morning there was throw-up outside one of the doors so I told the friendly maid and she just shook her head like not again. When working in my room I smelled cigarette smoke coming in either through the air conditioning vent or the cracks below, I called down and asked if this was a smoking hotel.
The operator said it wasn't and that she would send a security guard to investigate the cigarette smoke. When I mentioned the marijuana smell from the day before she laughed and said that doesn't surprise her.
But once inside the modern style rooms you feel like you are in another hotel. Although small (136 square feet/12.63 square meters), they are quite comfortable. Philippe Starck did a great job decorating. They have rich paneled Makore wood walls and floors imported from Africa. It's all complemented by the awe-inspiring design of bedside lamps by British x-ray photographer Nick Veasey. There's a flat-screen HDTV, working desk, complimentary Wi-Fi (for basic speed—good enough to Skype), Egyptian cotton linens, plush down duvet and bath products from C.O. Bigelow.
A nice surprise: There's an empty mini fridge which must've been stocked with alcohol when the hotel first opened but probably proved to be too costly to maintain—so the hotel just kept them. That's a nice amenity to have for storing NY leftovers. I actually ended up unplugging the fridge because I thought the room was lacking electrical outlets until I looked under the bed and spotted a power strip.
Good To Know:
Room rates begin at $159.
Every floor has discreetly covered vending and ice machines near the elevators.
The hotel was filled with lots of foreigners—especially European families.
Overall I had a fun experience at the Hudson Hotel, and it's in a good location, but I wouldn't recommend it to families or serious business travelers. How about you? Do you agree or think I'm off my rocker?