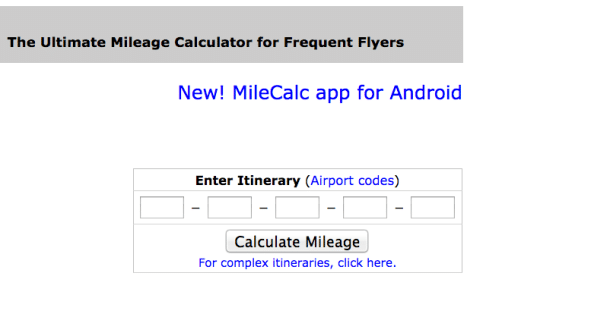 MileCalc
It's just about that time—that time when mileage junkies start flying all across the globe and returning home without leaving the airport. Why do they do this? So they can retain their elite status with the airlines. And this could be the last year we see this since both Delta and United are switching from mile-based to revenue-based frequent flyer programs next year. If American Airlines follows suit, then these mileage runs might become obsolete.
In the meantime, for those who are trying to figure out how many miles they need, MileCalc is a great option since it calculates multiple airport codes and factors in elite levels, actual dollars spent, booking class, promotion bonus miles, fares, and even credit card bonuses. Visually, it's not the prettiest site but it offers handy information.
FYI: This tip was once a popular Travel Website of the Week post.
_________________________________________________________________________________
Tried this tip? Let me know in the comments!
Have your own tip? Email it to whitney@johnnyjet.com!
Want to see more tips? Click here for all 285!
Want even more travel tips? Subscribe to the Daily Travel Tip newsletter! All you have to do is sign up for the weekly newsletter by filling in your email address and checking the Daily Travel Tip box in the top-right corner of the homepage.
If you already subscribe to the newsletter, fill in your email and check the Daily Travel Tip box in the same top-right corner of the homepage and you'll receive an email with a link to update your JohnnyJet.com preferences. On that page, just click the Daily Travel Tip box and Update Profile and you'll have Johnny's best tips, straight to your inbox each day. And don't worry—it's easier than it sounds!