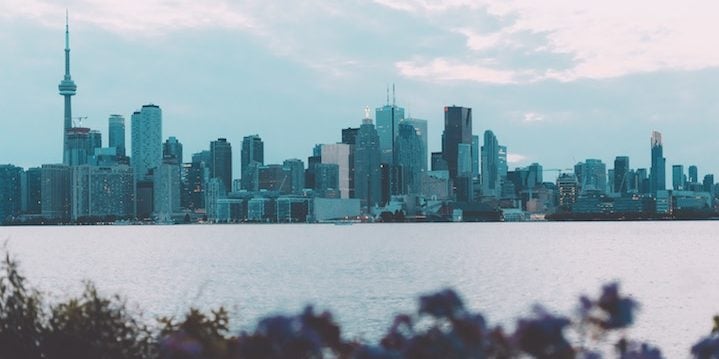 I spend a lot of time north of the border because that's where my wife (@NatalieDiScala) is from. Over the years, I've learned that getting to and from Toronto's Pearson International Airport is usually a pain because traffic in Toronto is insane. I think it's worse than L.A.'s, which is saying something! Just a couple years ago, travelers really only had two options to get out of the airport: a taxi or an airport limo. However, now when you land at Toronto Pearson, there are a few different options to choose from. I'll break them down for you:
1. Airport limousines/taxis
I always thought an airport limousine would cost more money than a taxi because the cars are nicer and the word "limo" sets a certain expectation…but that's not the case. I took a taxi the other day from Toronto Pearson to Mississauga because the line was shorter and the fare ended up being $78 CAD compared to $58 CAD for a limo. I asked a local why and they said it's because the limos use a flat rate to each zone while a taxi uses the meter. I learned my lesson: to not take a taxi anymore.
2. Uber
When I went back to the airport a few days later, my uberX driver informed me that uberX and uberXL can now pick up at Toronto Pearson. So I took an uberX the following day when I returned and guess what? It was just $40 CAD and I didn't have to explain to the driver where to go. To get an Uber from Toronto Pearson, just follow the instructions on the app. If you're flying from Terminal 3, go out door D and cross the street until you get to the far island and hang out by Zone 3.
When I requested the Uber, the app told me the car was six minutes away but in typical Uber fashion, the arrival time kept fluctuating. My driver was either clueless about pickup or the airport has them driving all over the place because at one point, the app indicated that my driver was right next to me and one minute away then a second later, it said he was seven minutes away. It took about 10 minutes for him to arrive, and he picked me up in the second lane not the third like he was supposed to. So keep your eyes peeled. (I tried uberX again the other day and had no problems, and my wait was the original quoted time.)
Good to know: 10 Uber Tips That Will Totally Improve Your Next Experience
3. Union Pearson Express
If you're heading to downtown Toronto from the airport, the best option is to take the Union Pearson Express. It goes to and from Union Station to Toronto Pearson Airport every 15 minutes during peak times and takes just 25 minutes. Plus, you won't get stuck in Toronto's increasingly nasty traffic. It costs $12.35 CAD. Here's more including information on where to buy tickets.
Tip: The best way to get directly to downtown Toronto is actually to fly Porter Airlines to the city's island airport (YTZ). But the problem with that is that only a small number of destinations are served by YTZ and travelers will be on a small plane, which I know many don't like.
____________________________________________________________
Have your own tip? Email it to whitney@johnnyjet.com!
Want to see more tips? Click here for all 1,224!
Want even more travel tips? Sign up here for the Daily Travel Tip newsletter! Just fill in your email address and check the Daily Travel Tip box—and you'll have Johnny's best tips, straight to your inbox each day!
If you already subscribe to our weekly newsletter, you can sign up on the same page. Just fill in your email and check the Daily Travel Tip box on the same page and you'll receive an email with a link to update your JohnnyJet.com preferences. On that page, just click the Daily Travel Tip box and Update Profile.