Greetings! My weekend trip to south Florida was scratched thanks to Hurricane Isaac. The moment I found out I quickly scrambled to find an inexpensive last minute ticket from Erie, PA to Los Angeles (LAX). Then I had to figure out how I could get my money back for my original Fort Lauderdale to LAX flight – I ended up making a rookie mistake which cost me. Here are those details.
Erie, PA
If you are following me on Facebook or Twitter then you know this past week I was in Erie, Pennsylvania visiting my dad and sister's family at their house on the lake. It's so crazy beautiful and peaceful there I could spend the whole summer just lying on the hammock, playing Scrabble with my dad, ping pong with my nephew, and swimming in Lake Erie.
My original plan was to fly with my sister's family to South Florida and help them make their annual move but when my brother-in-law saw the threat of Hurricane Isaac he rightly postponed our trip. That left me in a precarious situation since the week earlier I bought a $148 one-way American Airlines ticket from Fort Lauderdale to LAX which I was obviously going to miss and I needed to get back home to California within a few days.
Hurricane Isaac
I kept watching the National Weather Service Hurricane Center for updates and American's website in hopes they would offer travel waivers as they usually do in big storms. To make a long story short the other airlines (Delta & United) servicing Fort Lauderdale Airport (FLL) one-by-one started offering change fee waivers but not American. They finally did around 9:30 am on Saturday which was 20-minutes after my flight was supposed to depart.
Rookie Mistake
Luckily, that flight was delayed by 48 minutes, so when I called at 9:40am (I woke up late) they hadn't automatically canceled it. If they did there would be nothing I could do. The really nice agent informed me that she could change my travel dates by a few days but not issue a refund so I just had her cancel it. When I hung up and snapped out of my sleepy head I realized I made a huge rookie mistake. I should've had her change my flight to Monday — the day the Hurricane was scheduled to hit. Because if and when (it did) cancel I would've gotten my money back.  Ugh!! The good news is you will now not make that same mistake.
Related: How to get bumped into first class on Delta Airlines.
Erie to L.A. Ticket
I guess you win some and lose some because I still needed to find an inexpensive last-minute ticket from Erie, PA to Los Angeles which is no easy chore. Most one-way flights were pricing out around $400. Yikes! So I checked United.com to use my miles since I knew that was my best bet and sure enough (because it was so last minute) I was able to find a one-way ticket via Cleveland for just 12,500 miles and $30! That's a great deal so I jumped on it.  FYI: Since I fly so much on United (I'm a Premier member) they waived $50 of the $75 last-minute booking fee. The other $5 was towards taxes.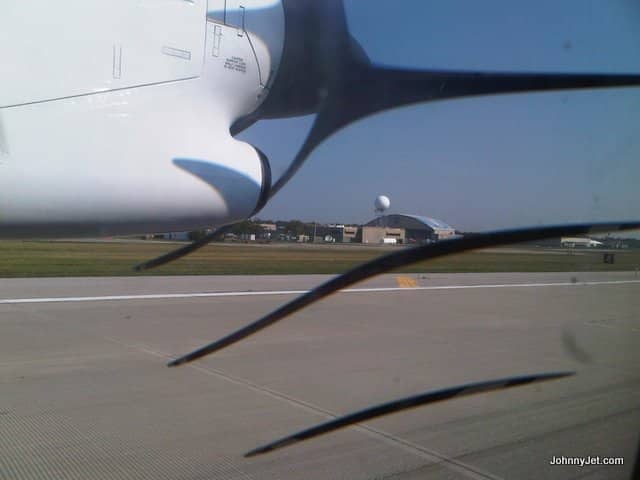 Erie to Cleveland
My first flight was Erie to Cleveland on UA4773. It's really operated by United's regional partner CommutAir which flies a fleet of Bombardier Q-200 and Q-300 aircraft. They aren't my favorite since they are small, tight, loud and bumpy in bad weather. But I had an empty seat next to me, it was a clear, calm day and the 28-minute flight was as smooth as can be. On top of that the flight attendant, Valerie, was super friendly. She served drinks (water or OJ) which most flight attendants (in the U.S.) don't do on such short flights.
Erie Airport
What's nice about Erie is that the airport is so small I rolled up 35 minutes before my flight. Of course, I wasn't checking bags, checked in online and had my boarding passes in hand. There was no line at security and the TSA agents were friendly. I had just enough time to buy bottled water (only $1.50) from the vending machine before boarding. Our plane ended up leaving the gate 10 minutes early and we arrived into Cleveland 20 minutes early.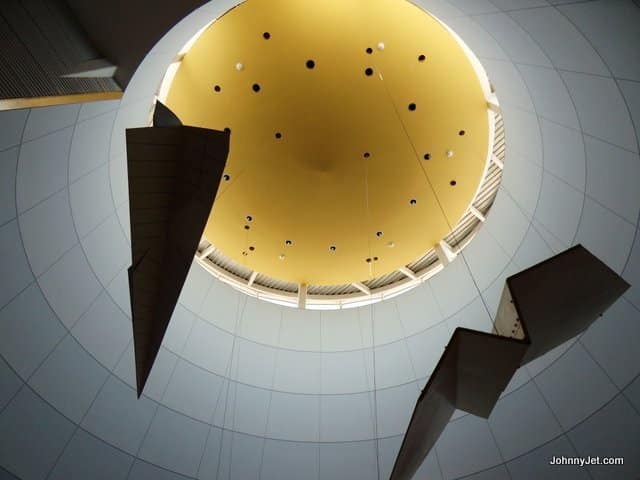 Cleveland Airport
The workers in the Cleveland airport were all really nice – I don't remember them always being like that so it might've been because it was a beautiful summer day. Not sure. I had two hours to kill and plugged my laptop next to a table in the food court and downloaded my email with the airports free Wi-Fi. Before catching the flight to Los Angeles I grabbed a Western omelet breakfast sandwich to go from Bruegger's Bagels ($4.50) and ran by the Cinnabon store without succumbing to it. BTW: Cell service for T-Mobile is not good in CLE. The only place it really worked was by my gate, C10.
Cleveland to Los Angeles
UA1584 pushed back from the gate at 12:14pm, seven minutes before our scheduled departure. We were airborne at 12:22pm and we arrived into L.A. 35 minutes early. Flight time was 4:21 and the 737-800 had a bunch of vacant seats. In fact, I had a whole exit row (20 A,B,C) to myself! When was the last time that's happened?! It was better than first class since the armrests went up and I was able to nap for an hour or so and sit in the middle with plenty of space. There were also no crying babies, loud mouths, or bad smells. The only bummer was United doesn't have Wi-Fi on any of their routes except for JFK to LAX/SFO and the seat belt sign was on most of the way even though we never had any turbulence.
If only coach travel could always be this smooth, affordable, and easy.
Next Week
Next I'll tell you about this weekend's trip to …