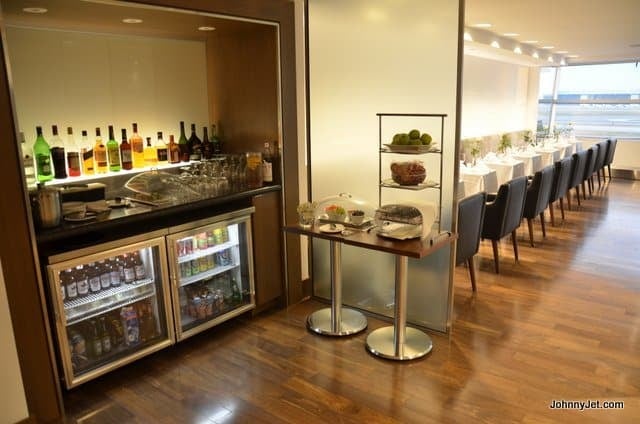 I arrived to New York's dismal LGA Airport an hour before boarding but instead of mulling around the gates I remembered I just got an American Express Platinum card. Even though it has a hefty $450 a year fee it's a great deal for frequent fliers. First of all, it gets me into more than 600 airport lounges worldwide—including Delta's. A membership alone to would cost that much.
The card also gives me a $200 airline fee credit towards incidental fees such as checked bags, in-flight drinks, and change fees (I will use it for the latter since I don't check bags or drink booze). I also love the fact there's no international transaction fees and when staying at some luxury hotels it can get me a room upgrade, free breakfast and a guaranteed 4 pm late check-out.
As an added bonus for those who don't yet have Global Entry (not sure what you are waiting for since it's the best thing to happen to international travel – see my post), the Platinum card will reimburse you for your Global Entry enrollment fee which is $100.
For more: Credit card offers from our partners
Delta Sky Club
I went to Delta's Sky Club, showed the receptionist my AMEX Platinum card, ticket and ID and I was in. They offered free Wi-Fi, computers, food (mostly snacks like bagels, muffins, yogurt, trail mix, fruit, and oatmeal), drinks (including alcohol), comfortable seats, and clean bathrooms.
Delta's Overpriced Miles
I then hopped on a 1-hour and 20-minute flight to Detroit (one of my favorite airports in America) and then a 28-minute flight to Erie, Pennsylvania so I could visit my dad and family. Since I didn't know when my nephew Theiss was going to be born I waited to buy my one-way ticket which is a big no-no if you want to save money. I thought I would use my miles but Delta's are seriously an absolute joke to cash in. Delta doesn't give half price for one-way tickets like most of their competitors and I think they stopped offering domestic tickets for 25,000 miles. Every time I look to use them it's 40,000 miles for a roundtrip or one-way. It's a joke, right? I could've used United miles on them or their Star Alliance partner US Airways but I didn't feel like flying a small prop plane in the middle of the day since I knew there would be delays with the high temps.
AMEX Rewards
I ended up using 29,100 American Express Membership Rewards. What's nice about them is there are no blackout dates and you still earn miles for your tickets. To use your AMEX points you can log on to their website, call their 800 number or have your travel agent book the tickets. Since I was in a hurry I just called my travel agent (John Dekker 1-714-894-4774) and had him book it for me. He charges $35 per transaction so book all your travel in one shot.
If you aren't familiar with American Express Membership Rewards they charge 100 points to every $1 and because my last minute ticket cost $291 it was 29,100 points.
Full Disclosure: American Express gave me 250,000 (equivalent to $2,500) this summer to fly my dad to Europe but since he declined my offer I'm now using them to visit him and some other trips (you will just have to wait to find out).

FYI: Not all American Express cards have a yearly fee. I chose the Platinum card because of all the benefits but the American Express Blue Card has no annual fee and receives Membership Rewards.
So there you have it. Please let me know if you found this information helpful or not in the comment section below.