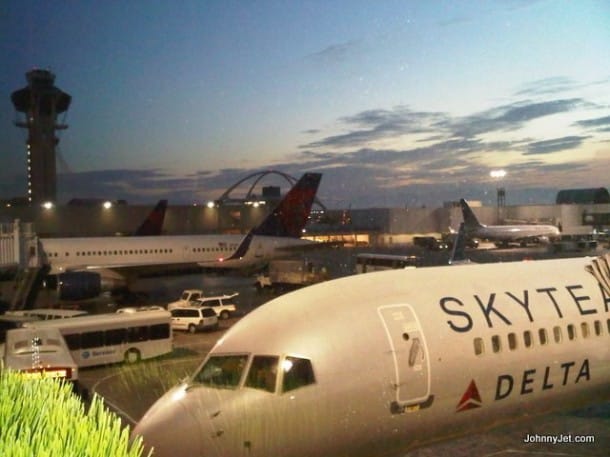 I recently became a big fan of Delta Air Lines after witnessing first-hand how they treat members of our military and how they do a nice job giving free upgrades to their frequent fliers (they still have the worst frequent flier program in terms of redeeming miles at their lowest award level, but that's another story).
My beef with Delta is how they encourage their flight attendants to push their Delta American Express credit cards in the middle of the flight. I can understand that the airline and the flight attendant want to make more money (they must pay the flight attendants a commission) and build brand loyalty, but there's a time and place for everything—and the middle of a flight is not one of them.
It seems that the head flight attendant usually pushes the card for a second time an hour before landing, which is when most passengers are sleeping, watching movies or working on their laptops. The last thing they want to hear is some flight attendant get on a loud PA and speak for two to three minutes about the perks of a credit card. Actually, the last thing passengers want is to hear the pilot get on the horn and say we're having mechanical problems. But you get my point.
Each time I've heard a Delta flight attendant makes this long, disruptive announcement, I've watched the passengers around me grumble and shake their heads in disbelief. I'm one of them, too. Yes, the Gold card is a very good one. We've even written about it and its many perks on this site. But don't make a second announcement. Just make your first plug after the safety briefing. Or if that's not good enough, run a silent commercial on the screen. But making the second announcement actually turns people off and makes the airline and the flight attendants look desperate.
FYI: Each time, after they make this announcement, I watch the flight attendant walk down the aisle with sign-up pamphlets and I've only ever seen one passenger take one.
Have you noticed this? Does it irk you too or is it just me? I hear US Airways and Alaska Airlines does it as well but I can't confirm this since I haven't flown them in a while.